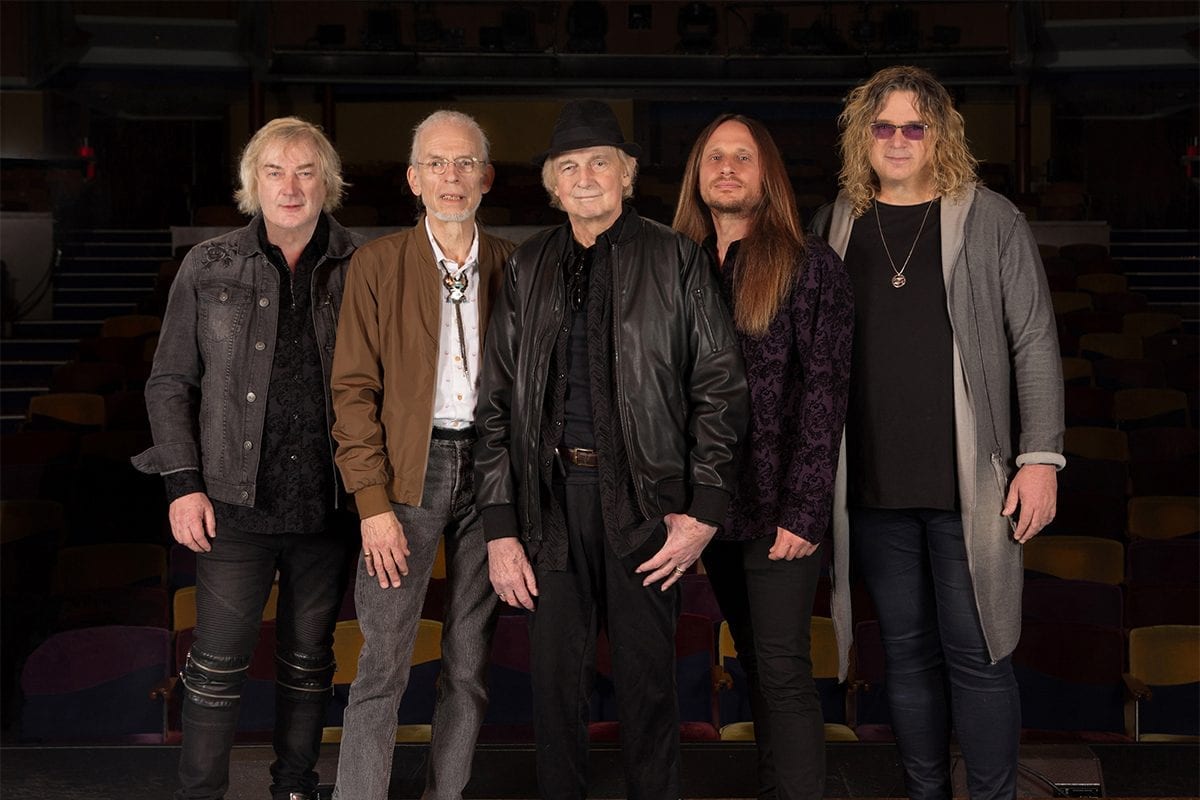 "There's such a wide variety of stuff that I've done with the band over the years. It's really crazy, the variety. They're all kinda different to me, you know, all the albums. They just reflect an era in the band's growth."
Alan White has been keeping the beat and blazing new musical paths as the drummer for the groundbreaking progressive rock band Yes for more than half a century. As a member of the Rock and Roll Hall of Fame band, he's provided the solid foundation for the group's countless and timeless hits. In addition, White has worked with a literal who's who list of fellow Hall of Fame members, including John Lennon, George Harrison, Ginger Baker and The Ventures, just to name a few.
Yes has just released the documentary Yes 50: Yesterday, Today, Tomorrow, which serves as a teaser for the forthcoming release, Yes 50 Live, available August 2. Meanwhile, Yes is headlining the multi-artist North American The Royal Affair Tour June 12 through July 28, with more dates to be announced soon. I recently spoke with White about the tour and many other wonderous stories centered on his time in the studio, stage and spotlight.
It's a pleasure to speak with you again, Alan. Let me begin by saying that it's certainly not everyday one gets to speak with prog rock royalty, but in my case Alan, it's just been two weeks because I just spoke with the great John Lodge.
Oh, did you!
Yes, we did. We spoke about his upcoming participation in the Rock and Romance Cruise, and of course, this upcoming tour with you. So, I'd like to begin our conversation with a question that I also asked John. What is your definition of prog rock?
Oh my god! How long you got?
I've got plenty of time!
Oh, well you know, I really myself don't like labels on music, even though a lot of it is kinda obvious and you label it yourself. But I have a pretty wide, broad range of music I listen to. I hear some stuff that's totally influenced by prog rock, but it's not passed as prog rock. So, it's so diverse now. You know, it's like fusion and prog rock. It's like we're trying to make it more digestible by the public. I think Yes made that happen quite a few times, in different songs. We did some pretty crazy stuff that nobody else is doing at all. So, my definition covers a wide area. That's my answer (laughs).
Okay. Well, let me maybe put a little twist on the question. What do you think explains the genre's longevity?
Why, certainly the music. It's the quality of the music and the time spent doing it because if you spend a long-time doing music That's really good, and it's really pleasing you, and you know it's gonna stick in certain people's minds.  That's why they're still playing, like, "I've Seen All Good People," and even (Yes 1973 album Tales From) Topographic Oceans. I hear that all over the place, still. Really, that's my explanation. Basically, how good the music is and time you spend doing it.
I'm with you, Alan, on not generally wanting to label any kind of music, because I certainly subscribe to the notion that there are only two kinds of music – and that is good and bad…
(Laughs) You got it right there in a nutshell!
Was there a specific drummer that you admired early on that you later sort of patterned your technique on?
Well, I admired a lot of people. I listened to Ringo (Starr) and all that kind of stuff. I remember the day I first learned how to go boom, boom boom. The double kick drum, and I went, oh, I can do that (laughs)! You know it was like, wonderous. I said, I think I can do this. So, from then on I kinda progressed and I took a few lessons when I was a kid and I decided that the guy was trying to teach me like him, and I wanted to play like I wanted to play. And that's when I started coming up with more of an individual style.
John Lodge, who I mentioned at the top of the conversation here, will be joining you and your Yes cohorts, along with Asia and Caarl Palmer's ELP Legacy on The Royal Affair Tour, kicking off June 12 in Bethlehem, PA. Does the tour's name stem from the fact that it's an all-British lineup?
Well, I think that's part of it, you know. And really seasoned players from England who were around in the 70s and still doing it.
Royalty, indeed.
Yeah, yeah, well my god this band has worked for it over the years. We've been (blazing) the trail for a long time here.
Progressive rock is known for the extended length of its finest songs. With four top shelf bands on this bill, can fans expect a five, six, seven-hour show (laughs)?
(Laughs) No! My total belief is that three to three-and-a-half-ish hours of music is quite enough for a lot of people to digest.
And of course, the question was made in jest.
Of course. I understand that.
So will there be some jamming with some of the other members of the bands?
We really haven't started production rehearsals yet, so who knows what will happen when we start fixing things up. But I know all the people really well that are gonna be on the show, though I really haven't met one. Well I met him kinda once in the very, very old days is (Carl Palmer's ELP Legacy guest vocalist) is Arthur Brown. I remember meeting Carl for the first time in the kinda late-60s, I believe, and he was playing with the Crazy World of Arthur Brown. So, we go back a long ways, but I really haven't met him since that time, so it'll be interesting to meet him at production rehearsal.
I understand Asia's set will feature the return of founding member and original guitarist Steve Howe.
He's gonna do a few numbers with them, yes.
And also, a tribute to late founding member John Wetton.
Oh, absolutely. John was one of my closest friends in the business. He will be missed a lot, like (late Yes bassist) Chris Squire will be missed a lot by a lot of people for a long time.
Certainly, Chris is sorely missed.
Chris is one of a kind. And like I said, he's missed a lot.
Carl Palmer will also be paying tribute to his late Emerson, Lake & Palmer bandmates Keith Emerson and Greg Lake. That should be a highlight of the show.
That'll be really, really cool to see Carl do that. I was talking to Carl the other day and he's doing a good job with all that. It sounds good.
Meanwhile, you'll be paying tribute to John Lennon. How much would you like to tell us about that, or would you rather keep it a surprise?
You know, there's a lot of press and stuff going on about John at the moment because of the 50th year of (1969 live album) Live Peace in Toronto (1969), which is the first album I appeared on. And then of course "Instant Karma" and "Imagine." And the documentary I thought was wonderful how they did that. I don't know if you've seen it. There's a documentary on the making of Imagine, and then there's one called Above Us Only Sky, which is really, really cool. I think it's on Netflix now, actually. But it's really well done, and I do a couple of interviews in it, and there's footage of me in the studio with John Lennon. Things like that. And it's really cool thing to take in from that era of music.
Final question for you, and again Alan, thank you for your time, as always. I'll just irritate that the initial dates for The Royal Affair Tour get underway June 12 and run through July 28, with more dates to be announced soon.
Yeah!
Here's my final question for you: what song title best describes the life you've led so far? Would that be "Close to the Edge," "Perpetual Change," "I've Seen All Good People" or "Wonderous Stories?"
What song title? Well, I thought "Perpetual Change" is a really cool name for a song.
And do you think that sort of reflects your personal time in the band?
Not really. I mean there's such a wide variety of stuff that I've done with the band over the years. I mean, we're on our – what is it – 29th album or something. You know it's really crazy the variety, and they're all kinda different, you know. All of the albums. They just reflect an era in the band's growth.
Alright Alan, well thank you again and take care.
Pleasure. Bye bye.