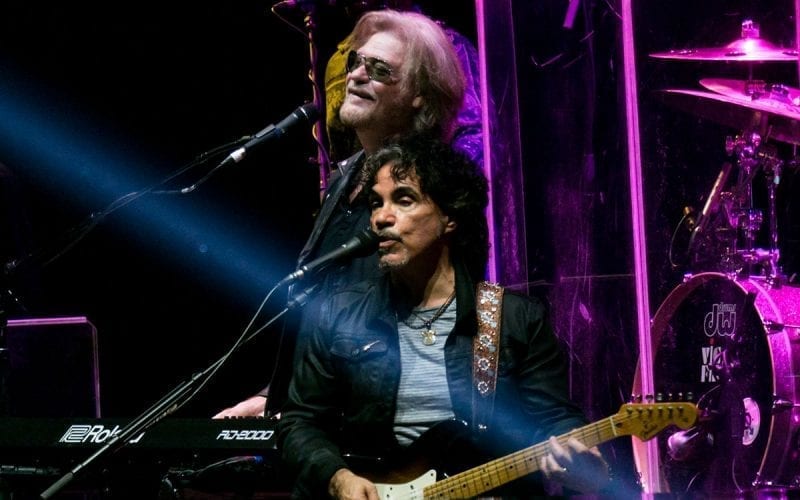 Hall and Oates have a new album in the works, Daryl Hall tells Rolling Stone in a new interview. But despite the group's upcoming 50-year milestone, the pair are looking forward, not back.
Hall, 73, scoffs at the idea of an anniversary release.
"It's the same reason I don't go to fuckin' high school reunions," he tells the publication. "I'm not into celebrations or milestones or awards of any of that crap. It's all about the work to me."
And Hall is, currently, at work – spending time with producers and working on writing for the album.
John Oates says he'll jump into the project soon, but according to the 71-year-old, the pair don't generally write together and never really have.
"We went separate ways creatively," he explains. "We needed to have that space apart, in that respect, even though we never stopped playing together, but now it just feels … I don't know how to describe it. When it feels right, it feels right."
The pair believe the success of their 50-year working partnership can be attributed to the fact that they are more like two leaders of a band than they are a duo.
Hall told the Mercury News in 2017 that they've always insisted on their full names (every "Hall & Oates" album has been billed as Daryl Hall & John Oates) because they consider themselves two individual artists.
And in recent years, the pair have focused much of their energy elsewhere.
John Oates has released 4 solo albums since 2012 and supports them with solo gigs at small venues, where – he tells Rolling Stone – he carries his own gear. From 2007 to 2016, Daryl Hall focused much of his attention on his acclaimed television show, Live from Daryl's House.
This summer, Hall & Oates head out on the road with special guests Squeeze and KT Tunstall. After that, they plan to turn their attention to the new album.