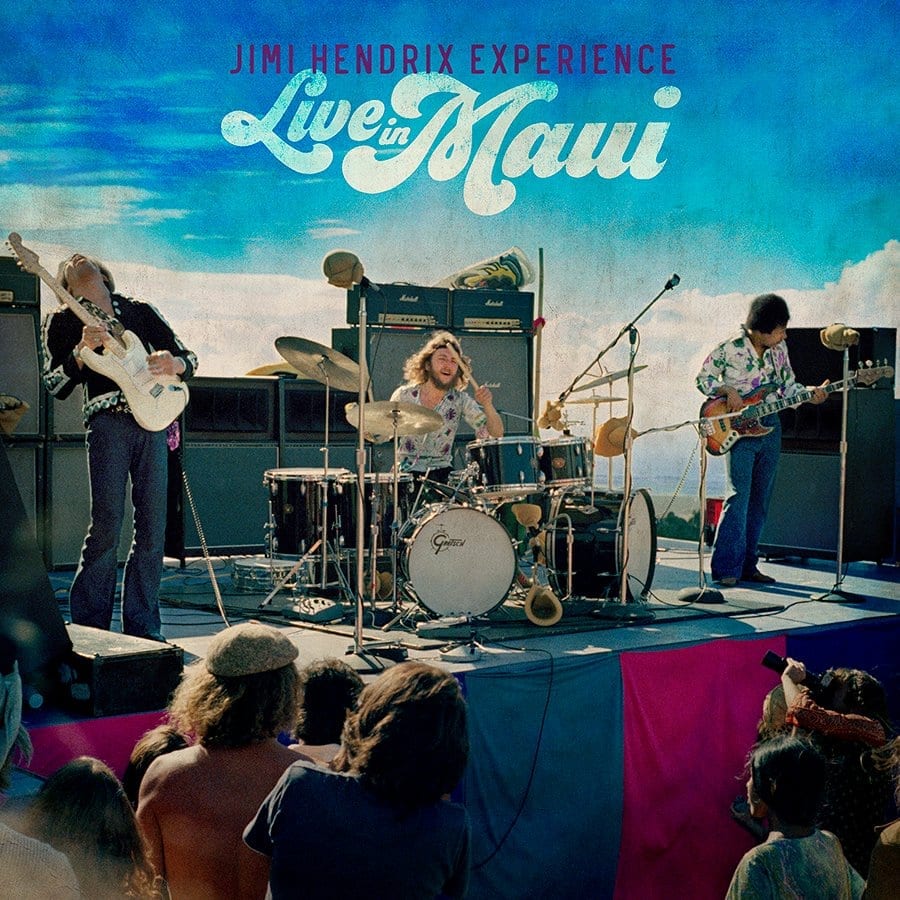 A feature-length documentary about the Jimi Hendrix Experience's storied visit to Maui in 1970 is due out November 20th via Legacy Recordings. Music, Money Madness… Jimi Hendrix in Maui chronicles the group's historic performances on the island and tells the story how they became ensnared with the ill-fated Rainbow Bridge movie produced by their controversial manager Michael Jeffery. The documentary film will be released along with an accompanying live album, Live in Maui, from those legendary concerts.
Live in Maui will be released as a 2-CD or 3-LP set, newly restored and mixed by longtime Jimi Hendrix engineer Eddie Kramer, and mastered by Bernie Grundman. "Voodoo Child (Slight Return)" from Live in Maui is available now on streaming services or as an instant digital download when you pre-order the package.
You can watch the video and see a complete track listing for the album below.
In 1970, Hendrix manager Michael Jeffrey had secured financing from Warner Bros. for a film called Rainbow Bridge that was to be shot in Maui. In exchange, the label would receive the rights to its soundtrack album consisting of new Jimi Hendrix studio recordings.
The Rainbow Bridge film concept centered around the idea of a "rainbow bridge" between the unenlightened and enlightened worlds. It was envisioned to feature everything from surfing and yoga to meditation and Tai-Chi and was filmed without the aid of a script or professional actors.
However the film's production proved to be a rambling assemblage of hippie excess and Jeffery grew concerned that his investment was being squandered. The Jimi Hendrix Experience were already booked to perform a concert in Honolulu at the H.I.C. Arena on August 1, 1970. Director Chuck Wein, desperate to feature Hendrix in some capacity within the film, devised a plan to film a free 'color/sound vibratory experiment' on the lower slope of the dormant Haleakala volcano. Word of mouth about a free Jimi Hendrix concert led a few hundred curious Maui locals to the Baldwin cattle ranch in Olinda where a makeshift stage was constructed and the audience was arranged by their astrological signs. The performance was a success – the trio was at the height of its powers and played two sets flawlessly against a stunning natural backdrop.
In the aftermath of his performance on Maui, Hendrix would return to New York and his work at the new Electric Lady Studios, having no further involvement in Rainbow Bridge. He left for Europe at the end of August to headline the massive Isle Of Wight festival and begin a European tour. Tragically, he would die in London on September 18, 1970.
Despite its Hendrix association, Rainbow Bridge, which was released after Hendrix' death, was a flop. It featured just 17 minutes of footage from the Hendrix concert, despite moviegoers believing they were going to see a concert film. The film's soundtrack did not include any tracks from the concert.
Directed by John McDermott and produced by Janie Hendrix, George Scott and McDermott, Music, Money, Madness . . . Jimi Hendrix In Maui incorporates never before released original footage and new interviews with firsthand participants and key players such as Billy Cox, Eddie Kramer, Warner Bros. executives and several Rainbow Bridge cast members, as well as director Chuck Wein. Their fascinating account tells the definitive story about one of the most controversial independent films ever made.
Live In Maui features the two full Jimi Hendrix Experience sets, including breathtaking renditions of crowd favorites like "Foxey Lady," "Purple Haze" and Voodoo Child (Slight Return)," as well as then-unreleased songs like "Dolly Dagger" and "Freedom" that showcased the new direction Hendrix was moving toward.
"Jimi loved adventure and there was certainly no shortage of it during his time in Hawaii, a place he also loved," says Hendrix' sister Janie Hendrix. "The back story of Rainbow Bridge and these recordings paint a picture of Jimi's uncanny ability to turn the bizarre into something amazing! We're excited about this release because it gives the world a closer look at Jimi's genius."
Music, Money, Madness . . . Jimi Hendrix In Maui and Live in Maui are due out November 20 vis Legacy Recordings. You can pre-order them now.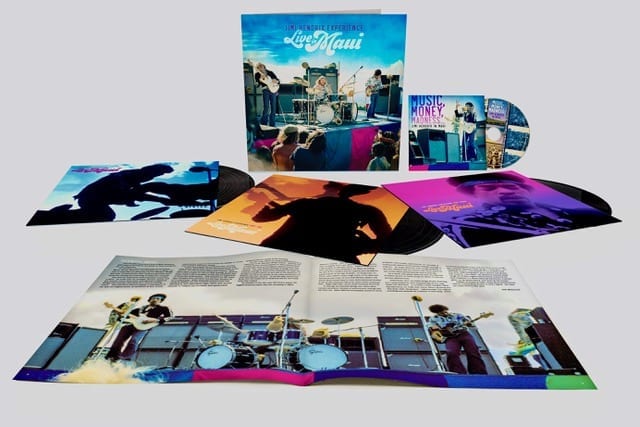 Jimi Hendrix Experience – "Voodoo Child (Slight Return)" (Live in Maui, 1970)
The Jimi Hendrix Experience – Live In Maui CD tracklist
DISC ONE – FIRST SHOW:
Chuck Wein Introduction
Hey Baby (New Rising Sun)
In From The Storm
Foxey Lady
Hear My Train A-Comin'
Voodoo Child (Slight Return)
Fire
Purple Haze
Spanish Castle Magic
Lover Man
Message to Love

DISC TWO – SECOND SHOW:
Dolly Dagger
Villanova Junction
Ezy Ryder
Red House
Freedom
Jam Back at the House
Straight Ahead
Hey Baby (New Rising Sun)/Midnight Lightning
Stone Free