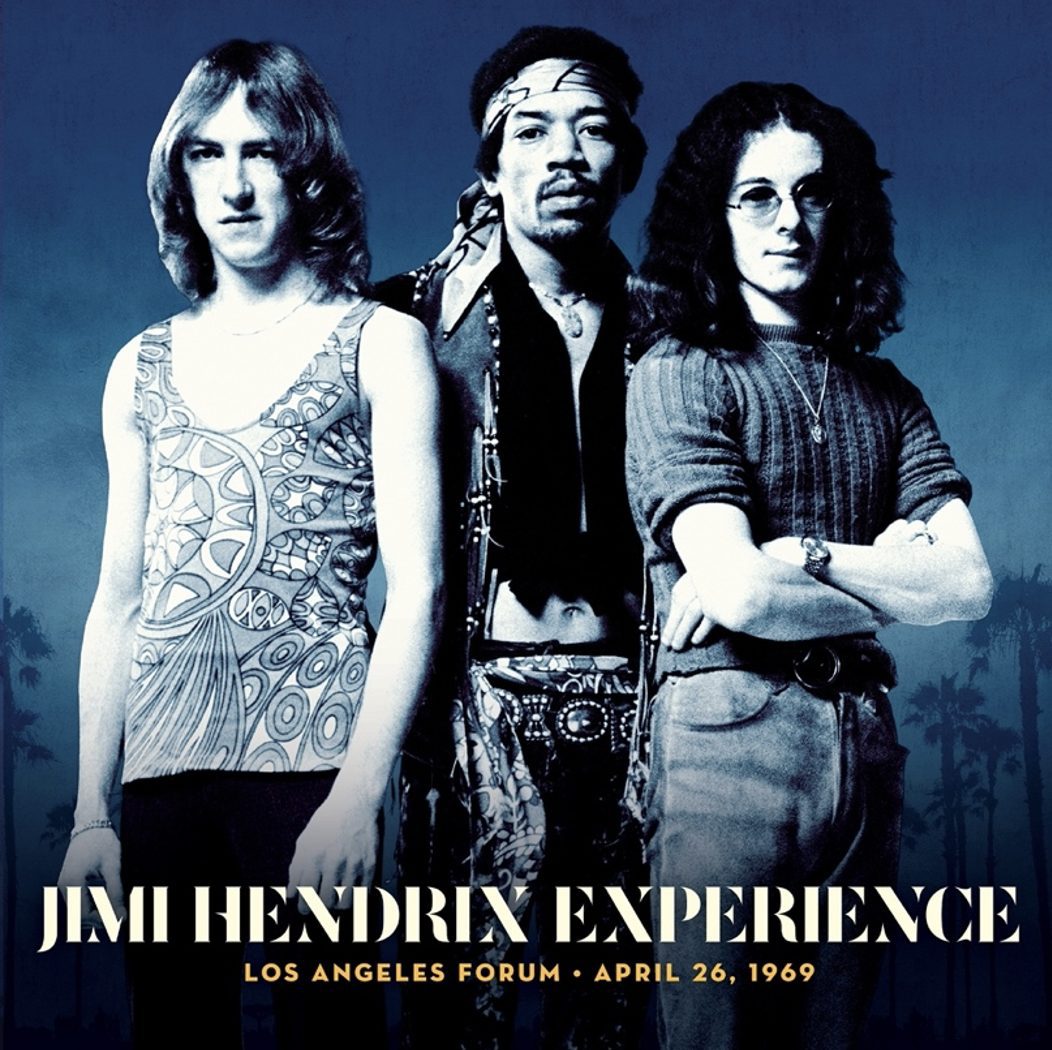 A newly released live version of the Jimi Hendrix Experience performing "Purple Haze" is out now. The track is the first to be released from the forthcoming live set, Los Angeles Forum: April 26, 1969.
You can listen to "Purple Haze" in the player below.
The album, available now for pre-order, will be released November 18 on 2LP vinyl, CD, and all digital platforms.
The Jimi Hendrix Experience – "Purple Haze" (Live at Los Angeles Forum, 4/26/1969)
10 Things You Might Not Know About Jimi Hendrix
The main support act at the Forum that night was Chicago Transit Authority, who soon thereafter shortened their name to Chicago. In a brand new short film, three original members (trombonist James Pankow, trumpeter Lee Loughnane, keyboardist/vocalist Robert Lamm) recall being in awe of Jimi Hendrix as a musician and his graciousness as a person, and explain how his personal invitation to open for him on such a large stage was a turning point in their career.
Pankow remembers meeting Jimi Hendrix at the Whisky a Go Go: "He looks at us and he goes, 'You guys have a horn section that sounds like one set of lungs, and a guitar player that's better than me. You want to go on the road?' Hell yeah! . . . our jaws were hanging open."
"The way that they [the Jimi Hendrix Experience] were approaching their music was very jazz-like," says Lamm. "Jimi's songs, the way that he addressed them, the way he sang them, the nature of the solos and how the sections kind of bled into each other . . . we had never seen anything like this and we were grateful to be there."
Pankow says of witnessing the live performance: "Nobody had the ferocity and the daring that Jimi and his trio had . . . I'm not so sure that the audience necessarily understood the musicality, but they felt the power. It was overwhelming. It was undeniable. If you were living and breathing, you were overwhelmed, period . . . And to be invited? To be a part of that? My mouth to God's ears– it was the coolest, most important invitation that we have yet received." 
Original members of Chicago discuss Jimi Hendrix 
Also present at the Forum concert was ZZ Top singer/guitarist Billy F Gibbons, whose band Moving Sidewalks had earlier opened for The Jimi Hendrix Experience in multiple cities during 1968. "After the performance, Jimi came by and said, 'Hey man, how did we do?'" Gibbons states in the liner notes of the Los Angeles Forum album. "How do you respond to that since there's no basis for comparison as it was such a singular performance? All I could manage was, 'I'm floored, I'm fixed' and left it at that. Still am."
This week also marks Jimi Hendrix's debut on the streaming service YouTube Music. The entire Jimi Hendrix audio catalog can now be accessed on YouTube Music. 
Also being released during the month of Jimi Hendrix's 80th birthday is the book JIMI. Published by Chronicle Chroma and out November 8, JIMI is a visually stunning and specially curated deluxe 320-page hardcover book authored by Janie Hendrix and John McDermott. Childhood stories, rarely seen photos and candid images, dedications and inspirational anecdotes will give fans an inside look at the music legend's groundbreaking artistry. 
Like Picasso or Jimi Hendrix, Eddie Van Halen Was a True Original