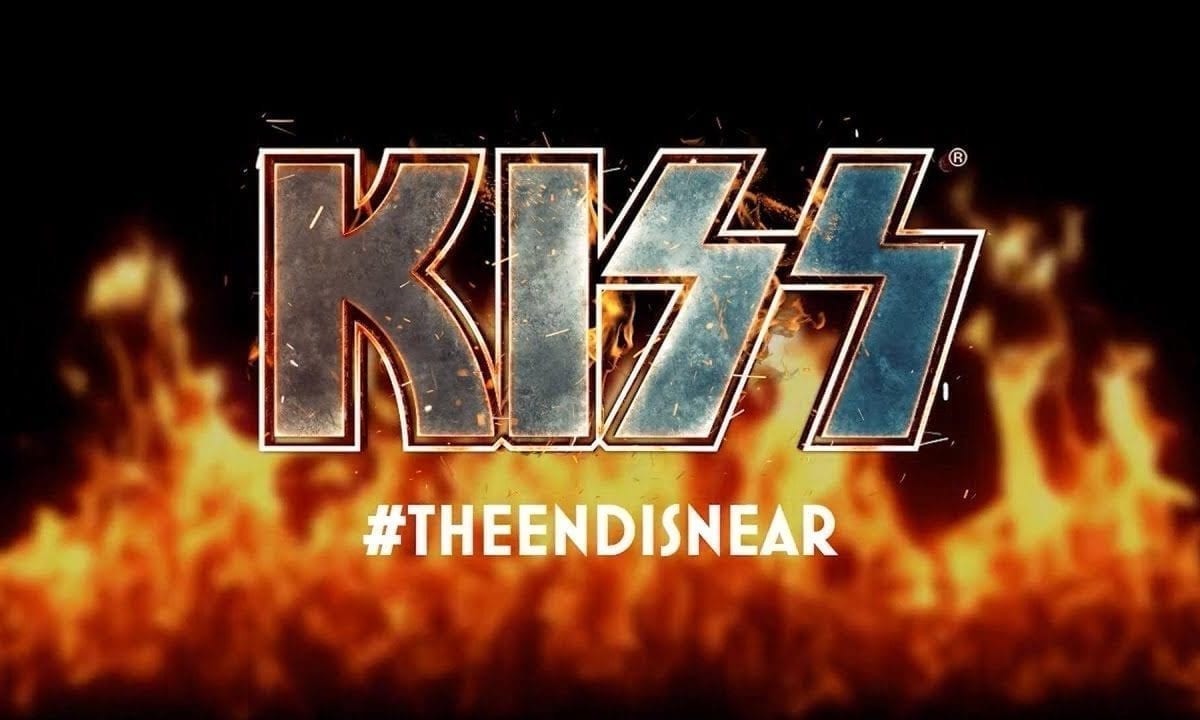 Kiss have revealed that their final show will take place in New York City on July 17, 2021, at an as-yet-unspecified venue.
The band made the announcement on stage just prior to their second show of this year's Kiss Kruise. Watch the announcement in the player below.
"We've been on the End of the Road tour, and people have said, 'When is the last show?' So, we're here to tell you that the End of the Road comes to an end on July 17, 2021, in New York City, said frontman Paul Stanley while standing in front of a giant countdown clock that read 622 days, 23 hours and 51 minutes.
The band also revealed 75 new shows for their End of the Road tour, which launched on January 31, 2019, in Vancouver, British Columbia. The new round of concerts will run from February to October of 2020.
In addition to the new North and South American dates, Kiss will add a slate of summer shows in Europe surrounding their previously announced headlining slot at Download Festival. The band also revealed that the tenth Kiss Kruise is scheduled for Oct. 30 to Nov. 4, next year, sailing from Miami to Harvest Caye, Belize, and Roatan, Honduras.
This is not the first time that Kiss has mounted a farewell tour. The group's original line-up of Gene Simmons, Paul Stanley, Peter Criss, and Ace Freshley mounted a 142-date "final tour" that began in 2000 and wrapped up in April of 2001.
Two years later, the group hit the road again with current band member Tommy Thayer on guitar in place of Freshley.
"We brought those guys back and they were just completely apologetic and remorseful and thankful to be back," Stanley later said of former bandmates, Freshley and Criss. "And yet it wasn't too long after things started to happen again that they started doing the same stuff. And it just became ugly and no fun. The farewell tour was us wanting to put Kiss out of its misery. And for a while, honestly, we lost sight that we didn't have to stop – we had to get rid of them."
When the current farewell tour was announced last year, bassist Gene Simmons responded to questions as to whether or not Freshley and Criss would be invited back by saying, "Ace and Peter have gotten three chances. They were in and out of the band – fired – three times. For drugs, alcohol, bad behavior, being unprofessional … they weren't carrying their load. … So the short answer to your question is we'd love to have Ace and Peter join us here and there. And if they don't, it's not going to be because of us. But they're never going to be in Kiss again."
See below for the list of tour dates that Kiss shared during the Kiss Kruise concert. Venue and ticket information have yet to be revealed for these newly announced dates. Also listed below are the previously announced upcoming shows.
Kiss End of the Road 2019 Tour Dates
Nov 19 – Adelaide, SA @ Entertainment Centre
Nov 21 – Melbourne, VIC @ Rod Laver Arena
Nov 22 – Melbourne, VIC @ Rod Laver Arena
Nov 23 – Newcastle, NSW @ Supercars Newcastle 500
Nov 28 – Brisbane, QLD @ Brisbane Entertainment Centre QLD
Nov 30 – Melbourne, VIC @ Rod Laver Arena
Dec 3 – Auckland, NZ @ Spark Arena
Dec 8 – Sendai, Japan @ Xebio Arena Sendai
Dec 11 – Tokyo, Japan @ Tokyo Dome
Dec 14 – Morioka, Japan @ Morioka Shi Ice Arena
Dec 17 – Osaka, Japan @ Osaka Dome
Dec 19 – Nagoya, Japan @ Nagoya Aichiken Gymnasium
Kiss End of the Road 2020 Tour Dates
Feb 1 – Manchester, NH
Feb 4 – Allentown, PA
Feb 5 – Buffalo, NY
Feb 7 – Charlottesville, VA
Feb 8 – Greensboro, NC
Feb 11 – Columbia, SC
Feb 13 – Lexington, KY
Feb 15 – Peoria, IL
Feb 16 – Fort Wayne, IN
Feb 18 – Springfield, MO
Feb 19 – Wichita, KS
Feb 21 – Sioux City, IA
Feb 22 – Grand Forks, ND
Feb 24 – St. Paul, MN
Feb 25 – Lincoln, NE
Feb 29 – Laughlin, NV
Mar 2 – Bakersfield, CA
Mar 4 – Los Angeles, CA @ Staples Center (makeup date for postponed 9/20/19 show)
Mar 6 – Oakland, CA @ Oracle Arena (makeup date for postponed 9/16/19 show)
Mar 9 – El Paso, TX
Mar 10 – Lubbock, TX
Mar 12 – Tulsa, OK
Mar 14 – Lafayette, LA
Mar 15 – Biloxi, MS
Apr 24 – San Salvador, El Salvador
Apr 28 – San Jose, Costa Rica
Apr 30 – Bogata, Columbia
May 2 – Lima, Peru
May 5 – Santiago, Chile
May 7 – Asuncion, Paraguay
May 9 – Buenos Aires, Argentina @ Campo Argentino De Polo
May 12 – Porto Alegro, Brazil
May 14 – Curitiba, Brazil
May 16 – Sao Paulo, Brazil
May 19 – Uberlandia, Brazil
Jun 9 – Paris, France
Jun 12 – Derby, U.K. @ Download Festival
Jun 14 – Dortmund, Germany
Jun 15 – Hamburg, Germany
Jun 18 – Copenhagen, Denmark
Jun 20 – Sandnes, Norway
Jun 23 – Gothenburg, Sweden
Jun 25 – Stockholm, Sweden
Jun 27 – Helsinki, Finland
Jun 29 – Kaunas, Lithuania
Jul 1 – Prague, Czech Republic
Jul 4 – Barcelona, Spain
Jul 5 – Madrid, Spain
Jul 7 – Lisbon, Portugal
Jul 10 – Frankfurt, Germany
Jul 11 – Stuttgart, Germany
Jul 13 – Verona, Italy
Jul 15 – Gilwice, Poland
Jul 16 – Budapest, Hungary
Jul 18 – Sofia, Bulgaria
Jul 21 – Geneva, Switzerland
Jul 25 – Johannesburg, South Africa
Aug 28 – Mansfield, MA
Aug 29 – Hartford, CT
Aug 31 – Canandaigua, NY
Sep 1 – Bangor, ME
Sep 4 – Atlantic City, NJ
Sep 5 – Burgettstown, PA
Sep 8 – Atlanta, GA
Sep 9 – Raleigh, NC
Sep 11 – Clarkston, MI
Sep 13 – Tinley Park, IL
Sep 14 – Dayton, OH
Sep 15 – Milwaukee, WI
Sep 19 – George, WA
Sep 20 – Ridgefield, WA
Sep 22 – Boise, ID
Sep 24 – Salt Lake City, UT
Sep 26 – San Bernardino, CA
Sep 27 – Chula Vista, CA
Sep 29 – Phoenix, AZ
Oct 1 – Austin. TX
Oct 3 – Ft. Worth. TX
Oct 30 – Nov 4: Kiss Kruise X
Kiss End of the Road 2021 Tour Dates
Jul 17 – New York, NY