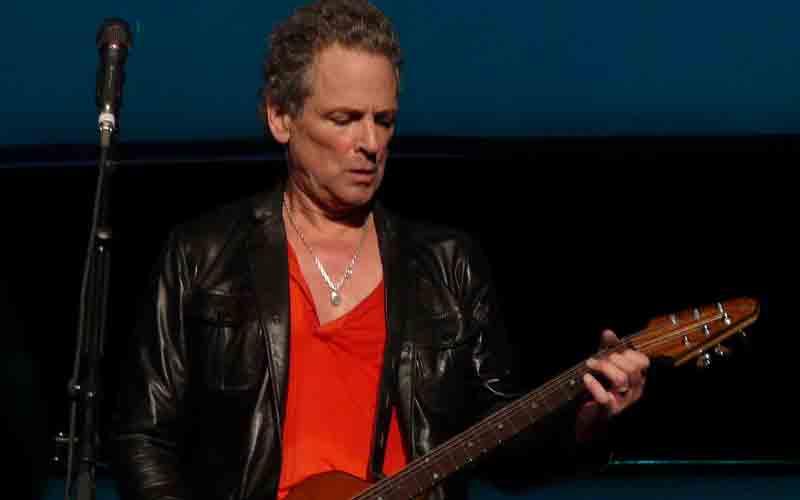 Lindsey Buckingham has made his first public comments since leaving Fleetwood Mac. The guitarist, who was rumoured to have been fired from his band of 43 years, performed and spoke Friday evening and confirmed that his leaving the band was "not a choice".
"It's been an interesting time on a lot of levels for me personally. Probably some of you know, that for the last three months I have taken leave of my band of 43 years, Fleetwood Mac. This was not something that was my doing or my choice," explained Buckingham. "I think what you would say there were factions that were in the band that had lost their perspective."
Although an audience member quickly yelled out "F*ck Stevie Nicks!," Buckingham responded diplomatically.
"It doesn't really matter. The point is that they lost their perspective…and what that did was to harm—and this is the one thing I am really sad about because the rest of it becomes an opportunity—it harmed the 43-year legacy that we worked so hard to build. And that legacy was really about rising above difficulties in order to fulfill someone's higher truth and one's higher destiny."
Fleetwood Mac released a statement in April revealing that Mike Campbell of Tom Petty & the Heartbreakers and Crowded House frontman Neil Finn would be joining the band and that Buckingham would not join them on their upcoming tour.
Shortly after the statement, Nicks revealed in a CBS This Morning interview that the band wanted to get out on the road but Buckingham wasn't willing to.
Lindsey Buckingham's First Public Comments Since Leaving Fleetwood Mac
Lindsey Buckingham left Fleetwood Mac in 1987 but returned 10 years later and has been active with the band ever since.  Last year he released a duo album with Fleetwood Mac's Christine McVie.
Fleetwood Mac's tour kicks off October 3rd in Tulsa, OK. Click here for a list of dates.