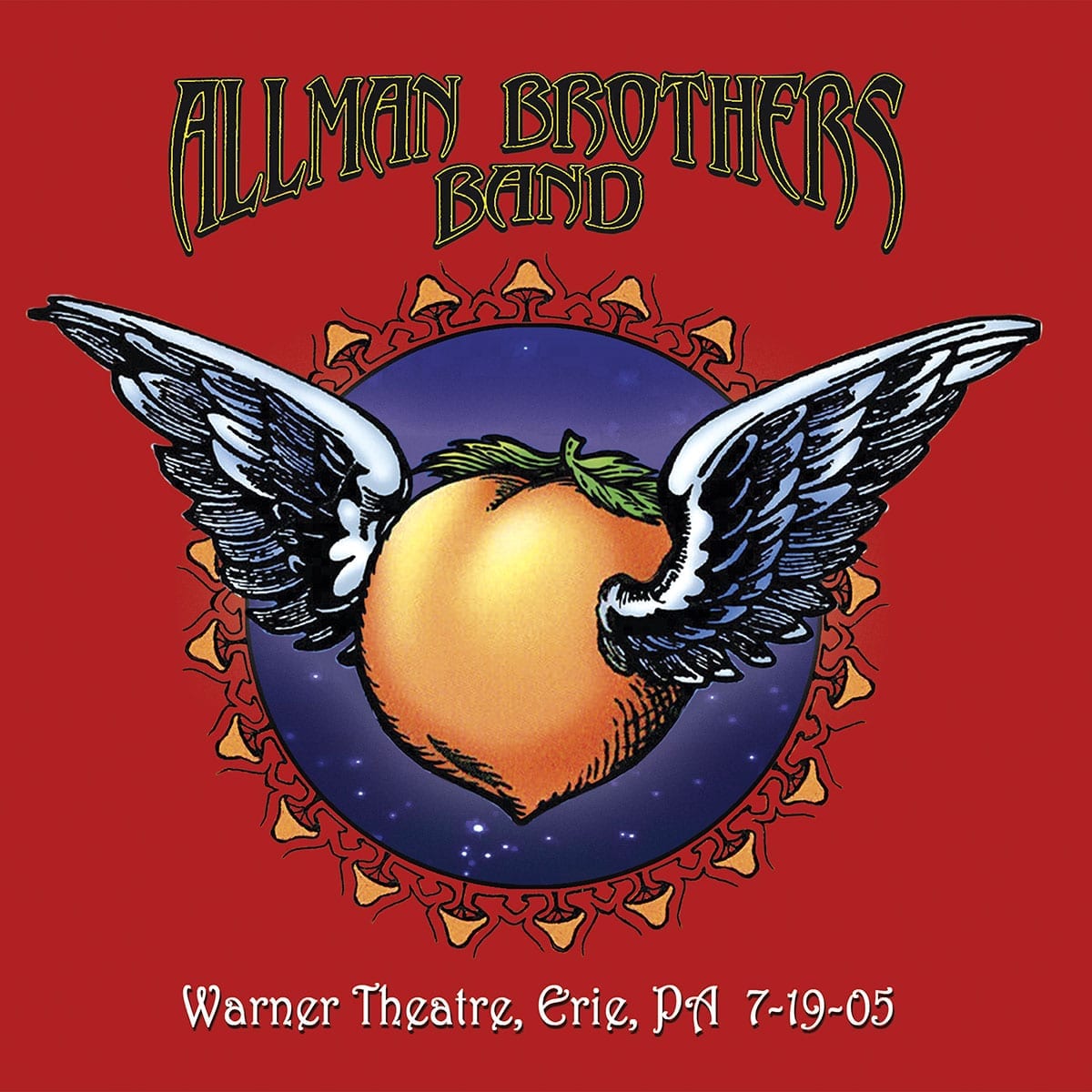 When The Allman Brothers Band performed at Erie, Pennsylvania's Warner Theatre in July of 2005, they gave what the band members themselves hailed as one of their best performances ever. Now fans will have the opportunity to experience that show with a 2-CD live album due out October 16th.
Dubbed by the Allman Brothers Band Recording Company as "the best show you never heard", the 2-CD set features 19 tracks including such hits as "Midnight Rider" and "Trouble No More" as well as a cover of The Band's "The Night They Drive Old Dixie Down" and a rare show opener "Mountain Jam"). See a full track listing below.
By the summer of 2005, The Allman Brothers Band lineup – Gregg Allman on vocals and keyboards, drummers Jaimoe and Butch Trucks, Warren Haynes and Derek Trucks on guitars, Oteil Burbridge on bass and percussionist Marc Quinones – had been together for four years and had really found their groove. The Erie show was an "Evening with" theater-style show – there was no opening act and the night was broken into two sets, separated by an intermission. The band was fresh off a day off and were coming into the last 5 shows of their run rested and relaxed.
"I was feeling it while they were playing," the band's manager Bert Holman said of his memory of the Erie, PA show. "Ultimately, I knew it had been a great night when they started coming off the stage and everyone was like, 'Man, that was a great show!' I remember Oteil and Derek particularly being pumped about it, Haynes was pleased, and Butch was just raving about how over-the-top the show was. They all told me that they needed a copy of the show, which says a lot right there."
The Allman Brothers Band – Warner Theatre, Erie, PA 7-19-05 is due out October 16th via Allman Brothers Band Recording Company, distributed by The Orchard.
Disc 1 Track Listing:
1 Mountain Jam
2 Statesboro Blues
3 Firing Line
4 Good Morning Little School Girl
5 Midnight Rider
6 The High Cost of Low Loving
7 Trouble No More
8 Mountain Jam (Reprise)
9 Melissa
10 The Night They Drove Old Dixie Down
11 Don't Keep Me Wonderin'

Disc 2 Track Listing:
1 Into the Mystic
2 Dreams
3 Leave My Blues At Home
4 Jabuma
5 Leave My Blues At Home (Reprise)
6 Don't Think Twice, It's All Right (featuring Susan Tedeschi)
7 Jessica
8 One Way Out