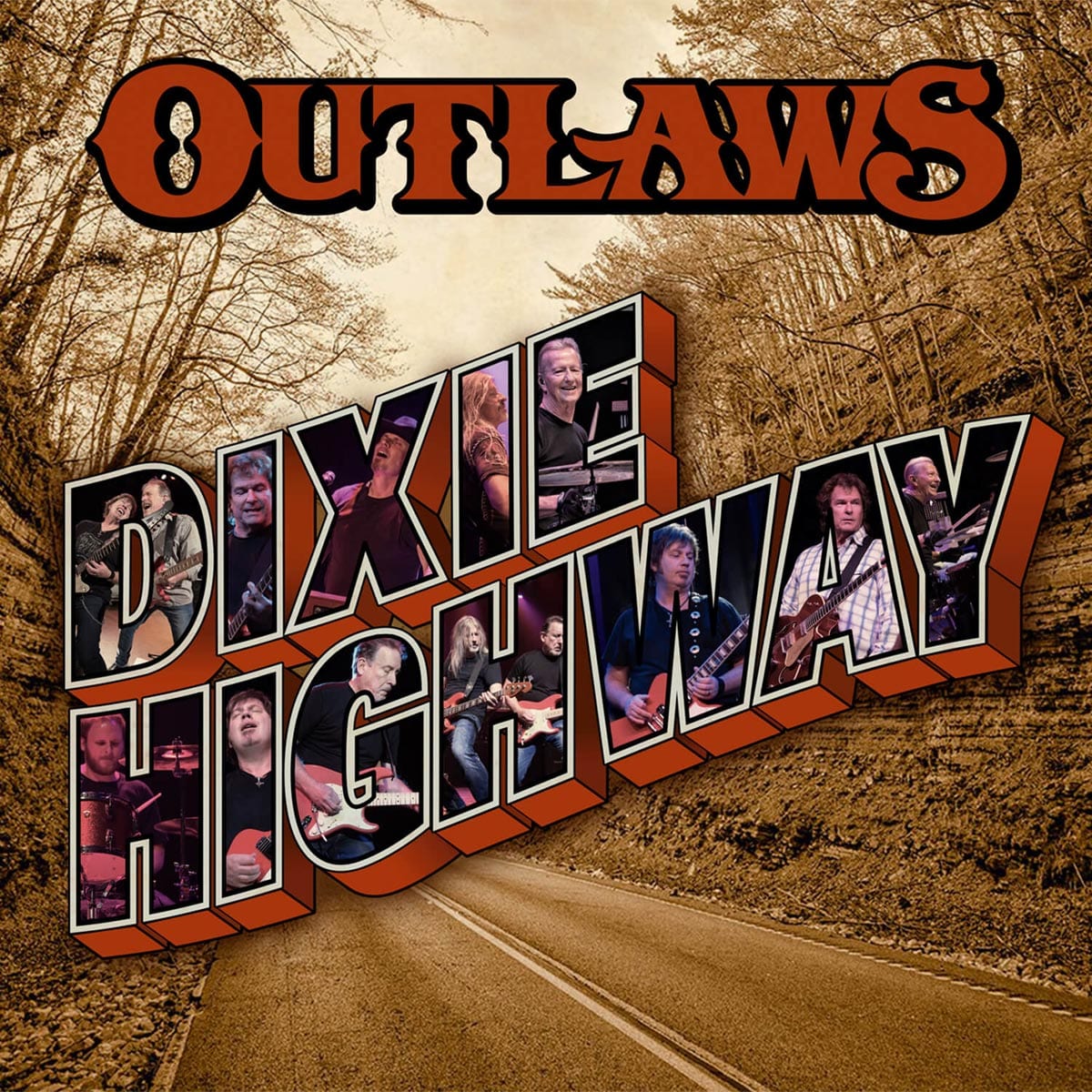 The Outlaws have released a new single, "Southern Rock Will Never Die", from the band's forthcoming album Dixie Highway. Hear the new song now in the player below.
"We wrote and recorded this album to reinforce the notion that the Outlaws still matter," frontman Henry Paul says of Dixie Highway, "and that Southern Rock will always matter. It's a message we're proud to bring into the 21st century."
Since the release of their 2012 comeback album It's About Pride and acclaimed 2016 double album Legacy Live, the Outlaws – led by Paul and co-founder/drummer Monte Yoho along with Randy Threet (bass, vocals), Steve Grisham (guitars, vocals), Dave Robbins (keyboards, vocals), Dale Oliver (guitars, vocals), Jaran Sorenson (drums) and guest guitarist Billy Crain – have re-emerged as what fans call 'Southern Rock's Last Band Standing'.
The group are known for their unique triple-guitar rock and three-part harmonies, as heard on hits like "There Goes Another Love Song",
"Green Grass & High Tides", "Knoxville Girl" and "Freeborn Man".
In support of the new album, the Outlaws will kick off a U.S. tour on February 8th with dates in Missouri, Florida, New York, Pensylvania, Connecticut, Rhode Island and Tennessee. See below for a full list of shows.
Dixie Highway is due out February 28th is available for pre-order now. The album will be released on CD, 2LP, and on digital and streaming platforms.
The Outlaws – 'Southern Rock Will Never Die'
Dixie Highway Track Listing
Southern Rock Will Never Die
Heavenly Blues
Dixie Highway
Overnight from Athens
Endless Ride
Dark Horse Run
Rattlesnake Road
Lonesome Boy from Dixie
Showdown (instrumental)
Windy City's Blue
Macon Memories
The Outlaws 2020 U.S. Tour Dates
Feb 8 – River City Casino & Hotel – St. Louis, MO
Feb 14 – Parker Palyhouse – Ft. Lauderdale, FL
Feb 16 – The Plaza Live – Orland, FL
Mar 5 – Lyric Theatre – Stuart, FL
Mar 7 – Seminole Casino – Immokalee, FL
Mar 8 – Ponte Vedra Concert Hall – Ponte Vedra, FL
Mar 27 – Space at Westbury Theater – Westbury, NY
Mar 28 – Carlisle Theatre – Carlisle, PA
Mar 29 – The Lamp – Irwin, PA
Mar 31 – Daryl's House – Pawling, NY
Apr 1 – Warehouse – Fairfield, CT
Apr 2 – Infinity Hall – Norfolk, CT
Apr 3 – Stadium Theatre – Woonsocket, RI
Apr 4 – Infinity Hall – Hartford, CT
May 24 – Cumberland Caverns Live – McMinnville, TN