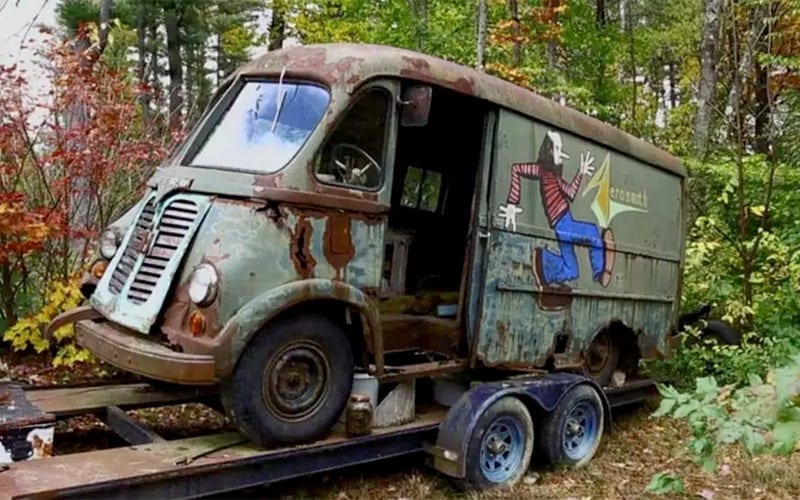 More than four decades after it transported five wannabe rock stars around New England, a piece of rock and roll history has been returned to its rightful owners. In a new episode of the History channel's American Pickers, Mike Wolfe and Frank Fritz deliver a newly restored early Aerosmith touring van to Steven Tyler, Joe Perry, Brad Whitford, Tom Hamilton and Joey Kramer.
Watch the segment below.
The 1964 International Harvester Metro, used by the band in the early 1970s, first resurfaced last year when it was discovered by the Pickers on a wooded property in Chesterfield, MA. After calling in original band member Ray Tabano to authenticate it, the television hosts purchased the vehicle from the property owner for $25,000.
In an episode that aired in March, Wolfe and Fritz and their team got to work on the van. The members of Aerosmith got involved and made the decision that the van should be preserved, not restored to new condition.
While the restoration team did use a donor van for parts, they meticulously matched as many details as possible to the original van, including replicating the rust on the body.
In a new episode that aired this week, the band admires the work and reminisces about their early days in the van. At one point, Steven Tyler nostalgically opens and closes the driver side door.
"You know there's two sounds… that I remember," says Perry. "One is the tape rewinding in the studio, and that."
Amazingly, one thing that didn't need any work was the original painted artwork on the side of the van.
"It boggles my mind that the only thing that made it through 35 years in the woods is the artwork," says Kramer.
"We spent a lot of time and hours, traveling in this box… and it looks and feels the same," he continues.
In jest, Tyler checks a compartment in the ceiling for a hidden stash.
Apparently not every detail is the same.

Aerosmith plans to use the van as part of their fall Las Vegas residency show. Perry says he hopes it will eventually end up at the Rock and Roll Hall of Fame.
Aerosmith reunited with early touring van on History channel's American Pickers