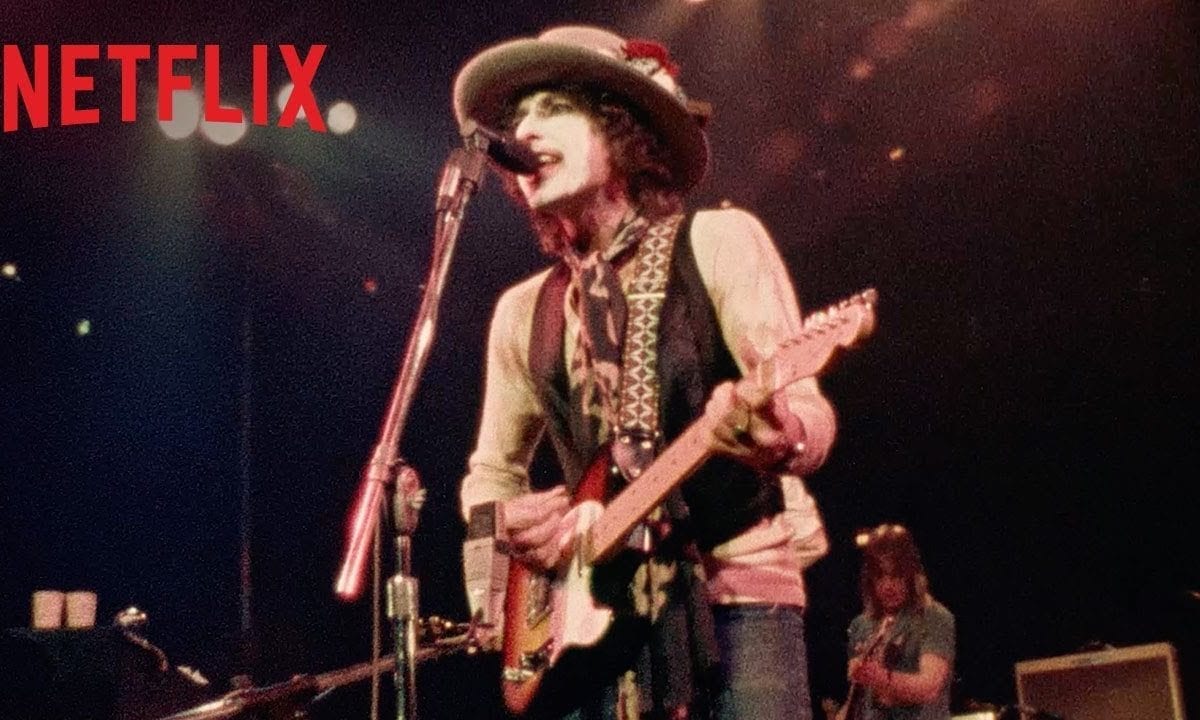 In the fall of 1975, Bob Dylan launched the first leg of Rolling Thunder Revue – an unconventional trek that flouted accepted tour conventions by featuring an eclectic cast of characters who visited small, unusual venues with little advance notice. Dylan's name rarely appeared on the tickets. In fact, he was simply one of many performers to take the stage for the often three-to-four-hour shows.
The tour gave Dylan, who had by then become a massive star, the opportunity to perform at smaller venues in less-populated cities and regain some of the intimacy with audiences that he had lost with fame.
What resulted were some of the legendary artist's most dramatic and dynamic performances ever.
Luckily much of this unique tour was captured on film, audio or in print and has been carefully woven into a new documentary by Martin Scorsese.  Rolling Thunder Revue: A Bob Dylan Story is due out in select theatres today and begins streaming on Netflix tomorrow, June 12.
Watch the performance clip of "Hard Rain" from the documentary below.
"This performance of 'Hard Rain' is a look at a piece of essential American folklore, never before seen and beautifully restored," reads a statement from Netflix. "Master filmmaker Martin Scorsese creates a one-of-a-kind movie experience: part documentary, part concert film, part fever dream. Featuring Joan Baez, Rubin 'Hurricane' Carter, Sam Shepard, Allen Ginsberg, and Bob Dylan giving his first on-camera interview in over a decade. The film goes beyond mere reclamation of Dylan's extraordinary music – it's a roadmap into the wild country of artistic self-reinvention."
"Hard Rain" from Rolling Thunder Revue: A Bob Dylan Story
On the Rolling Thunder tour Dylan debuted the new songs he'd written for his forthcoming Desire album, which was released between the first and second legs of the tour. Performing with a rekindled fire and intensity, he also took wild, interpretative rides through his back catalog and broke out some unexpected covers.
Dylan gathered an outstanding cast of friends and collaborators for his ensemble – dubbed Guam for the tour – that included T Bone Burnett, Mick Ronson, Joan Baez, Ramblin' Jack Elliott, Bobby Neuwirth, Scarlett Rivera, Ronee Blakley, Steven Soles, David Mansfield, Rob Stoner, Howie Wyeth and Luther Rix. Poet Allen Ginsberg and Joni Mitchell also brought their talents to the show's encores. Dylan, the consummate band leader, managed to take these musicians from various backgrounds and sensibilities and mold them into a tight musical unit on stage.
As a companion to the documentary Columbia Records and Legacy Recordings have released Bob Dylan – The Rolling Thunder Revue: The 1975 Live Recordings. 
A comprehensive anthology of music from the mythic first leg of Bob Dylan's groundbreaking Rolling Thunder Revue tour, this 14CD box set includes all five of Dylan's full sets from that tour that were professionally recorded.  The collection also provides the listener with an intimate insider's seat for recently unearthed rehearsals at New York's S.I.R. studios and the Seacrest Motel in Falmouth, MA plus a bonus disc showcasing one-of-a-kind performances from the tour.
The collection features 148 tracks in all, with more than 100 of those never previously released. Included in the box set is a 52-page booklet featuring rare and never-before-seen Rolling Thunder Revue photos and a revelatory essay by novelist/musician Wesley Stace. Concurrent with the release of the 14CD box set will be a reissue of The Bootleg Series Volume 5 on vinyl, back in print for the first time since 2002 as a 3LP set with a 64-page booklet.
Bob Dylan – The Rolling Thunder Revue: The 1975 Live Recordings is available now on Amazon.
Rolling Thunder Revue: A Bob Dylan Story debuts on Netflix Saturday, June 12.