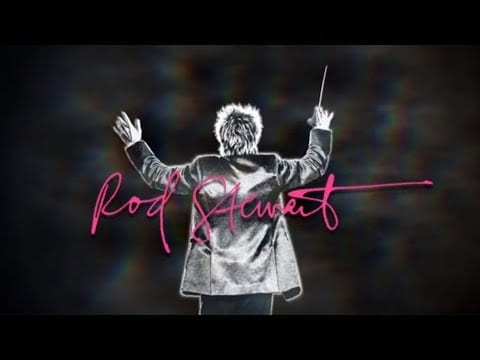 Rod Stewart has premiered a brand new track from his forthcoming orchestral album You're In My Heart: Rod Stewart With The Royal Philharmonic Orchestra. Due out November 22nd, the album pairs vocal tracks from many of his classic songs with new orchestral arrangements.
Though the album centers around favorites such as Maggie May," "Forever Young," "The First Cut Is The Deepest" and "Reason To Believe," Stewart did record two new tracks for the release including the freshly penned "Stop Loving Her Today."
Watch the official lyric video in the player below.
Stewart was initially hesitant when Warner Brothers approached him with the idea of pairing his vocal tracks with new music by the Royal Philharmonic Orchestra. "I can't say that I'd pay for a ticket to go and watch classical music," he told Rolling Stone. "But I told them I'd like to hear a couple of takes and see what they can do with these songs. I was pleasantly surprised with what they came back with."
"Stop Loving Her Today" was written by songwriter/producer Simon Climie, one half of the '80 UK pop duo Climie Fisher. "His manager is an ex-girlfriend of mine from way back in the 1970s named Dee Harrington," said Stewart. "He's a wonderful chap and writes beautiful songs. He came up with this one and she said, 'You know who should sing this? Rod.' They gave it to me and I immediately fell in love with it."
Stewart originally recorded "Stop Loving Her Today" without the orchestral accompaniment but, "To make it blend in somewhat [on the album], we had to put them on it," he said. He seems a little unsure of the final result though, "I think we might have gilded the lily with the strings on it and we might do a remix where we take them down a little. … They're a bit too loud."
Also new on the album is a cover of the 1966 Marvin Gaye and Kim Weston classic "It Takes Two," recorded as a duet with pop singer Robbie Williams. However, beyond those two tracks, Stewart's involvement in the album was actually quite minimal since the producers utilized the vocal tracks from his master studio recordings and his 1993 Unplugged…and Seated concert rather than have him re-record vocals. "I don't understand the technical side of recording at all," he says. "I'm lost when it comes to that. I do know that they kept the drums from the original recording of 'Maggie May.' Believe it or not, they even added strings to 'Stay With Me.' They really punched it up and I'm quite proud of it."
Stewart is set to launch an extensive UK tour later this month. The tour will begin in Manchester on November 23rd, and will end with three shows in London on December 17th, 19th and 20th. He also has a series of shows scheduled in Las Vegas in March, September and October 2020. See below for a complete list of shows.
Tracklist – You're In My Heart: Rod Stewart with The Royal Philharmonic Orchestra
1CD:
Maggie May
It Takes Two (with Robbie Williams)
Sailing
Reason To Believe
Handbags and Gladrags
Tonight's The Night (Gonna Be Alright)
I Don't Want To Talk About It
The First Cut Is The Deepest
You're In My Heart (The Final Acclaim)
I Was Only Joking
Young Turks
Forever Young
Rhythm Of My Heart
Have I Told You Lately
Stop Loving Her Today
2CD Deluxe Edition
CD1:
Maggie May
Reason To Believe
Handbags & Gladrags
Sailing
Tonight's The Night (Gonna Be Alright)
The Killing Of Georgie (Part I and II)
I Don't Want To Talk About It
The First Cut Is The Deepest
You're In My Heart (The Final Acclaim)
I Was Only Joking
CD2:
It Takes Two (with Robbie Williams)
Stay With Me (with Faces)
Young Turks
What Am I Gonna Do (I'm So In Love With You)
Every Beat Of My Heart
Forever Young
Downtown Train
Rhythm Of My Heart
Have I Told You Lately
Tom Traubert's Blues (Waltzing Matilda)
If We Fall In Love Tonight
Stop Loving Her Today
Rod Stewart: Live in Concert Tour – UK 2019
Nov 23 – Manchester, UK @ Manchester Arena
Nov 26 – Glasgow, UK @ SSE Hydro
Nov 28 – Glasgow, UK @ SSE Hydro
Nov 30 – Glasgow, UK @ SSE Hydro
Dec 2 – Belast, Ireland @ SSE Arena
Dec 4 – Dublin, Ireland @ 3Arena
Dec 7 – Aberdeen, UK @ P&J Live
Dec 10 – Liverpool, UK @ Echo Arena
Dec 11 – Leeds, UK @ Leeds Direct Arena
Dec 13 – Birmingham, UK @ Arena Birmingham
Dec 17 – London, UK @ The O2 Arena
Dec 19 – London, UK @ The O2 Arena
Dec 20 – London, UK @ The O2 Arena
Rod Stewart: The Hits Tour – 2020
Mar 6 – Las Vegas, NV @ Caesars Palace
Mar 7 – Las Vegas, NV @ Caesars Palace
Mar 11 – Las Vegas, NV @ Caesars Palace
Mar 13 – Las Vegas, NV @ Caesars Palace
Mar 14 – Las Vegas, NV @ Caesars Palace
Mar 18 – Las Vegas, NV @ Caesars Palace
Mar 20 – Las Vegas, NV @ Caesars Palace
Mar 21 – Las Vegas, NV @ Caesars Palace
Sep 18 – Las Vegas, NV @ Caesars Palace
Sep 22 – Las Vegas, NV @ Caesars Palace
Sep 24 – Las Vegas, NV @ Caesars Palace
Sep 25 – Las Vegas, NV @ Caesars Palace
Sep 30 – Las Vegas, NV @ Caesars Palace
Oct 2 – Las Vegas, NV @ Caesars Palace
Oct 3 – Las Vegas, NV @ Caesars Palace