The Next Day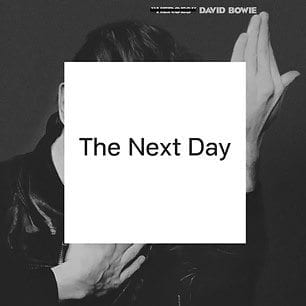 Amazon
iTunes
Track Listing
1. The Next Day
2. Dirty Boys
3. The Stars (Are Out Tonight)
4. Love Is Lost
5. Where Are We Now?
6. Valentine's Day
7. If You Can See Me
8. I'd Rather Be High
9. Boss of Me
10. Dancing Out In Space
11. How Does the Grass Grow?
12. (You Will) Set the World On Fire
13. You Feel So Lonely You Could Die
14. Heat
15. So She (Bonus Track)
16. I'll Take You There (Bonus Track)
17. Plan (Bonus Track)
Recommended Releases
Listen
About the Album
David Bowie is breaking years of silence with the release of The Next Day, coming March 12th in North America. The new album will be available as 14-track standard download and CD, 17-track deluxe download and CD (includes 3 bonus tracks), 17-track double vinyl album (includes 3 bonus tracks), and 18-track Blu-Spec CD2 in Japan only (includes 4 bonus tracks).
"The Stars (Are Out Tonight)" is the latest single from the album.
The first single, "Where Are We Now" was released January 8th, in celebration of Bowie's birthday.
Image Gallery
David Bowie Videos
David Bowie Headlines
Moonage Daydream, the first official David Bowie documentary sanctioned by the singer's estate, is coming to theatres across the globe on September 16, 2022. News of the release was revealed on official David Bowie social accounts this week along with a first look at the poster for the film. You can watch the official teaser … Continue reading David Bowie Documentary Coming to Theatres This September →

A new David Bowie film is set to premiere at the Cannes Film Festival next month. Moonage Daydream is the first movie about David Bowie to be sanctioned by the late singer's estate.  The film touts itself as an "experiential cinematic odyssey that explores Bowie's creative, spiritual, and philosophical journey". It features never-before-seen footage from … Continue reading New David Bowie Movie 'Moonage Daydream' To Premiere Next Month →