The Prelude Implicit
Artist:
Kansas
Release Date: September 23, 2016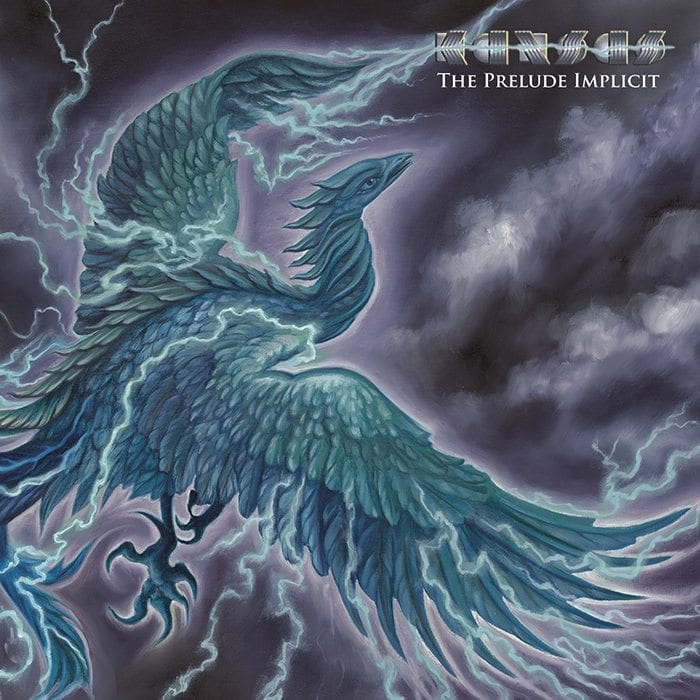 Amazon
iTunes
Track Listing
1.) With This Heart
2.) Visibility Zero
3.) The Unsung Heroes
4.) Rhythm in the Spirit
5.) Refugee
6.) The Voyage of Eight Eighteen
7.) Camouflage
8.) Summer
9.) Crowded Isolation
10.) Section 60

Recommended Releases
Listen
About the Album
Kansas released The Prelude Implicit on September 23, 2016.  The album was the first new release in 16 years for the band that has sold more than 30 million albums worldwide, and is famous for classic hits such as 'Carry On Wayward Son' and 'Dust In the Wind,' to progressive epics like 'Song for America' and 'Miracles Out of Nowhere.'
The Prelude Implicit features 10 all new tracks written by the band and co-produced by Zak Rizvi, Phil Ehart, and Richard Williams.  KANSAS's signature sound is evident throughout the album.  It showcases Ronnie Platt's soaring lead vocals, David Ragsdale's blistering violin, Williams and Rizvi's rocking guitar riffs, the unmistakable sound of David Manion's B3 organ and keyboards, Ehart's thundering drums, and Billy Greer's driving bass and vocals.
KANSAS returned to the studio in January 2016 after signing with Inside Out Music.  Says Inside Out founder and president Thomas Waber, "KANSAS is the biggest and most important Prog band to come out of the United States. I grew up listening to them, and their music is part of my DNA.  'The Prelude Implicit' undoubtedly adds to their already impressive musical legacy.  I can't stop listening to it, and we are proud to be releasing the album."
more...
The result of the time in the studio was even more than the band imagined.  "This is definitely a KANSAS album," remarks original guitarist Richard Williams. "Whether it is the trademark Prog epic like 'The Voyage of Eight Eighteen,' biting rocker such as 'Rhythm in the Spirit,' or mindful ballad like 'The Unsung Heroes,' there is something on this album for every kind of KANSAS fan.  After years of pent-up creativity, the entire band is very proud of 'The Prelude Implicit.'"
Lead Vocalist Ronnie Platt adds, "Recording 'The Prelude Implicit' was an incredible experience, and I couldn't be happier with the results. It is my hope that, knowing the intense listeners that KANSAS fans are, the continuity yet diversity of this album will be pleasing to them."
The album title, The Prelude Implicit means, "Without a doubt, this is a new musical beginning," explains Ehart. Tattoo artist, Denise de la Cerda, did the oil painting of the front and back cover.  "It shows a Phoenix flying from the past into the future."
"The Prelude Implicit" will be released September 23, 2016, on Inside Out Music and is distributed by RED.  The album will be available on CD, Double 180 Gram Vinyl, and digitally on iTunes and Google Play.  Pre-order opportunities will be available starting later this summer at KansasBand.com and Amazon.com.
Image Gallery
Kansas Videos
Kansas Headlines
Looking back at some of the people who shaped our musical life that are no longer with us. Here are the rockers we lost in 2021. Mick Bolton Died January 1, 2021Keyboardist for Mott the Hoople Gerry Marsden September 24, 1942 – January 3, 2021Leader of Gerry and the Pacemakers Michael Fonfara August 11, 1946 … Continue reading Remembering Rockers We Lost in 2021 →

Robby Steinhardt, original violinist and co-lead vocalist of Kansas, has died at the age of 71. News of Steinhardt's death was confirmed by his wife Cindy in a Facebook post on Monday. "We are beyond devastated as our lives were about to start a new adventure," her post reads. "Robby just recorded his first solo … Continue reading Kansas Singer and Violinist Robby Steinhardt Dies at 71 →
Kansas Tour Dates
Kansas Tour Dates