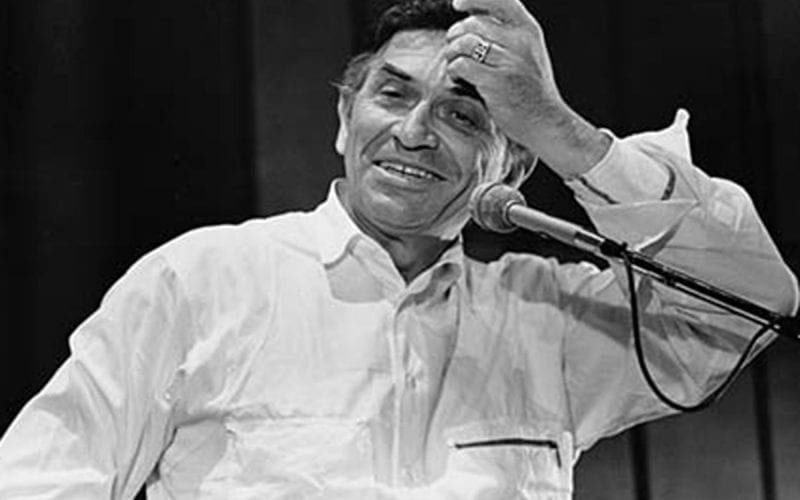 Bill Graham and the Rock & Roll Revolution is a traveling exhibit now on display at the New-York Historical Society Museum & Library.  I was invited to attend the opening ceremony in which there was a panel discussion about Bill's early years and some of the more memorable moments and concerts he promoted.  Many of the people on the panel and in the audience were old friends of mine from back in the day—it was pretty terrific.
As many people know, Bill Graham was an impresario who became a legendary concert promoter pioneering rock concerts as larger theater-style performance art.  What rock came to mean for most of us was in many ways driven by Bill and his desire to continually produce powerful, memorable shows. 
I will talk about Bill's extraordinary life and what he meant to the world of rock in just a moment.  But I first want to drive home the point that Bill Graham was a showman, he wanted to make a difference in how people felt, he wanted to try and put a smile on his audiences' faces that would stay with them for long periods of time.  He was a business man, but the show and the smiles came first and the business came second as a consequence of his wonderful creative work.  His long-lasting achievements are a large part of this exhibit and are an indelible part of rock's rich history.
What some people don't know, is that Bill Graham was of German descent and a holocaust survivor. He fled Nazi Germany in 1939 with 43 other children and escaped to France. The parents of those children were forced to stay behind and most perished under the hands of the Nazis. Bill's mom died on the train to Auschwitz where one of his five sisters was also killed. When Bill finally came to New York in 1941 he was 11 years old. He was vastly undernourished, weighed only 43 pounds and could only speak French and German.
Bill was taken in by foster parents and grew up in the Bronx.  When older, he tried to become an actor in New York but couldn't make a go of it, so he moved to San Francisco where the scene was more forgiving.  There, in the beginning of the counter culture movement, he was invited to attend a free concert in Golden Gate Park, produced by Chet Helms and the Diggers where he hooked up with the radical theater group the San Francisco Mime Troupe.  After Mime Troupe leader Ronnie Davis was arrested on obscenity charges during an outdoor performance, Bill organized a benefit concert to cover the troupe's legal fees.  He had teamed up with Chet and Family Dog, and together produced some more concerts that eventually led Bill to become a full-time promoter himself.  As the counter-culture and music renaissance of the '60s grew with San Francisco as its epicenter, Graham found himself right in the middle of it all. 
In the beginning, all of the shows were promoted in rented venues.  Eventually, Bill would go on to establish the Fillmore West, Winterland Ballroom, and the Fillmore East as his own concert halls where counter-culture audiences went to fill their minds, hearts, and souls with the music that defined their lives.
When Bill first escaped to France as a child, he and a friend had survived for several weeks eating only apples that they secretly picked. Now, when patrons entered the Fillmore auditorium, they were greeted by a barrel of apples with a sign that read, "Have One…or Two." There is also a story about Bill handing out umbrellas to an audience outside in the rain waiting to get into one of his shows. Bill cared about the audience experience from beginning to end of any concert he ever promoted.
Graham was a complex individual, could certainly get wound and yell and scream when he had to, but he also had a very big heart.  He met a very young Carlos Santana one evening when Carlos and a conga-playing friend of his were trying to sneak into the Fillmore West to see Cream and The Butterfield Blues Band.  He caught them crawling through a window, but rather than immediately throw them out he had a conversation with them.  Turned out, they were truly broke, but really wanted to see the show being musicians themselves.  Carlos told Bill that he was into Latin rhythms and wanted to fuse Latin music with rock.  Bill had a soft spot for Latin music and was intrigued by Carlos's ideas.  He let the guys into the show and would go on to one day, not only promote Santana concerts, but to also manage Carlos Santana, as well as Eddie Money and other notable rock artists.
Once there was a day-time listening party for one of Santana's new albums, held at Bill's house in Marin County.  Local folks from radio, retail, and the press were invited along with some of us from the record company.  Bill had a nice piece of land, and as you entered the grounds there were a few catering waiters and waitresses walking around offering drinks and hors d'oeuvres. This was followed by a proper lunch with a big spread of food served buffet-style under a tent.  I started at one end of the buffet and worked my way down the long table to the end.  Bill, being Jewish, was also serving lox and bagels as part of the feast.  It all looked great to me, so I got a bagel, some cream cheese, and when I got to the very end of the line, who should be there slicing and personally serving you the smoked salmon, but Bill Graham himself.  It was so warm and fuzzy—like 'Welcome to my home.'  He could have had any of the waiters perform this task, but Bill wanted to be a gracious host. Tells you a lot about the man.
Graham was careful to surround himself with a good staff.  He oversaw everything but encouraged his people to be creative and gave them budgets to do so.  During the Who's Tommy tour Bill's staff wanted to go beyond their usual psychedelic light show and create a much larger production—they even wanted to produce a small movie for the "Acid Queen" segment.  Bill gave them five thousand dollars and told them to go for it.  Again, the accent here on how can we produce the greatest most memorable show, as opposed to just pocketing the five thousand.   
The original 60's creative psychedelic light shows, which were a big part of the Fillmore experiences, were the very beginning of the larger rock productions which bands went on to produce themselves, using laser lights, movies, and the advanced Vari-Lite system.  These "liquid light shows" were made by mixing different color mineral oils, alcohol, crystals and other mediums on slides, and projecting those images on a screen behind the performers.  The most legendary of these was the Joshua Light Show created by Joshua White, a student of theatrical lighting and film, who was an integral part of Bill's staff and production crew.  I saw many of Josh's shows under the influence, and it was a wonderful surprise to see him as one of the people on the panel during the opening of the exhibit.  I got to meet him during the reception held after the discussion, and it was a big thrill for me.  He and his light shows were a big part of my early rock concert experiences.  It reminded me of the time I met Bear Owsley (Owsley Stanley), who was famous for his LSD, Owsley Acid.  Both men seemed genuinely pleased that their handy work had influenced my life, and in such meaningful ways.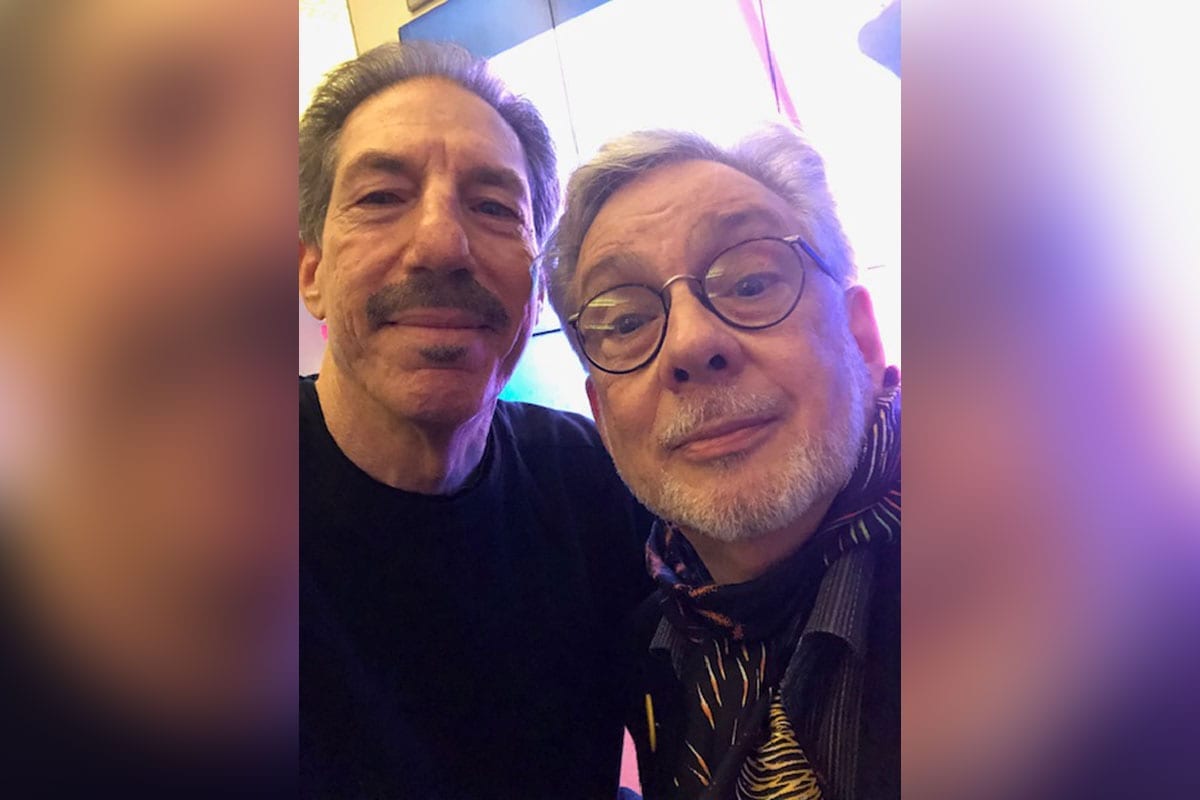 As a nice touch at the reception, the food included mini pastrami Ruben sandwiches and mini chocolate egg cream sodas! A tip of the hat to Bill's work in New York and the Fillmore East, and such a typical Bill Graham Presents kind of move, once again putting a smile on all of our faces.
Besides Joshua White, I also chatted with a lot of old friends during the reception.  One was Bonnie Simmons, who was the music director and on-air DJ at the renowned KSAN-FM rock radio station back in the day.  Bonnie was a key part of the San Francisco music scene and responsible for breaking many new artists out of that area.  I also talked with panel member Jerry Pompili, who was Bill's right-hand man for years.  When Bill got nuts, we all called Jerry to straighten things out because he was the voice of reason at Bill Graham Presents.  I also ran into another key employee, Danny Scher, who once helped kick me out of Winterland many years ago!  We both had a good laugh about it.  It all started because of a special guitar I had given to Elvis Costello, which I'll tell you about another time.
Back to Bill and his crew. Bill and his people were a very proud bunch. Sometimes his staff's ego got a bit out of check, as was in the case of me being thrown out of Winterland, but if you truly crossed him or his people, you were in a lot of trouble.
Once when traveling with Bruce Springsteen and the E-Street Band I was so tired I just needed to get away from it all.  Bruce's guys were loading the equipment into Winterland's backstage area and I went behind the stage, behind the back curtain, and sat high up in some seats overlooking the stage area.  I fell asleep for about a half-hour and all of a sudden, I awoke to loud voices.  I looked down and there behind the curtain was Bill, really pissed off yelling at Bruce's manager Jon Landau.  They were obviously looking for privacy and didn't know I was high in the seats above.  Apparently, Bruce's road crew had come in and knowing the ropes, just started to set stuff up and plug the equipment in without consulting Bill Graham's stage crew — kind of ignoring them.  Now you had a stand-off between the Bill Graham Presents folks and some hardcore New Yorkers.  Bill couldn't have been more than two feet from Jon's face yelling at the top of his lungs, "I gave you this, I gave you that–whatever you asked for!  How dare you guys come into our house and act like you own the place!"  OMG, I'd seen Bill yell before but not get up in someone's face like that, and not to Bruce Springsteen's manager!  I thought Jon was going to diffuse the situation, but no, he started yelling right back.  It was like watching a heavyweight title fight.  In the end, they made-up and Bruce played two magnificent shows at Winterland, but whew… I'd never seen anything like that before.
Yes, Bill could yell (and he was somewhat notorious for it) but he really had a heart of gold.  He produced both Live Aid and the Amnesty International Concerts for charity, and he was also famous for making every band he ever promoted feel at home in his venues.  Bill always took some of his own money to build elaborate backstage scenes for his acts.  When the Who came to play, the backstage ping pong tables were all painted like British Union Jack flags.  When Pink Floyd came, he actually created an English Pub that you walked into, sat down, and could have a Guinness beer along with a steak and kidney pie.  When Springsteen came, he built a New York bar which also featured a gelato ice cream stand.  I remember standing along-side Ronnie Wood, both of us eating gelato while watching Bruce perform.  What a night, and Bill's lavish backstage creations were a far cry from the usual crackers and cheese served by most other promoters.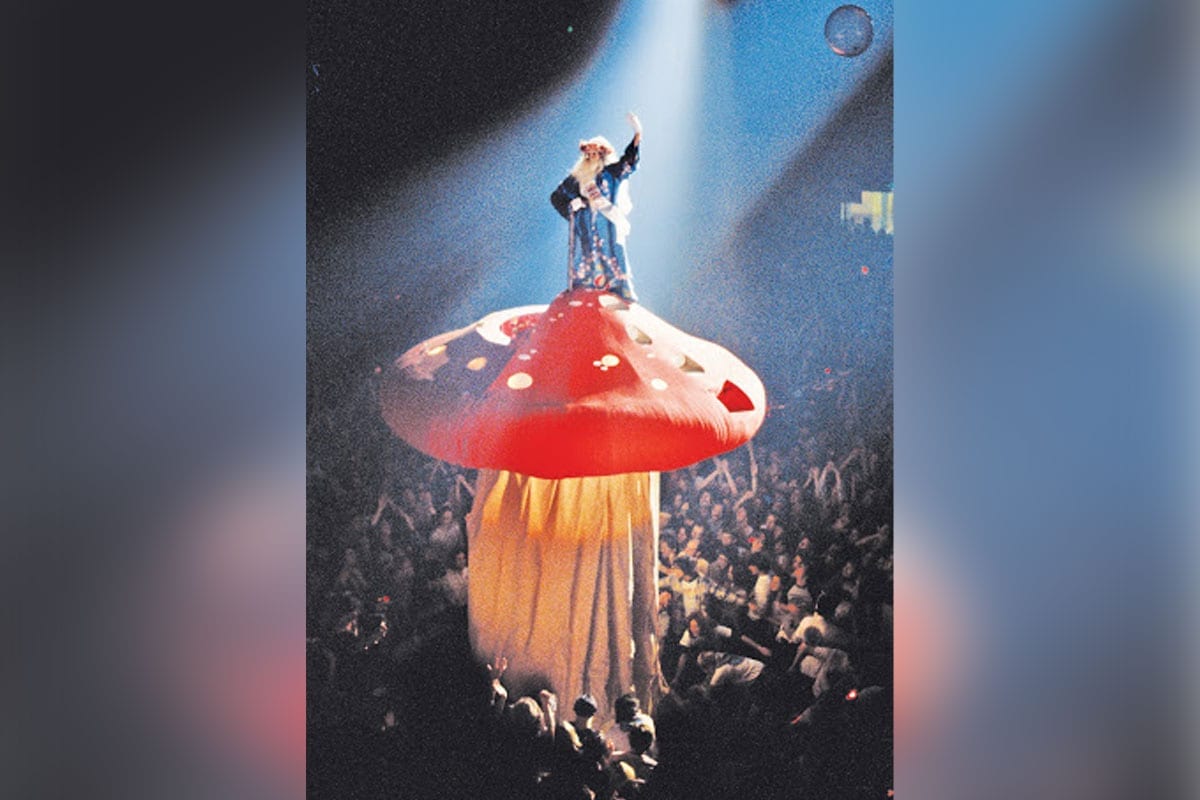 In fact, if you were an industry person going to a Bill Graham show, half the fun was always wondering what surprise Bill was going to pull for the artist or band playing that night.  During his memorable New Year's Eve concerts, often at the Cow Palace featuring the Grateful Dead, Bill would dress up as Father Time (with scythe and all) and make an appearance before all the balloons and confetti fell from the ceiling.
Bill Graham was about creating memorable experiences for both his audiences and the acts that played for him. He was a modern-day P.T. Barnum. The photo of The Rolling Stones performing at Day On The Green in Oakland, CA personifies his vision. He built a stage so big he was able to put the band inside their own logo!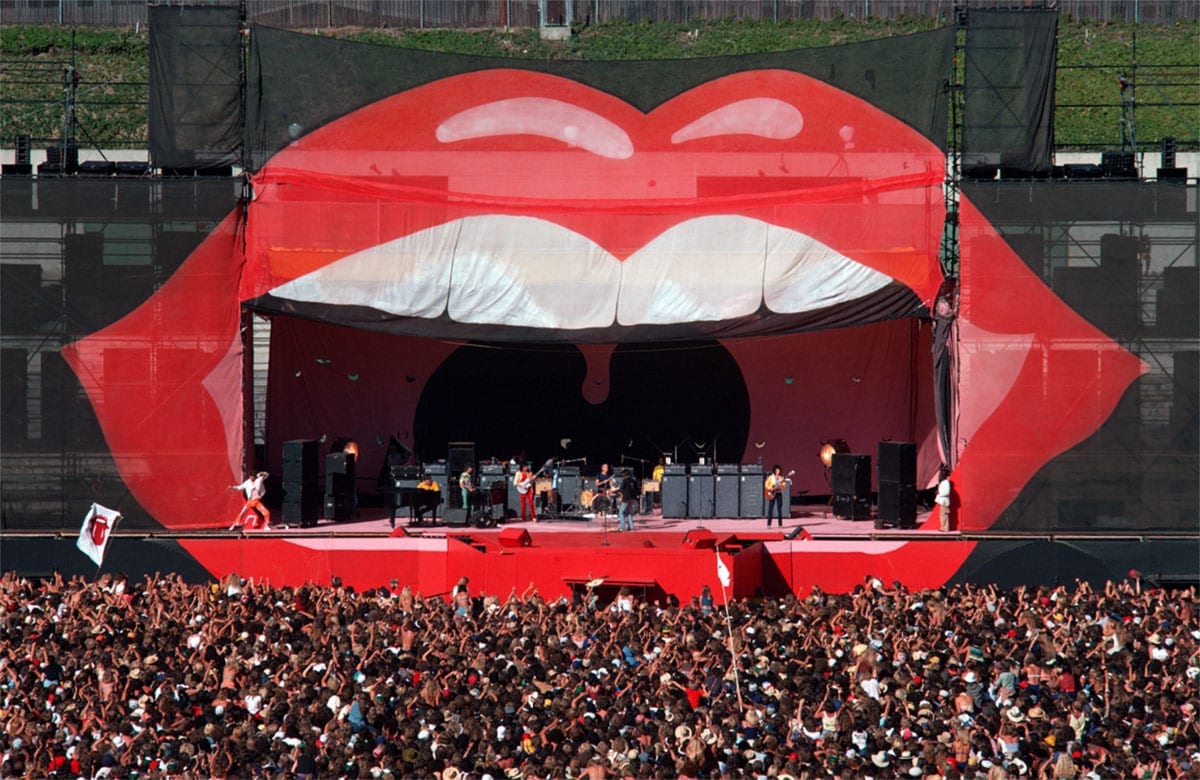 Sadly, Bill met an untimely death in a helicopter crash in 1991, but he left an indelible mark on rock and roll history. Bill Graham was rock's greatest concert promoter of all time.
Rap~
Below are a couple of videos that will give you a glimpse into Bill's life and his charismatic personality.
Backstage with Rock Star Promoter Bill Graham
Bill Graham on Meeting Santana
© Paul Rappaport 2020