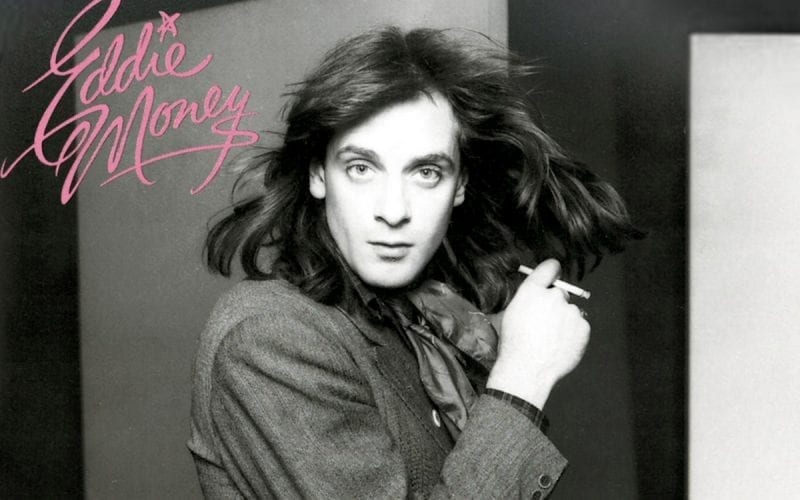 Eddie Money is the only recording artist I know who was loved by everyone. He had the biggest and warmest personality and made you feel like a best friend immediately upon meeting him.
I remember the first time we met. It was right before his debut album was released on Wolfgang/Columbia Records. It was 1977 and we were in Bill Graham's San Francisco office.
Aside from being a legendary promoter, Bill was going to manage Eddie and put him on his subsidiary Wolfgang label that he had with Columbia. I was Columbia's western region album rock promotion man at the time and I had heard the album. I told Eddie I thought it was really good, and that we had a chance of establishing him as a serious new rock artist.
Eddie – big, tall, and kind of goofy – looked down at me with his unkempt mop-top floppy hairdo, wearing a huge oversized magenta scarf. "Mamma Mia, I hope it goes!" he said. Right then I knew he was a really down to earth kind of guy.
I knew the album had a good chance for success. But I wasn't ready for how quickly it was accepted by radio and how fast we were able to establish, not one, but two hits off a debut record… "Two Tickets To Paradise" and "Baby Hold On."
Eddie was a natural frontman and his original guitar player Jimmy Lyon played a role like Ronnie Wood did for Rod Stewart in the Faces — together, they killed it onstage. Eddie was a very funny guy with quick wit and often the dumbest jokes.
In the beginning, he was a wild man like many rockers. On his first radio promotional tour he was going to be traveling with Warren Williams, a legendary Columbia rep for the western region. Eddie asked Warren to stop at a local liquor store, "Hey Warren, I just want to run in and get a pack of cigarettes." About twenty minutes later Eddie emerged with a giant case full of Whiskey, Vodka, Tequila, and Gin — "OK, I'm ready now."
In later years he toured as a classic rock act with his daughter and other family members in his band. He used to joke — "It's like the Partridge Family, only with marijuana!"
Eddie was born in Brooklyn, grew up on Long Island, and was a member of the New York Police Department, which he left after a couple of years to pursue his music career. But he never lost sight of his blue-collar upbringing. Even at the height of his career, with all the celebrity, millions of albums sold, and large sum of money he had made, he was one of the few artists who never changed. His ego was always in check. He remained a regular guy — someone you'd really have fun hanging out with. And he treated anyone he met, in any walk of life, exactly the same… with big respect.
Once he was traveling with a local rep in New York — they were late for a radio interview and speeding on the Long Island Expressway. They were pulled over by the cops and, it turned out, one of the policemen was a classmate of Eddie's when they went through the Police Academy together. "Hey Eddie, you knucklehead, what are you doin'?!! Come on, I'll give you guys a police escort!"
That kind of fun luck used to happen a lot for Eddie.
As industry insiders know, we often staged events for artists to hang out with radio personnel. It allowed them to bond, and a meaningful relationship could be established beyond just delivering a record to a radio station. For Eddie we chose paintball. We invited all the radio station peeps in southern California to the Malibu hills, chose teams, and ran around shooting each other with balls of paint while we played Capture The Flag.
No one had more fun than Eddie, who was the captain of his team. The exercise was so grueling, running up and down gullies and constantly diving into the brush or climbing behind big rocks for cover. Both Eddie and I, who fancied ourselves as macho dudes, had a big laugh that it took us three days and a lot of Advil to recover.
Eddie will be sorely missed, not only by his family, but by all of us who had the pleasure of working with him. Whenever you told any radio personnel that Eddie was coming by, their eyes lit up because they knew they were in for a good time and a lot of laughs.
It's never easy when someone that you had a connection with passes. This one is especially hard — I feel like the world has lost one of its biggest smiles.
Paul Rappaport