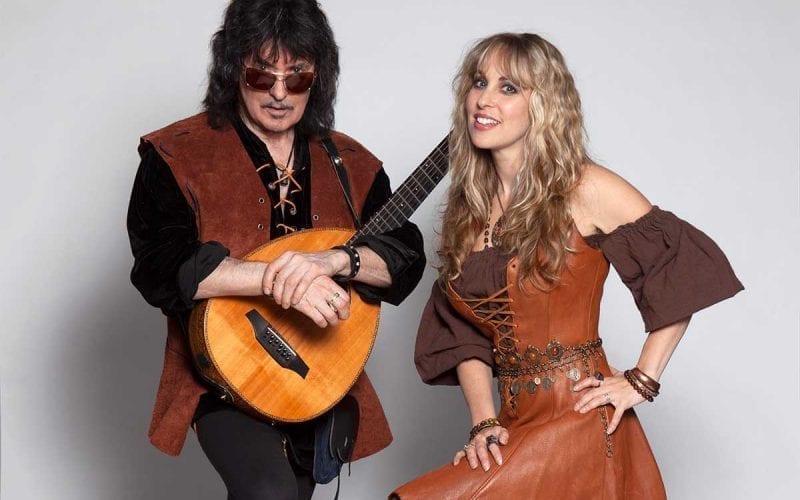 Blackmore's Night – led by legendary guitarist Ritchie Blackmore and award-winning vocalist Candice Night – today released their first new album in six years. In a series of videos, Blackmore and Night discuss the songs on Nature's Light, track by track.
While Nature's Light is rooted in a traditional approach, fans of Ritchie Blackmore's unique style will not be disappointed. Heartfelt ballads such as a brand-new version of 'Wish You Were Here' set the scene for magical tales on "Four Winds" and "The Twisted Oak". For the two instrumental tracks – "Darker Shade Of Black" and "Der letzte Musketier" – Ritchie shows that his brilliance on the guitar is still magic as it always was.
Nature's Light is available now >
Track 1: "Once Upon December"
Candice Night:
"Once Upon December was a very old Italian song originally titled Fuggi, Fuggi, Fuggi that was introduced to us by an incredible musician, and very good friend of ours, who had passed away a couple of years ago. His name is Owain Phyfe of New World Renaissance Band. Incredible balladeer- amazing minstrel. We brought him on tour with us when we went overseas. We decided to reinterpret the song during a cold winter while we were recording so the imagery of what was around us at the time weaved its way into the melody line. It's full of the story of cold winter winds, sitting by the fireside on silver stark moonlit nights while the winds were raging outside and the blackened tree branches reached for the moon."
Track 2: "Four Winds"
Candice Night:
"For a long time, I've wanted to write a song about two girls that are very special to me, very close to my heart. Two of my closest friends that I've grown up with. One of them I knew since the age of five and the other one I met in 10th grade, both of them took off into very, very different paths in the world… life paths. Lyrically, I wanted to write a song about their stories. When Four Winds came up, it seemed to be the perfect avenue to really get their stories out. One of them left Long Island where she was born and went to the West Coast, drawn to the ocean, a dolphin spirit."
"Very new 'agey' and just an amazing soul.
The other one was drawn to the woods. Her spirit animal was the wolf. So, I had the dolphin spirit animal and the wolf spirit animal, one for the ocean, one for the woods. The song is, essentially about both of them; the embodiment of both of their stories in very short form, only three verses I think, but it's really kind of the idea or an ode to each one of these girls who are ultimately a part of me and perhaps of everyone, being pulled away from the stress of their current surroundings and looking for escape. If you feel stagnant or repressed in your surroundings, it's important to take a break from the mundane and go where your heart leads you. It allows you to recharge and begin again with fresh and renewed energy. For some it is the ocean, for some the woods, for some feeling the sun on your face, others need to immerse themselves in moonlight. Ultimately, we are all a part of the same story, the same picture and as the song says, "we're all part of the trees and part of the seas and ready to start again…".
Track 3: "Feather In The Wind"
Candice Night:
"Ritchie came up with this tune while playing mandola. 2018 was a very rough year for both of us. I had lost my dad, Ritchie lost his brother, we both lost our cat of 16 years. It was a year of loss and it was very intense and very emotional. We have always been a believer in messages and signs from the other side. When I lost my dad, I felt that he had sent me a number of signs. One of them was seeing feathers in strange places. It could be in the house. It could be in my bedroom. I could be in the kitchen, and find a feather on the floor. They would show up in very, very strange places."
"I started to get the idea of his soul or his spirit or the people that we had lost being these feathers that would travel on the wind. And then by the end of the song, it really winds up being that not only was it symbolic of the people that we had lost, but basically all of our spirits and our souls wind up being these feathers that are carried on the wind to our ultimate destination."
Track 4: "Darker Shade of Black" (Instrumental)
Ritchie Blackmore:
"The actual title, I came up with the title later after the music. I'm a big follower of Bach and the transcending descending riffs that he would play often like Air on the G String and stuff like that. That kind of was in my brain when I was playing that. And the descending sequence was almost like Whiter Shade of Pale, which was based on Bach. So, I thought we'd call it Darker Shade of Black rather than the Whiter Shade of Pale. And that was the title we threw in. But I liked that instrumental. It was released before. I felt that the song was not exposed enough, that the tune was not exposed enough to the public. I felt it was worth releasing again."
Track 5: "The Twisted Oak"
Candice Night:
"Musically, The Twisted Oak was inspired by one of Ritchie's minstrel friends in Des Geyer's 'Schwarzer Haufen'. The basic melody that the violinist, or the nyckelharp player, was playing beneath another song. That came out as that song The Twisted Oak."
"Lyrically we return once again, to the wood. We're very lucky to live in a place where there is 40 acres of woodland right next to our home and the ocean behind our home, so we are surrounded by nature. One of the trees on the entryway to the forest has this branch that looks like a vine made of wood completely wrapped around the huge bark of this tree. The tree must be a few hundred years old. So, I named it the Twisted Oak. There is so much peace and serenity within the depths of the forest if we choose to listen, to experience, to feel it. It truly can renew your spirit just by walking through the wood and listening to the stories it has to share."
Track 6: "Nature's Light"
Ritchie Blackmore:
"We're back to Renaissance faires. I heard something that was a similar kind of melody, so I took that melody and gave it to Candice. I said, "This represents people going to a faire, a very ceremonial thing, with the King and Queen coming through." It needed to have the bombastic pageantry of celebration. A regal announcement that royalty was coming to town."
Track 7: "Der Letzte Musketier" (Instrumental)
Ritchie Blackmore:
"I was in a band in 1964, before anybody was born, and it was called The Musketeers/Die Drei Musketiere. We lived in Germany, and played, and we dressed up as the Musketeers, much like I'm dressed now. It was nostalgic. We played three-piece band, and kind of a long story short, it was my way of thanking the other two band members, which have since passed on. So, I am now the last musketeer."
"It was my favorite band of all time, The Musketeers. We only did about six shows. It was my favorite time. We didn't become famous. So, there was no pressure. We were just all great friends. But unfortunately two of them passed away, so I'm the last musketeer."
Candice Night:
"That's what that title means in German, the last musketeer."
Track 8: "Wish You Were Here"
Candice Night:
"Wish You Were Here is a great song that we discovered while we were touring. We recorded it for Shadow of the Moon, 1997 originally. We heard it done by the Rednex. And it was such a great song that when we heard it, we had tried to find out more information about it. It stayed on the charts in Germany for 17 weeks. Ritchie really just fell in love with it. It's actually one of our favorite songs to do in concert. And we always ask the audience for requests, what they want to hear, and it's one of the songs that they always ask for. So, although we originally did record it in '97, and kind of put our own spin and our own take on it. Then after that we released it again on Winter Carols. And then we decided to do a 2020 version of it with added instrumentation and stronger vocal takes."
Track 9: "Going To The Faire"
Candice Night:
"Going to the Faire is one of the songs that was originally done by Tielman Susato, who is Ritchie's favorite Renaissance composer. It is one of the songs from Dancereye and of course we put it through the 'Blackmoreizing' machine, where the original song goes through Ritchie and then comes out the other side a completely other song. It was such a light, airy song. We're so inspired, not only by nature and by folklore, but by these Renaissance faires that we go to. It's truly an escape from stresses and pressures of today. So, this song is definitely inspired by our wonderful times at different Renaissance faires. We tried to go to Renaissance faires every single year before this past year happened."
Ritchie Blackmore:
"It is an escape."
Candice Night:
"It brings you back to the childlike innocence of wonder and awe and just enjoying yourself, just for the sake of that moment. And looking through the veil and seeing gypsies dancing and minstrels, and Ritchie goes right to the mead tent. We were lucky to have our children, Autumn and Rory, singing the backing vocals at the end. It adds to the childlike wonder and innocence we all experience while going to these faires."
Track 10: "Second Element"
Candice Night:
"We've been big fans of Sarah Brightman for many years. And her work with Frank is just incredible. When we heard the song on an album that she had done many years ago, we just instantly fell in love with it. Second Element II. But there were two versions of it that she recorded. One, she does as more of a love song. And this other one, it's really still a love song, but it's a love song to the element of water, and how water is the source of our lives. And how traveling through rivers and springing up life everywhere it goes. And it was just such a fascinating concept."
"Of course, we're very connected with elements, with earth, with nature, with fire, with water, with air, with the moon, with the sun, all of this going back to Nature's Light again. So, we thought that it would be a perfect home to do a song that was so entwined with our theory of Nature's Light and the element of water. And that what the song wound up being, the Second Element, which was the water element and so vital and magical to us and to the world around us."
Nature's Light is available now >