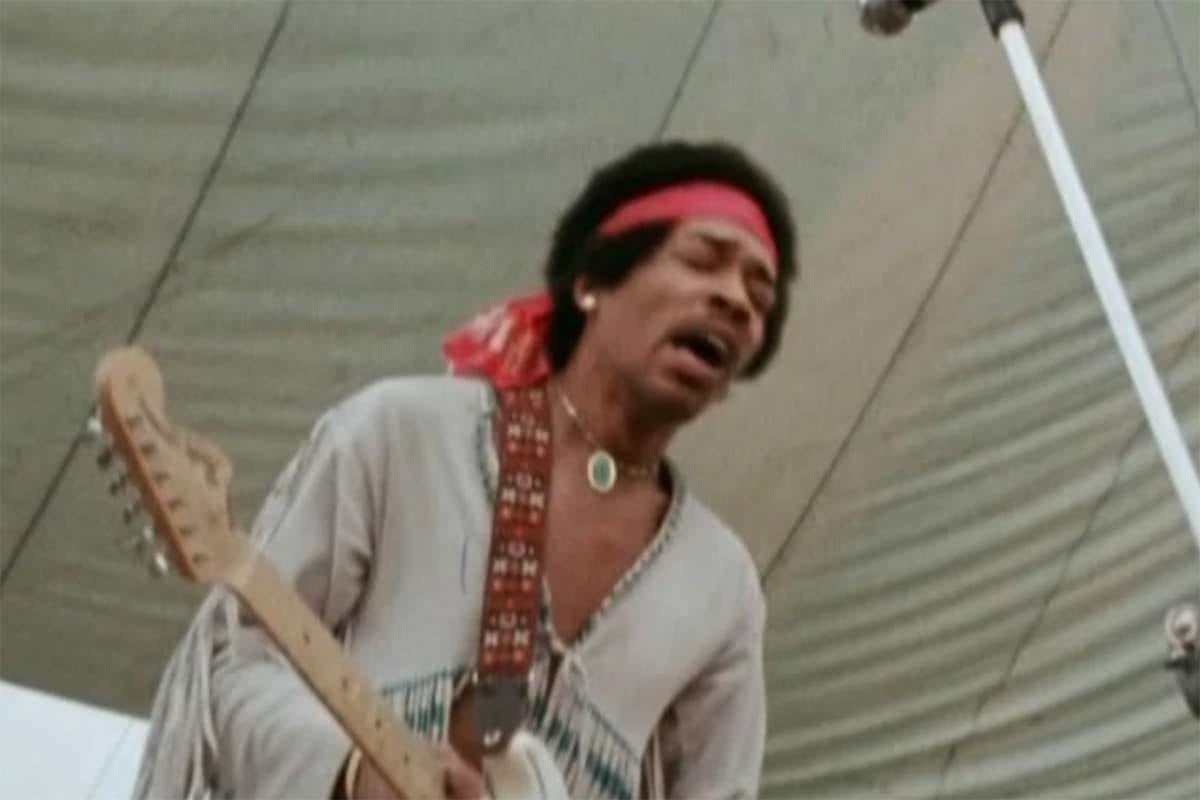 August 18, 1969 – Jimi Hendrix closes out the Woodstock festival with a morning set that concludes with "Hey Joe," one of the few times in his career that he played an encore. Surprisingly, Hendrix was not supposed to be the final act. Woodstock organizer Michael Lang wanted Roy Rogers to come on after Hendrix and play "Happy Trails" but the cowboy crooner declined.
August 18, 1987 – Aerosmith release their "comeback" album Permanent Vacation. It goes on to sell five million copies in the U.S. and spawn the hits "Rag Doll," "Dude (Looks Like a Lady)," and "Angel."
August 18, 1990 – The Monsters of Rock festival at Castle Donington in the U.K. features Whitesnake, Aerosmith, Poison, Quireboys and Thunder. During Aerosmith's set Jimmy Page joins them onstage for a rendition of The Yardbirds' "Train Kept A-Rollin'".
August 18, 2005 – Iron Maiden play their last Ozzfest show, suffering power loss on at least three occasions while being spit on and continuously pelted with ice, bottle caps, and eggs, among other things. Sharon Osbourne later calls Maiden singer Bruce Dickinson a "prick" and accuses him of having "disrespected" Ozzy.
August 18, 1986 – Bon Jovi release their third album Slippery When Wet which goes on to sell over 28 million copies worldwide. Hits from the album include "You Give Love A Bad Name," "Livin' On A Prayer," "Wanted Dead or Alive," and "Never Say Goodbye."
August 18, 1984 – The fifth annual Monsters of Rock festival at Castle Donington in the U.K. includes AC/DC as headliners (the first band to headline twice) followed by Van Halen, Ozzy Osbourne, Gary Moore, Y&T, Accept and Mötley Crüe.
August 18, 1962 – Ringo Starr makes his debut with The Beatles at the horticultural society dance in Birkenhead, England. He had only had a two-hour rehearsal with the band before they took the stage.
Top 20 Classic Rock Drummers Still Drumming
August 18, 1969 – Mick Jagger is accidentally shot in the hand by a backfiring pistol during the filming of the movie Ned Kelly in Australia. The film suffered numerous problems including Jagger's girlfriend at the time, Marianne Faithfull, overdosing on sleeping pills in response to her breakup with Jagger. She was supposed to play the lead female role, but was hospitalized in a coma.
August 18, 1977 – The Police make their live debut as a power trio of Copeland, Sting, and Summers at Rebecca's club in Birmingham, England.
August 18, 1977 – Elvis Presley's funeral is held at Graceland with 150 guests inside and close to 75,000 outside to pay their respects.
Classic Rock Birthdays
August 18, 1950 – Dennis Elliott, drums (Foreigner)
August 18, 1949 – Nigel Griggs, bass (Split Enz)
August 18, 1956 – Tony Garnier, bass (Bob Dylan)
August 18, 1951 – John Rees, bass (Men At Work)
August 18, 1957 – Ron Strykert, guitar (Men At Work)
August 18, 1992 – Frances Bean Cobain, daughter of Courtney Love and Kurt Cobain
August 18, 1944 – Carl Wayne (born Colin David Tooley), vocals (The Move) (d. 2004)
10 Most Romantic Classic Rock Love Songs
Rock Remembrances
August 18, 2012 – Scott McKenzie (born Philip Wallach Blondheim), best known for his 1967 song that became a generational anthem, "San Francisco (Be Sure to Wear Flowers in Your Hair)," dies in Los Angeles. He was 73. McKenzie had suffered from Guillain–Barré syndrome since 2010. He also co-wrote "Kokomo" for the Beach Boys and "Hey! What About Me" that launched the career of Canadian singer Anne Murray. McKenzie was good friends with John Phillips and originally declined an opportunity to join The Mamas & the Papas, saying, "I was trying to see if I could do something by myself. And I didn't think I could take that much pressure." He ended up going solo, but later joined Phillips in a reformed version of the band for over 13 years.
Death, the Devil and the CIA: Classic Rock Conspiracy Theories that Range from Completely Crazy to Entirely Conceivable