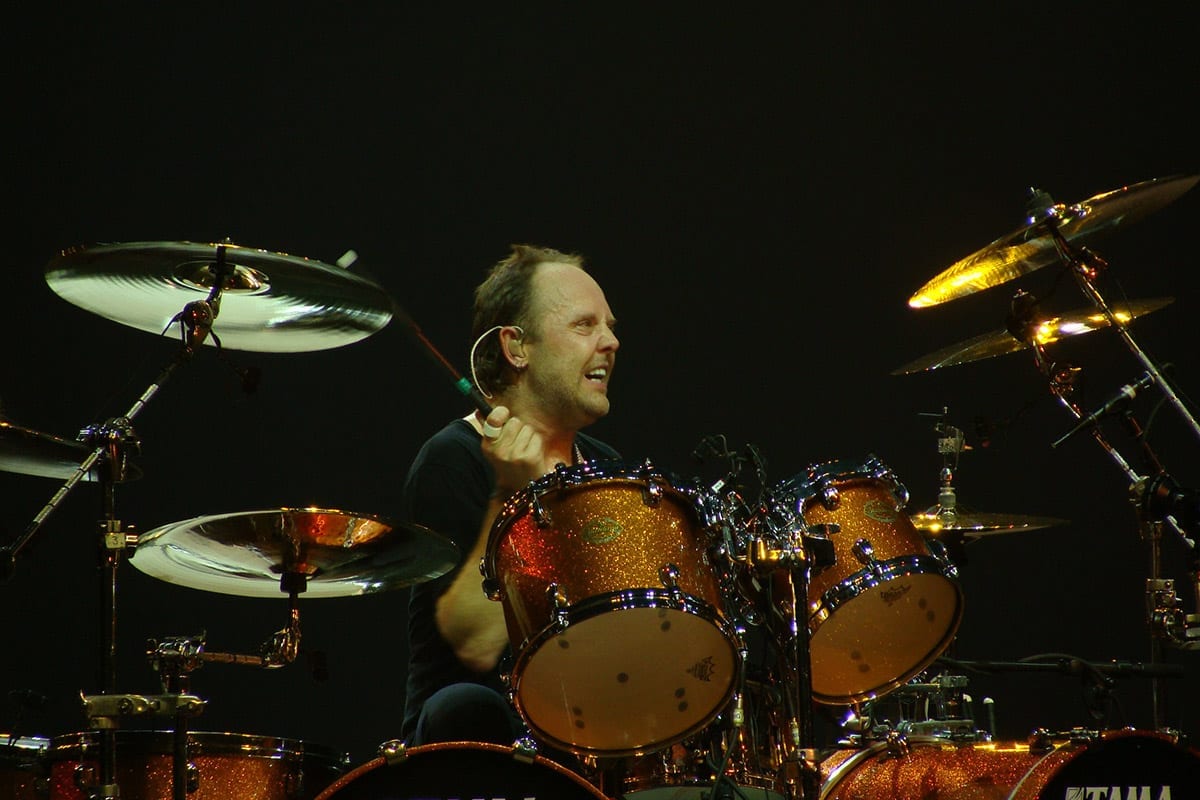 There are tons of lists of the best rock drummers ever, but ours ranks the best drummers that are still playing. You may not be able to see them with their original bands, and it's possible they may never play again live, but at least there is the potential to still witness their greatness. It wasn't easy to put them in rank order, but here goes: our list of the top 20 best classic rock drummers who are still drumming.
20

Lars Ulrich

Lars Ulrich has been dissed by many for his drumming, but somehow, he makes it work…and in a big way. Anyone who has seen Metallica live has felt his drumbeat in every cell of their body. Without him, there is no Metallica, so that alone puts him on our list.
19

Taylor Hawkins

OK, so Dave Grohl may get all the accolades in the Foo Fighters, but Hawkins has been with them since 1997, and he's an animal on the skins. Even without Dave, he deserves recognition for his mad skills.
18

Tommy Lee

Tommy Lee might be a punchline in a lot of jokes now, but he is still the most theatrical drummer of the 1980s. Mötley Crüe's whirling dervish also possessed some great stick skills, and he gets an A+ for his entertainment value.
17

Tommy Aldridge

Aldridge started his career with Black Oak Arkansas prior to gaining fame and fortune with Ozzy Osbourne in the heady days of Randy Rhoads. He later also scored more MTV fame with Whitesnake, and is known for his iconic use of the double bass drums.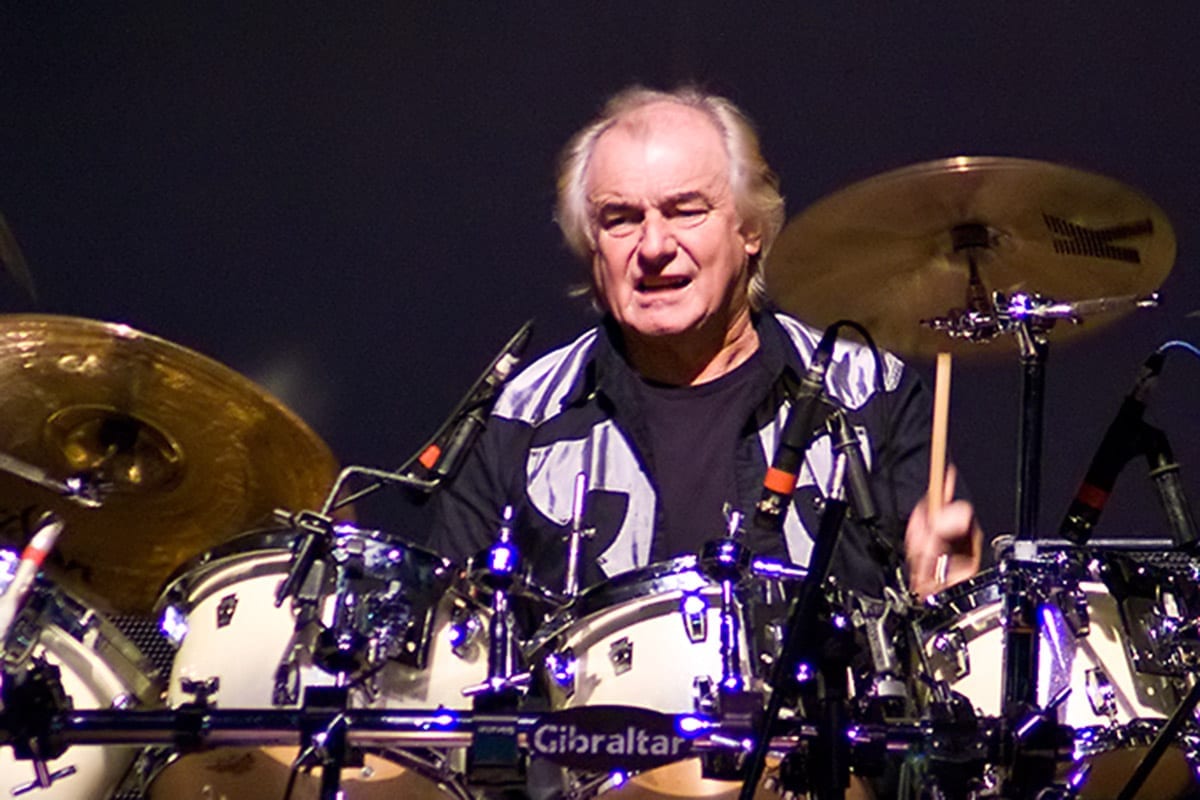 16

Alan White

Often overlooked, White is a phenomenal drummer who has played with Yes in some form since 1972. In the early days, his renown was such that John Lennon sought him out to play with The Plastic Ono Band and to lay down tracks for the legendary Imagine album, where he is credited on most of the songs.
15

Bill Ward

Bill Ward is best known as the original drummer for Black Sabbath and is the father of heavy metal drumming. Schooled on jazz greats, he set the standard for the legions that followed him down the heavy metal road.
14

Larry Mullen Jr.

By now, we all know there is no U2 without Larry Mullen Jr., who formed the band when he was just 15 by placing an ad in the local paper. Originally, CBS Records wanted Mullen to be replaced, but the band hung with him and he and bassist Adam Clayton have created a rhythm section unlike any other.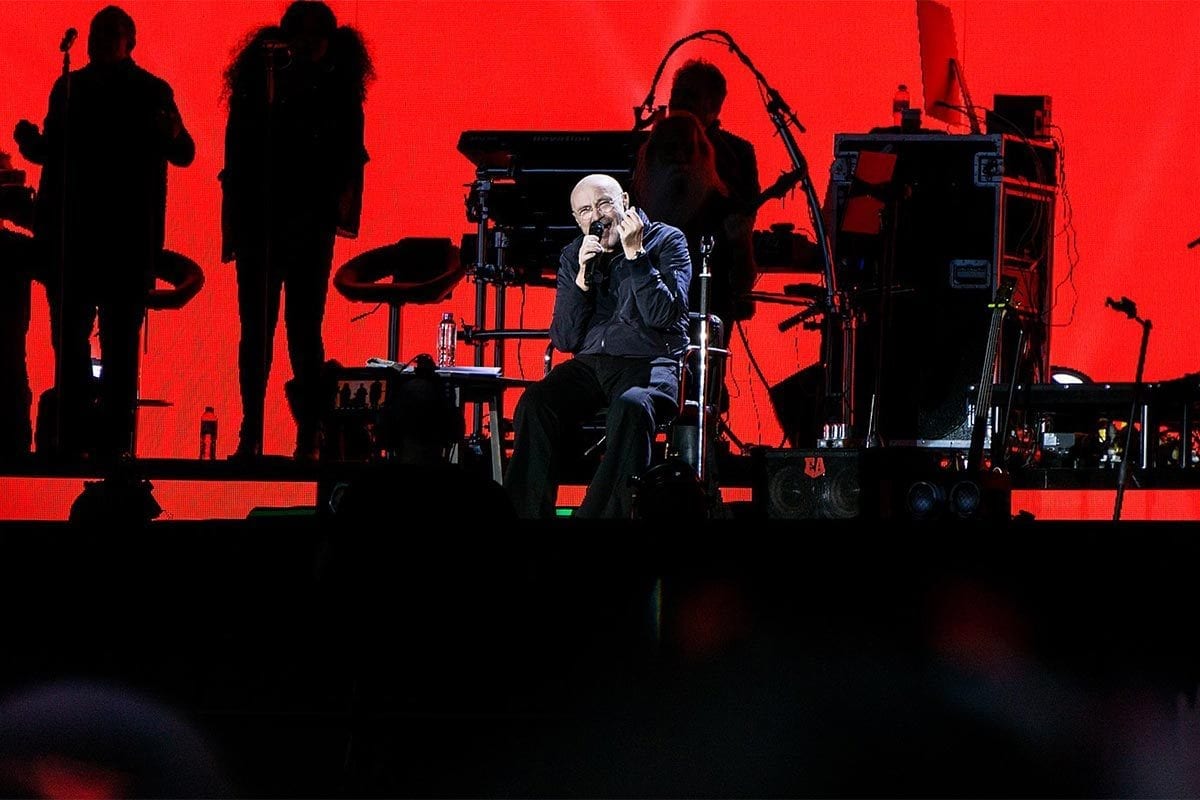 13

Phil Collins

Phil Collins is now best known for his searing vocals, but he initially gained recognition as the drummer for Genesis. His adventurous style captured the attention of a huge list of superstars who asked him to play on their albums – Robert Plant, Eric Clapton, George Harrison, Brian Eno and Tommy Bolin are just a few of his devotees.
12

Max Weinberg

Max Weinberg of course came to our attention as the drummer for Bruce Springsteen's E Street Band. He later became a minor celebrity in his own right as the band leader and comic foil of Conan O'Brien on his late-night show. It is said he can "read Springsteen's mind" which is why he's kept that gig since 1974.

[oio_ad_6]
11

Joey Kramer

Joey Kramer, known for his power drum rolls, is the drummer for Aerosmith. Recently, they had some internal band disputes about his lack of stamina, but it seems that the situation has been resolved and Joey is back behind the kit with his rock and blues percussive moves.
10

Alex Van Halen

Fast, technical and precise, Alex Van Halen is a beast on drums and kept Van Halen on track for decades.  With the death of his brother Eddie, it remains to be seen whether Alex will continue to perform.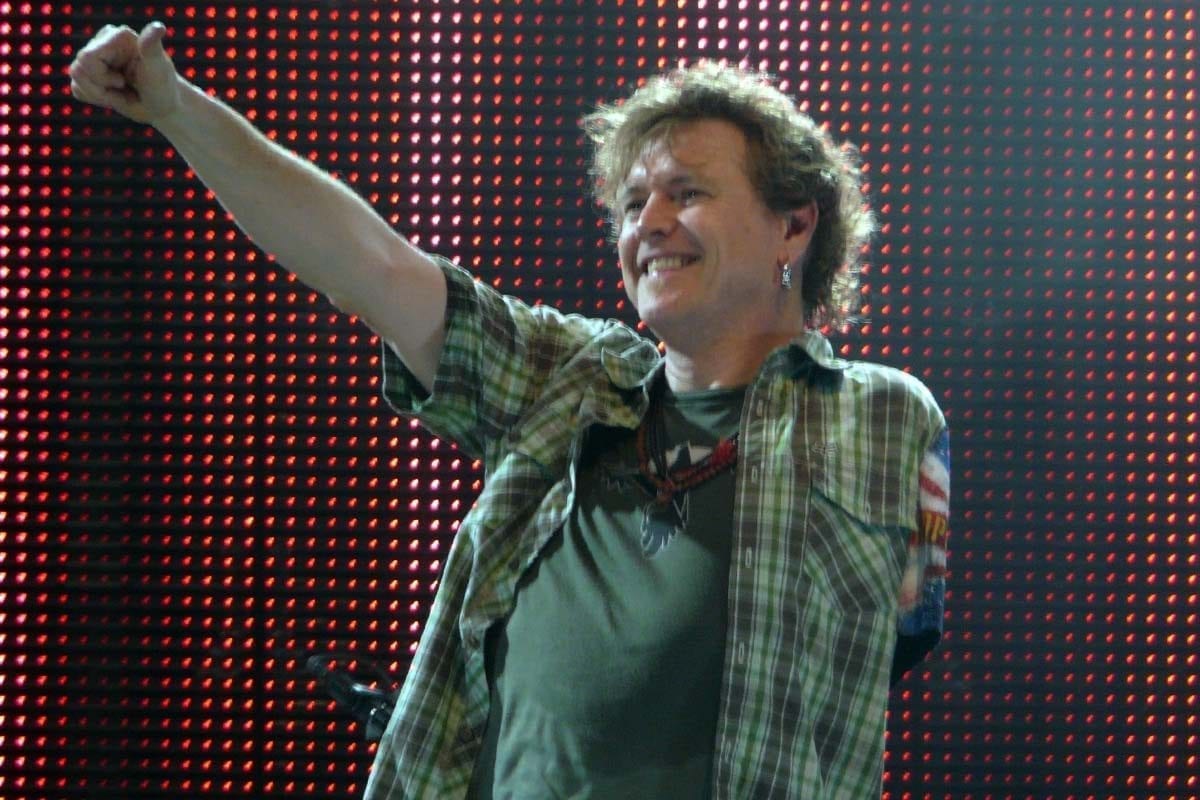 09

Rick Allen

Before he lost his left arm in a car wreck, Allen was a powerhouse drummer, leading the band Def Leppard with his percussive beats. But after the accident, his recovery and playing can only be described as miraculous. The odds he has overcome are pretty much unthinkable, but somehow he's managed to get even better by using his left foot to mimic what his left arm used to do.
08

Chad Smith

Chad Smith is the drummer of the Red Hot Chili Peppers, Chickenfoot, and a superstar session musician who has appeared on albums too numerous to count. Known for his "ghost note" style of drumming, which are beats played very softly between the "main" notes, Smith has a wide range and is comfortable playing in several genres of music.
07

Ian Paice

Ian Paice is the drummer of Deep Purple and is the only member of the band to have played on every album in their very long career. He perfected the one-handed roll and has consistently turned in guest appearances during live shows and charity events with the Who's Who of the music world.
06

Dave Grohl

Now more a singer and guitarist, Dave Grohl should still be recognized as one of the best drummers in the world. Coming to our attention with Nirvana, and now with the Foo Fighters (where he played every instrument on their debut album), Dave has also guested with pretty much everyone out there including McCartney, Tom Petty, Queens of the Stone Age, and so many more.
05

Stewart Copeland

With The Police, Copeland delivered a wild mix of drumming which incorporated sounds from reggae, rock, the Middle East and many other cultures to give the Police their signature sound. Copeland is also wildly prolific, contributing on dozens and dozens of movie and TV soundtracks, video games and more.
04

Carl Palmer

Emerson, Lake and Palmer was a supergroup with Carl Palmer at the helm as the lead drummer. Palmer's showmanship and dexterity came from his roots as a jazz aficionado, fusing those elements with a rock sensibility to create an entirely unique sound.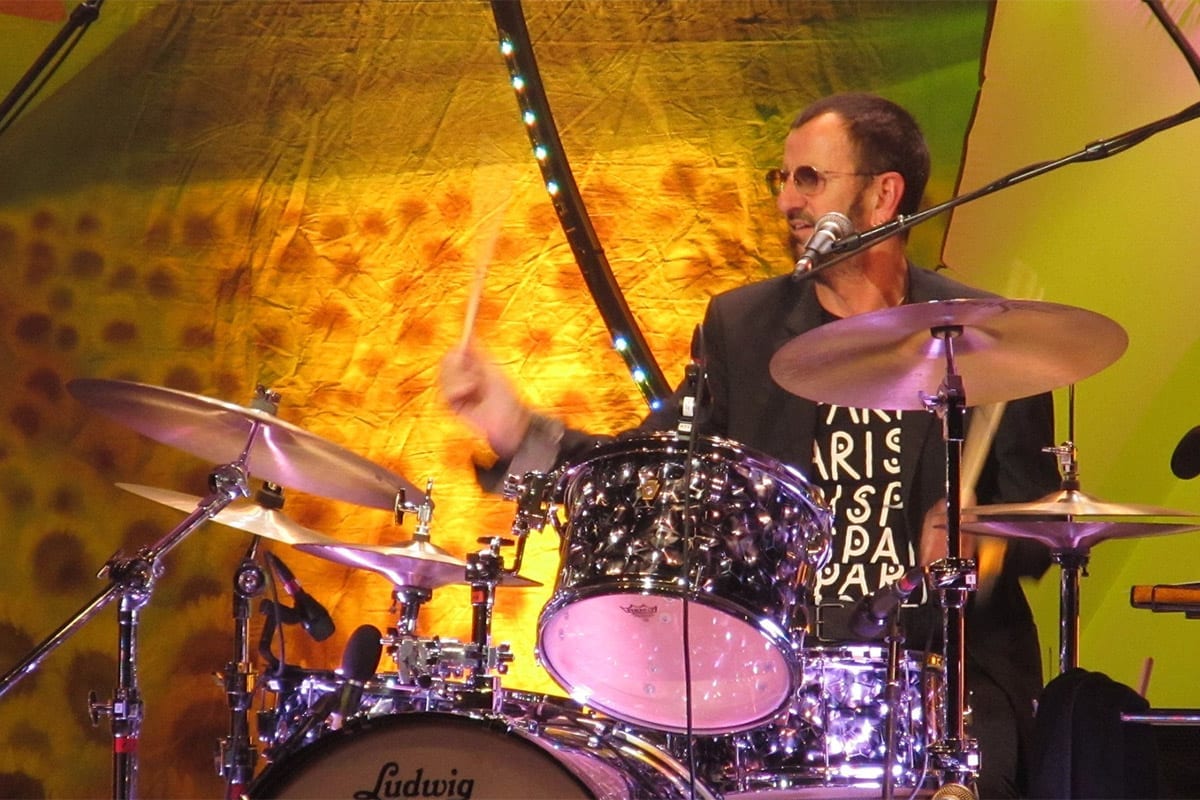 03

Ringo Starr

Better late than never, Ringo Starr is finally getting his due as a great drummer. Initially underappreciated as having uncomplicated and basic skills at best, Ringo is now revered for his simple yet effective style. Superfan Dave Grohl has said that "Ringo was the the king of feel."
02

Mick Fleetwood

Mick Fleetwood, founding drummer and namesake of Fleetwood Mac, gained respect for his ability to keep a perfect beat with his kick drum, while playing live in concert and perhaps being one of the most visually entertaining drummers ever. His instinctive feel for what needs to be played has been said to be hard to duplicate by the numerous drummers who have tried to replicate his style.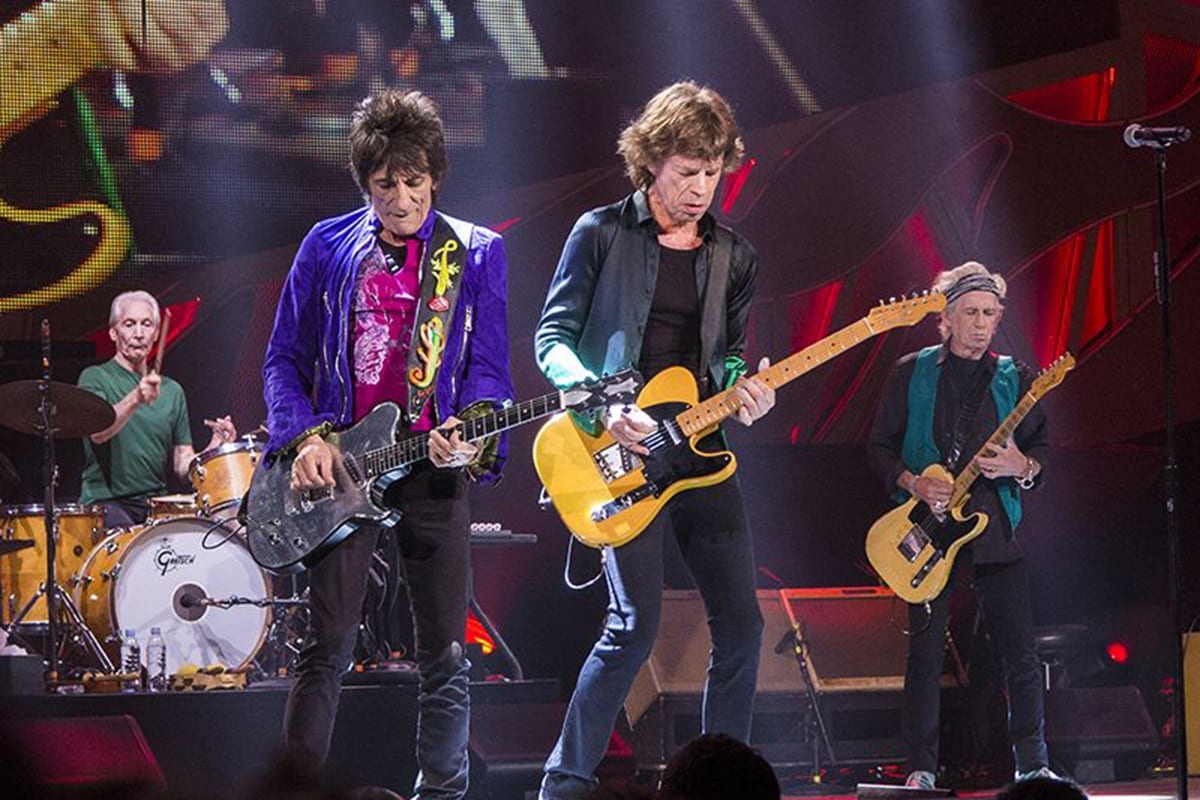 01

Charlie Watts

The Rolling Stones were lucky to nab Charlie Watts as their drummer all the way back in 1963. All these years, he's kept the tempo for the band, while allowing room for Keith Richards and Mick Jagger to shine. Never one for the spotlight, Watts has still managed to dazzle audiences with his blues-based approach to being the greatest rock 'n' roll drummer alive today.

Updated October 9, 2020