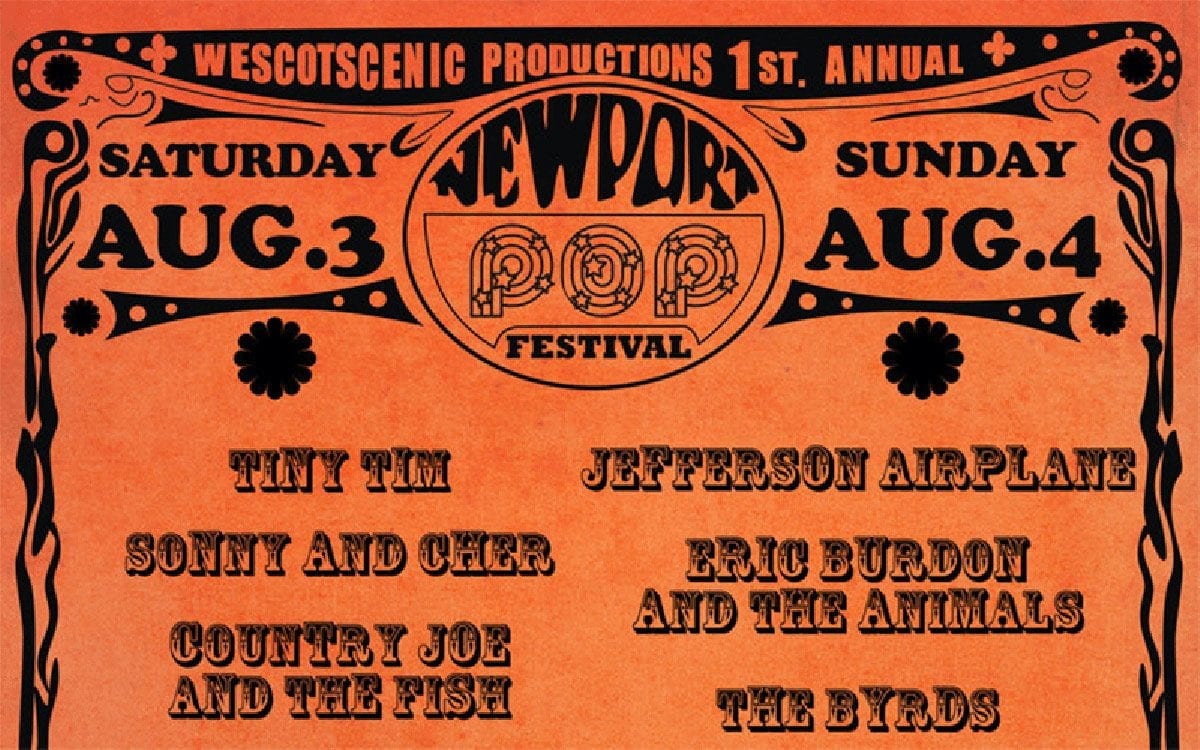 August 3, 1968 – The Newport Pop Festival begins in Costa Mesa, CA. It is the first concert with more than 100,000 paid attendees. Performers include The Grateful Dead, Alice Cooper, Canned Heat, Electric Flag, Iron Butterfly, Jefferson Airplane, The Byrds, Paul Butterfield Blues Band, Sonny & Cher, Steppenwolf and Tiny Tim. Admission was $5.50 per day for the two-day festival.
August 3, 1991 – Metallica hold a "playback party" at Madison Square Garden in New York City (a venue they had yet to play) to launch their self-titled album, commonly known as the "Black Album." Nirvana's Kurt Cobain and Krist Novoselic both attend. The album goes on to sell 30 million copies worldwide.
August 3, 2007 – Queen guitarist Brian May hands in his astronomy PhD thesis 37 years after he abandoned it to join Queen.  He graduates from Imperial College, London the following May.
Hear Brian May's New Space-Themed Song "Floating In Heaven"
August 3, 1987 – Def Leppard release Hysteria, their fourth studio album. The album is titled by drummer Rick Allen reflecting upon the hysterical media coverage following his car accident where he lost his arm. It becomes their best-selling album ever, with over 20 million copies sold worldwide.
August 3, 1963 – The Beatles play their last ever performance at the Cavern Club in Liverpool. When they first start playing the club, their fee is £5. After about 300 shows, they are making £300 per performance. The last show is so stifling hot due to the overcapacity crowd that the power fails, the walls are wet and two members of an opening band collapse.
August 3, 1971 – Paul McCartney launches Wings, announcing the formation of his first post-Beatles band. Members are Paul, his wife Linda, former Moody Blues guitarist Denny Laine, and Denny Seiwell on drums.
August 3, 1969 – Beach Boy Carl Wilson is indicted in Los Angeles after failing to work as a hospital orderly in lieu of serving in the Army during the Vietnam War.
August 3, 1974 – Guitarist Jeff "Skunk" Baxter leaves Steely Dan to join The Doobie Brothers.
Classic Rock Birthdays
August 3, 1963 – James Hetfield, guitar, vocals (Metallica)
August 3, 1949 – B.B. Dickerson (born Morris Dickerson), bass (War) (d. 2021)
August 3, 1939 – Jimmie Nicol, drums, temporary member of The Beatles for eight Australian shows in 1964, after Ringo Starr collapsed and was hospitalized with tonsillitis.
August 3, 1946 – John York, bass (The Byrds)
August 3, 1963 – Ed Roland, vocals, guitar (Collective Soul)
August 3, 1926 – Tony Bennett (born Anthony Dominick Benedetto), singer
24 Great Rock Drummers Still Drumming
Rock Remembrances
August 3, 2006 – Arthur Lee (born Arthur Taylor), singer and guitarist of the band Love, dies in Memphis of acute myeloid leukemia. He was 61. Prior to his death, musician friends including Robert Plant, Ian Hunter, Ryan Adams and Nils Lofgren played a benefit for Lee to help pay for his medical costs. In 2003, Rolling Stone magazine ranked Love's record, Forever Changes, 40th on its list of the 500 greatest albums; it's regarded by music critics as one of the best rock albums of all time. In 1996, Lee was sentenced to 12 years in prison for "negligent discharge" of a firearm. He was released in 2001 when a federal appeals court reversed all charges due to prosecutor misconduct.