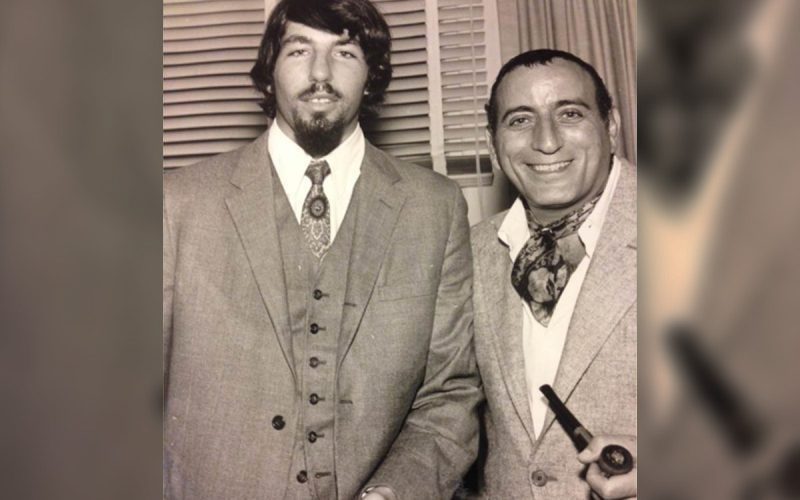 CDJ is classic rock centric, but every now and then I write about another genre of music if I am moved to do so. I am sure a lot of you watched the recent Anderson Cooper 60 Minutes interview with Tony Bennett, titled Tony Bennett – The Final Act. And I'm sure if you watched it, you were as deeply touched as I was. If you haven't seen it, I highly recommend you find it on demand. The piece is a gem and it also features Lady Gaga, who is wonderful in it.
The interview deals with Tony's recently announced case of Alzheimer's and how through it all he is still able to perform. And, at the top of his game. What you will witness is nothing short of a miracle. The interview also features in depth discussions with his doctor, who explains how this is possible, his lovely wife Susan, his son manager, Danny, and the afore mentioned Gaga who together tell quite a story that Tony can no longer tell for himself. The performance clips of Tony at his recent August Radio City concert will blow you away.
It's always captivating watching Tony's performances. Because he is a jazz singer, he continually changes the way he phrases the words of a song during any performance. Whatever emotions he is feeling at that time is the way the song comes out. He has a great quote, "I never sing the same song once."
The reason I've chosen to write about Tony is that not only is he one of the hippest people I've ever met (even more hip than many of the rock artists I know), but he was also a huge influence on me during my early years in the music business when I had second thoughts about continuing on my path. In fact, if I hadn't had a most important meeting with him when I was first starting out, I may have bailed and never had the career that has meant so much to me in my life.
The Business of Music
I first met Tony in 1971. I had been a successful college rep for Columbia Records during my junior and senior years at UCLA, and my bosses had taken a liking to me especially because I was so well versed in all the new rock music that was coming out at the time. So, upon my graduation, in the fall of 1970 the company hired me full-time to be their local album promotion man in Los Angeles. My main job was to bring new releases to the local radio stations at all music formats and try to secure as much airplay on these stations as I could. I also put together innovative on-air promotions to further help bring the public's focus to our music and create enough excitement to help spur album sales.
I was doing really well in my job but I was unhappy. At the time there was a bit of a stigma about being a promotion man. There was a stereotype, which portrayed a slick, fast-talking, huckster perhaps even doing nefarious underhanded stuff to get records played.
To compound matters, there was a popular song by The Rolling Stones at the time called "The Under Assistant West Coast Promotion Man." It described a promotion man as a poser with a big ego, wearing a toupee and seersucker suit, hanging out at the beach all day thinking about how sharp he was. This image just added fuel to the fire. The Stones were my guys, I couldn't have them be singing about ME like that! I couldn't be that guy. I knew I wasn't but when I told people what I did for a living, lots of them would chuckle and sing the song back to me.
To be sure there were some of those kinds of promotion people around, but the stereotype played much larger than reality. However, even though most of the people I worked with truly loved music and promoted it in an honest and above-board manner, they were older than me, from another era, and it was the Wild-West unbridled atmosphere of the entertainment business which excited them most, along with all the perks that went with it.
For me (and others of my generation) it was the music that mattered most. Whether it was rock, jazz, middle of the road, or rhythm and blues, the music was pure, and I felt the life's messages it brought, important. Helping artists and the music be heard by the public was what gave my job and life purpose. But I'd come from the counter-culture/hippie mentality of being cool and genuine. Did I really fit into this promotion thing? Could I be successful approaching the record business with my style and who I was as a person?
Every step of the way I seemed to be somehow left of center of how people viewed me, or how I wanted to be seen. Because I was a guitar player, I was always in a band (most notably local L.A. punk phenom Mogan David And His Winos) or playing out in jam sessions somewhere. But upon finding that out, too many people would say, 'Oh, you're a frustrated artist, and that's why you're on the business side.' The truth was I wasn't frustrated in the least. I had just realized early on that I didn't do well on the road and living my life out of a suitcase was not for me. Being in the music business gave me the best of both worlds, at least I thought it would. Years later, my buddy Steve Perry from Journey would corroborate my life's choices, but for some reason at the time colleagues and co-workers couldn't understand my love for playing music if somehow there wasn't money attached to it. More questions began to pop up in my head. Could I fulfill the creative part of me in promotion? Should I try to be a producer or A&R man?? Even some of those folks seemed less than sincere.
I was feeling very misunderstood, and there were parts of the business that seemed so disingenuous and fake that I wondered if I even wanted to be in the record business at all. I loved the music so much, but the "business" of music? I had crossed that counter-culture line and was still coming to grips with working for "The Man," corporate America, and trying to figure out how to fit in — or even if I was meant to fit in.
Meeting Tony Bennett
This went on for quite a while until I met Tony Bennett at a party late one evening in February of 1971. The party was thrown by Columbia in a swank hotel room at one of Hollywood's famous haunts to celebrate the release of Tony's new album, Love Story. Many young movers and shakers who would eventually play big roles in the music industry were present. In particular a very young redheaded Russ Thyret, wearing a cowboy hat and dancing with a very cute gal. Russ would go on to work himself up through the ranks over the years at Warner Brothers Records and finally become the chairman and CEO of the entire company. Also partying along with the pretty hopped-up crowd was a young Russ Solomon, who in a few months was going to open a new kind of record "supermarket" called Tower Records, on Sunset Boulevard.
There also appeared to be a fair number of hangers-on who may or may not have had important enough jobs to warrant them being there. The biggest thing I noticed about the party was, everyone seemed to be there solely for the party, and not necessarily that interested in Tony's new album. The event seemed all very surface to me and lacking any kind of real connection with the artist or his music.
Feeling disheartened and frustrated by this, which seemed to confirm my rapidly growing existential crisis — i.e. 'What the f*ck am I doing here?' I decided to talk with Tony about it. I waited for the party to be over and when everyone had finally left, I introduced myself to him. All of my pent-up feelings came tumbling out of my mouth seemingly without a filter.
"Hi Tony, my name is Paul Rappaport, and I'm brand-new to the business. I'm the new L.A. local album promotion man for Columbia, and I really need to ask you some questions if I could. This whole party seemed so fake to me, so "Hollywood." I think you've made a really cool album and I don't think any of these people have even heard it. It's like they just came for the party, taking advantage, eating your food and drinking your booze (Columbia had thrown the party, but it would be written down as a marketing expense and charged back against Tony's royalties). I'm new to all this and I love music so much, but I don't know if my style can fit in—sometimes it seems like so much bullshit to me, and I can't be that."
At the time Tony was still in his ascot and pipe phase looking very dapper indeed. I thought he was going to talk to me with a sophisticated advanced vocabulary. But he looked down and said, "You know Paul, sometimes it can get pretty f*cked up!"
I was in shock, 'Oh my God, this guy is so cool.' He went on to point out that parts of the business were fabulous, but yes, some of it was total bullshit. Having already been recording and performing for over 20 years he had seen it all.
"Let me tell you a story. I had built a great career and one day the music began to change around me. I found my style out of step with what was considered popular music. I thought I should change my style to keep up, and went to see my friend the great Duke Ellington for advice. This is what he told me."
"Tony, you are a great artist with a gift, a voice with a particular sound and style like no other. You will always have this gift, but if you change, you are going to lose yourself. You are like a great apple, don't try and change yourself into an orange—you won't be able to do it, and it won't work for you. And, you are the greatest Tony Bennett apple we've got! In this business, moods and styles change, but you shouldn't. Things cycle around–just continue to do what you do and the world will eventually turn back your way. You will be seen and heard again as you deserve."
Tony then turned his attention back to me.  "Paul, you seem like a great guy with a strong passion for music, which is the most important thing in this business.  So, I will give you the same advice Duke gave me.  Just be who you are and you will learn to do the business part your way.  You do not have to become like other people you see to be successful.  In time you will be seen and appreciated for who you are, and you'll do great."
I thanked him very much and left feeling like a giant load had been lifted off my shoulders. I exhaled a very long breath, feeling the possibilities of just relaxing into myself and began to get excited about how I could do promotion in creative ways fulfilling that need in me.
Little did we both know at the time how incredible Duke's advice would play out. Not only did Tony continue to do well in the 70's and 80's, but his appearance on the MTV Awards in 1993 with Red Hot Chili Peppers and his subsequent MTV Unplugged album, turned-on a whole new young fan base to his artistry, which catapulted his career into the stratosphere.
Live By Request
I would work up the ranks at Columbia, move to New York, have a storied career in rock promotion, and one day co-develop an Emmy Award winning live music television series with nonother than Tony himself and his son manager Danny – "A&E's Live By Request." The show played like a big warm smile. Fans could call in, talk to their favorite artist in an intimate performance setting, and then request their favorite song. We would produce over 40 live two-hour prime time specials featuring the world's top artists including David Bowie, James Taylor, Neil Diamond, Elton John, Don Henley, The Bee Gees, Earth, Wind & Fire, and of course, Tony himself.
In the years leading up to that program (you can now view many on YouTube), Tony and I formed a nice relationship. He really is an extraordinary person. Every time we did promotion work, he always wanted to know about my life, what I was doing. And he's that way with most people — he's a people person. Once when I told him I had become a competitive epee fencer he got very animated and told me that he had recently gotten into Bojutsu, Japanese stick fighting. He said, "You know Paul, if my schedule wasn't one of constant travel you and I would become good friends. We could become fencing partners." And, he meant it.
Tony Bennett – Fly Me to the Moon (from Live By Request)
When we did our first pilot Live By Request show, which featured Tony, I suggested for the opening that we have him arrive at the Sony Music Studios in a big black limousine and have a camera outside follow him into the studio. He shook his head, "Nah, I'm not that guy." "Ok," I replied, it is New York, so how's about one of those Central Park horse and carriages?" "Nope, I'm gonna pull up in a yellow." "A yellow taxi??" "Yep, that's me."
The next day I called my father, who was a huge Tony Bennett fan, to see how he'd enjoyed the show. He bellowed in his lovingly loud Brooklyn voice that his favorite part was seeing Tony arrive at a big fancy TV show in a yellow cab. "That's why I love him so much, he's one of us…he's an every-man."
Aside from singing, Tony's other passion is drawing and painting. He's a very fine watercolorist. After Live By Request really got going featuring many other artists we decided to do a repeat performance with Tony. During rehearsal he called me and the director over for a chat. He said, "I just really want to thank you guys for all you've done to make this show a success." Then he pulled out two framed Tony Bennett original paintings and gave us one each. We were flabbergasted. But that's who Tony is.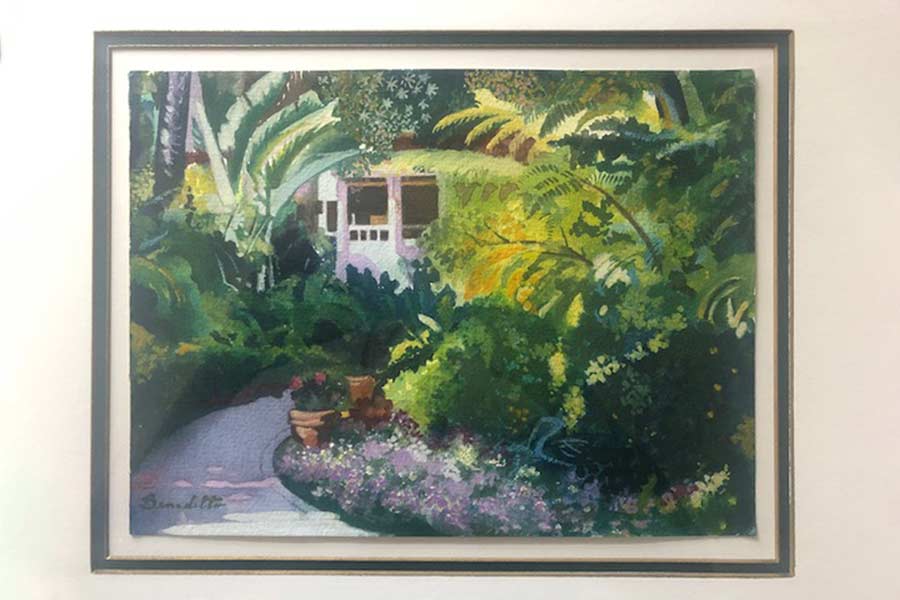 He is also a consummate professional and has a work ethic equaled by none. I was always having to catch up with him. "Hey Tones, we need to do this, this, and this." "Yeah Paul, I already did that on the flight, what's next?" Showing up for a rehearsal he was always early. I wanted so much to have some of the rock bands I dealt with go on the road with Tony for a week to see how a real professional works. Total focus and no attitude.
Tony Bennett is one of our all-time great music treasures. He's also one of the most special people I've ever met and had the pleasure to work with. As it was meant to be, his life would intersect with mine at a most paramount time. With his wise guidance, I was able to refocus and put myself on a course that would become the adventure of a lifetime.
Thanks Tones,
Rap~
© Paul Rappaport 2021
More Backstage Access:
Me and Mick Jagger – It's Only Rock and Roll but I Like It
Check out Tony's Bennett's new album with Lada Gaga, Love For Sale.
Tony Bennett and Lady Gaga – I've Got You Under My Skin
Tony Bennett and Lady Gaga – I Get A Kick Out Of You
More Backstage Access:
A Day in the Life with Frank Zappa