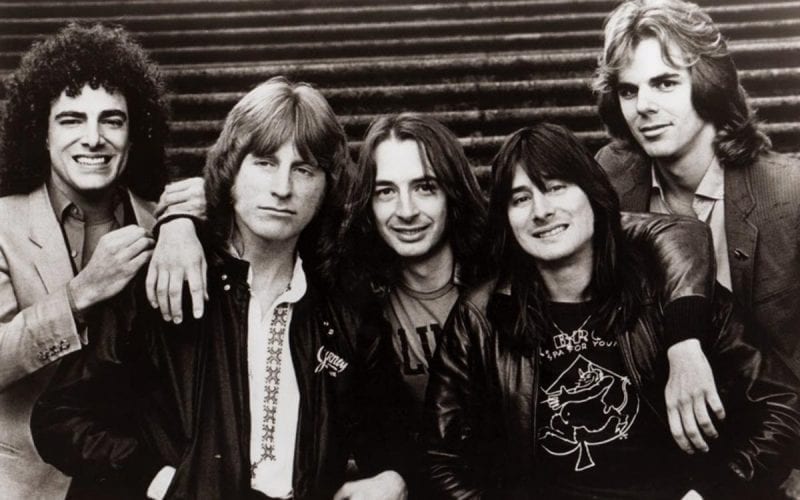 Recently one of the greatest managers of all-time passed away, Walter "Herbie" Herbert.  He was a valued colleague and friend to a lot of us.  Herbie is best known for creating the band Journey and shepherding the band members through many trials and tribulations to become one of the most beloved and best-selling bands of all time.  Journey has sold over 48 million albums in the U.S. and a whopping 80 million worldwide.  Herbie was also an incredibly sharp business man, a visionary, and one of the music industry's most colorful characters.
As a young man starting out in the music business, Herbie was hired by his mentor, Bill Graham, who was assisting Santana at the time, to become part the band's road crew.  In 1970 Herbie met gifted guitarist Neal Schon when Neal joined Santana at the ripe old age of 17.  They toured the world together and Neal's fabulous guitar work can be heard on Santana III and Caravanserai.  After the recording of the latter, the band disbanded.  Herbie decided to start a management company and approached Neal about managing him and wrapping a band around his guitar playing.  Ex Santana keyboard and lead vocalist, Gregg Rolie, came aboard along with some other notable local musicians, including founding member bassist Ross Valory, to form their first band.  By the time I met them in 1975 they were known as Journey and their self-titled debut release on Columbia Records included drummer Ansley Dunbar and George Tickner on rhythm guitar.
The band made three albums leaning heavily in the progressive rock direction. Although they received decent airplay on the FM rock format, they were lacking in commercial hit songs and consequently only sold a fair-amount of records. Herbie recounted the following story to me at a lunch we had in New York four years ago, when Journey was inducted into The Rock & Roll Hall Of Fame.
The band was getting ready to make their fourth album and Herbie flew from San Francisco to Columbia Records' headquarters in New York to get an advance for the record.  The band had recently played a show in New York and was seen by Columbia Records president at the time, Bruce Lundvall, along with his assistant (who would later become head of marketing) Arma Andon. 
Bruce liked the band a lot but felt something was missing.  Even though keyboardist Gregg Rolie, who had sung all of Santana's hits, was on lead vocals, Arma suggested that perhaps the band should have a proper frontman to add more focus and give the band a more commercial style.  This was going to be a hard sell because Herbie was a very strong personality with his own vision, and even more problematic, was that Herbie would have to break the news to Rolie.  Needless to say, when Herbie showed up for the advance, he was shocked to learn of the label's desire for a new direction.  The story goes, it was suggested to Herbie that perhaps the band hire a frontman to help Rolie share some of the vocals.  It would help the band move forward in a more commercial vain.  Knowing Herbie, he may have thought this might not be a bad idea himself.  But either way, he knew to be able to move forward with the label and record a fourth album, he was going to have to go down this road.
Andon, at the time, had just been turned on to a talented rock singer named Robert Fleischman that he really liked.  Herbie agreed to hire Robert as Journey's lead singer and voila, everyone was happy… at least for the moment.  Journey was saved and able to move ahead with a renewed contract.
Robert was singing fine but his ego quickly got out of hand and he became a bit cocky.  He was starting to rub Herbie the wrong way.  Herbie, having now been steeped in the music business for years, was quickly losing patience with some of Robert's antics and need to be over-pampered.
In the music business as in life, some things are just meant to happen. As Journey continued to play shows with Robert, Herbie had gotten hold of a cassette of Steve Perry singing, and had fallen in love with his voice. He thought Perry might just be the answer to take Journey to the next level.
At the time, Steve having been frustrated with the music business, had given up and was working on his stepdad's turkey ranch in northern California. Herbie phoned Steve's home and Steve's mother answered. Herbie excitedly told Steve's mom about his idea to have Perry audition for the band but Steve's mom said that her son had been so heartbroken about his former music business experience that he didn't even want to come to the phone. He couldn't stand one more rejection, he was just done. It took everything Herbie had just to be able to get Steve to talk to him. Somehow, Herbie convinced Steve to trust him and to come on board as a live sound engineer for the next Journey tour while Herbie figured out how to get him to be able to sing with the band. Then he hatched a most ingenious plan.
Herbie gave the cassette tape he had of Perry to Neal Schon's wife at the time. He told her not to sit Neal down and play it for him, but to just put it on as background music in the house while they went through their daily lives. He wanted Perry's voice to seep into Neal's brain slowly and organically. This went on for about a month before the band was due to hit the road again. As agreed, Steve came on board to help with the sound mixing. Spending a lot of time at both rehearsals and live shows Steve learned all the Journey songs by heart.
One day when Robert was getting on Herbie's nerves again, Herbie had finally had enough.  He told their legendary tour manager, Pat "Bubba" Morrow, to make up something that required Robert to be away long enough to miss sound check.   "I don't care what you do, just don't let him come back until gig time."  At sound check the band reported Fleischman missing in action and so Herbie suggested Steve fill in for rehearsal as he had been on the road with the band and knew all the songs.  So, Steve starts to sing and the whole band perks up at the sound of his voice, especially Neal, who could swear he'd heard Steve's voice from somewhere before — he just couldn't remember where.  All he knew was it sounded great and very familiar.    
Fleischman finally returned to the gig and started in again on Herbie with the attitude. Herbie turned around, looked him in the eye, let loose with a flurry of expletives, ending in, "YOU'RE FIRED!" Fleischman, visibly shocked, was shown the door and that was that. But it should be noted that Fleischman kept up a good relationship with the band and in fact, was a co-writer on three songs for the Infinity album including "Wheel in The Sky." For his side of the story, Fleischman admits to being a bit cocky, and to his credit is quoted as saying, "But name me one lead singer who isn't a little cocky!" That may be true, but Herbie's personality was more like an NFL coach, and Robert wasn't good for this particular locker room.
The band continued on with Herbie's guidance. I saw Steve Perry sing for the first time at a show in Los Angeles following his debut performance with the band at San Francisco's Old Waldorf club in October of 1977. Herbie grabbed me before the show and said, "Here, sit next to me." The band came out and started to play. Not more than 30 seconds had gone by when Herbie, who had a pretty beefy build, started bumping me forcefully with his left shoulder excitedly asking, "Whaddya think?? Whaddya think??! Whaddya think?!!! I took a breath, "Herbie, they haven't even played for a full minute yet! Give me a second." By the end of the show, it was clear that Journey had a new direction and that frontman Steve Perry was going to give them the needed charisma to get the band to the next level.
Ever the visionary, Herbie hired legendary producer Roy Thomas Baker (affectionally known as R.T.B.) to produce that 4th and all-important album for the band. With their new lead singer Herbie was looking for that layered sound approach similar to that of Baker's previous band, Queen. The rest, as they say, is history. Infinity boasted three hit songs, "Lights," "Feeling That Way," and "Wheel In The Sky," and went on to sell 3 million albums.
None of this would have happened without the vision, tenacity, and ongoing leadership of Herbie Herbert. Ever moving forward, Herbie brought all the important business aspects of releasing an album in-house. He was a pioneer in the use of big video screens at large concert venues and started his own company, Nocturne Productions, renting out the equipment to other superstar acts. He was not only instrumental in the band's ongoing album productions but he also oversaw their art direction and supervised all of the band's creative colorful album covers. He was also responsible for the band making a fortune with their real estate holdings.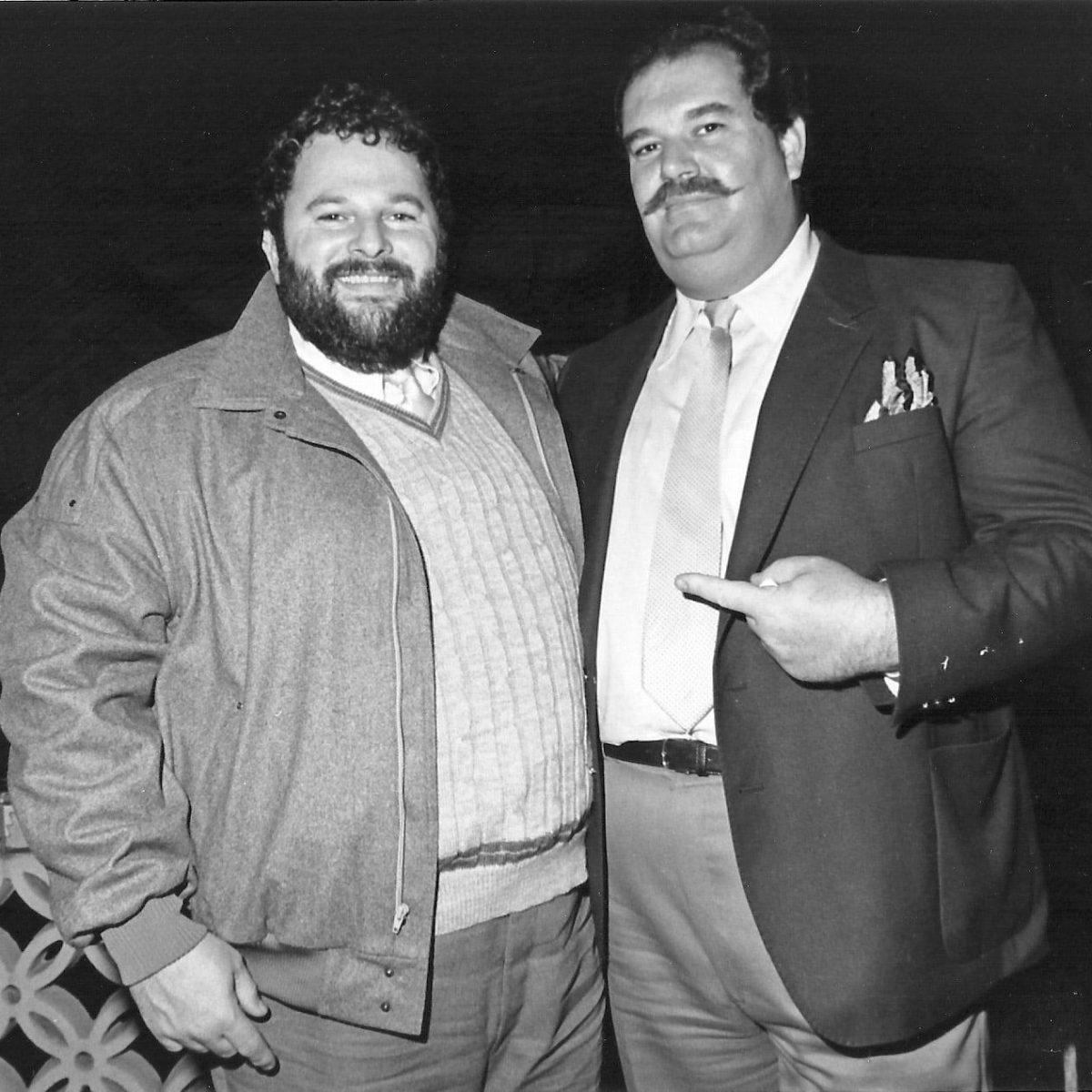 Now, everyone thinks that once you "make it" all of your problems are solved, but success on the mega level often leads to even more problems, just different kinds. Managing a band with so many divergent personalities, egos, and personal challenges is tough, and sometimes can even get a bit rough. Because members can hold very different opinions, when you get into multi-million-dollar decisions, often right or wrong can give way to decisions that can be hurtful to some band members feelings and/or to the manager as well.
The Journey story is long, with many ups and downs and heartbreaks along the way, as well as the band's triumphs. Once Herbie and I were standing next to each other watching the band's huge semi-trailer trucks pull into a large arena for a show. At the time Journey was at its peak, packing arenas and stadiums all over the country and selling millions and millions of albums. He looked over at me and said, "Rap, I'll tell you something. We own all those semi's, all the sound and lighting equipment inside, have an in-house art department that can make our own album covers and point of purchase material, and are able to deliver a world-wide release within days. We are making millions of dollars and don't owe anybody a dime. With all of that, I have to tell you, it almost wasn't worth it." My knees wobbled.
He must have been feeling beat that day because I assure you, Herbie Herbert also had plenty of fun managing that band.  I have so many great stories about him.  A "professional" marijuana smoker, and also a notorious joint roller, Herbie sometimes found himself yelling at people to get a job done (as any manager can attest to).  He started his day by rolling up a joint and then hopping on the phone to do business.  He earned the nickname "Twist and Shout."  We all got t-shirts.
Once, he opened a new San Francisco office overlooking Tower Records, just so he could watch all the kids leaving with Journey albums tucked under their arms upon each of the band's releases. It warmed his heart to witness the fruits of all their hard work together first hand.
I remember my wife, Sharon, and I having dinner in the turret room of San Francisco's famed Julius's Castle restaurant along with a few other close Journey friends, hosted by Herbie.  From high atop the main restaurant, looking out the surrounding turret windows, you had a view of the Golden Gate Bridge to your left and the Oakland Bay Bridge to your right — just stunning.  We drank so much Dom Perignon that the restaurant ran out of the stuff.  Undaunted, Herbie asked someone from Julius's to run to the liquor store to buy more.  NOTHING was allowed to fail under Herbie's watch — not even the champagne supply! 
Those were heady days. All of us so young, and making more money than we'd ever dreamed of. And even though we worked hard, we were also having big fun. I remember Herbie once picking me up from my hotel in San Francisco to take me to the studio in his brand new bright blue Porsche. We got on to a stretch of highway, windows rolled down going like a bat out of hell, when he yelled over to me, "Congratulations Rap, you were in my car the first time I put it in fourth gear!!"
And, here is an all-time classic. At one time Herbie and Bubba sent around "Yiddish for Dummies" books to everyone in the industry. They told all of us that they were speaking Yiddish now and that if we wanted to communicate, we'd at least have to speak a sentence or two of it to start the conversation. We all found this odd as neither Herbie nor Bubba were Jewish. Nevertheless, they were now on a Yiddish kick.
So, Herbie calls me one day to discuss the release of a new Journey single. He opens the conversation with "Vas Makhstu," how are you? I tell him it's a cute joke and go on to talk about the single. Herbie keeps talking in Yiddish and finally switching to English says, "Rap, what the fuck? A good Jewish boy like you can't even learn a couple lines of Yiddish?! He told me he would not discuss the single until I read my book and called him back speaking a few lines of Yiddish. How many millions of Journey albums were we selling?! How IMPORTANT was this timely conversation?!! Didn't matter. "Learn your Yiddish and call me back." I did.
It was a time when all of us were characters of one sort or another.  And you got credit for being a character, and having your own colorful personality.  Yeah, we all did business together but in those days the money wasn't the most important thing.  It was about relationships and having fun along the way.
More Backstage Access:
Bill Graham and the Rock & Roll Revolution
Postscript: Journey's huge success with Steve Perry as frontman eventually saw Steve become very powerful in the band's decisions. There came a point where he and Herbie bucked heads and Herbie was forced to step aside as manager. It was hard on everyone, especially Neal Schon, who'd been like a son to Herbie. And of course, after everything Herbie had done over the years for the band (including giving Perry his big break) it hit Herbie the hardest. He soldiered on managing other good bands, but nothing was the same for him or Journey after he left. Hard feelings between everyone involved continued for years.
When Journey was inducted into the Rock & Roll Hall Of Fame, Herbie didn't even want to go to the ceremony. He was talked into it by legendary promoter John Baruck. Baruck must have known what was gonna go down. It was there during Steve Perry's induction speech, that a now more humbled Perry pointed down to Herbie sitting at a table in front of him and told the adoring crowd, more than once, that he owed everything to Herbie Herbert. I'd like to think those words finally healed Herbie in some way.
Herbie Herbert will do down as one of the all-time greats in the music business. And every time you sing along with your favorite Journey songs, please remember the man who gave everything he had to make it all happen.
Steve Perry Rock & Roll Hall Of Fame Induction Speech
It's holiday time, and we've all been through a lot these past two years. Please take the time to hold your family members close and give out some extra hugs this year.
Until next time, keep rockin'!
Rap~
© Paul Rappaport 2021