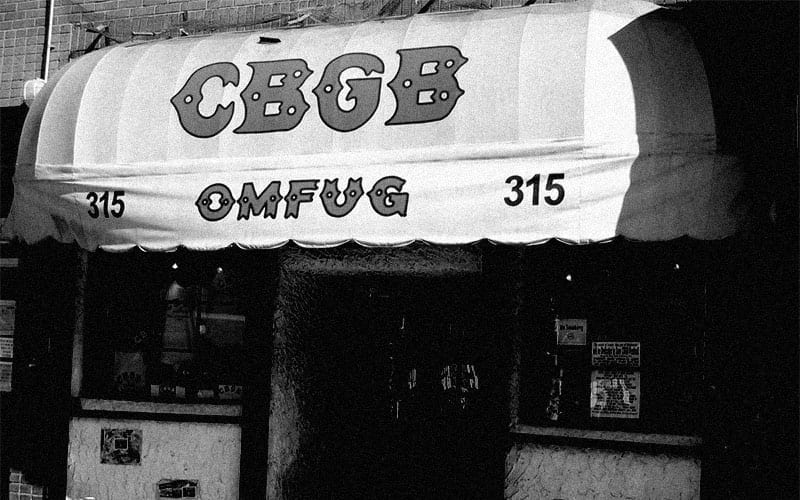 December 10, 2007 – Led Zeppelin reunite after 19 years at London's O2 Arena. Jimmy Page, Robert Plant and John Paul Jones are joined on stage by John Bonham's son, Jason, at the Ahmet Ertegun Tribute Concert. More than one million people register for fewer than 20,000 available tickets. With proceeds going to Ertegun's charity, the cost is $255 per ticket, but scalpers get up to $2,000. Zeppelin performs a total of sixteen songs, including for the first time, live, full-length versions of "Ramble On" and "For Your Life".
December 10, 1973 – CBGB's opens in lower Manhattan, in New York City. Named for Country, Blue Grass, and Blues, the club originally intends to feature those musical styles, but becomes a mecca for punk rock and New Wave bands. There were two rules: 1) bands had to move their own equipment, and 2) bands had to play mostly original songs – no cover bands – because the owner couldn't afford to pay ASCAP royalty fees.
December 10, 1991 – Alan Freed is posthumously awarded a star on Hollywood's Walk of Fame. Freed was a legendary rock and roll DJ whose career was later destroyed by a payola scandal.
December 10, 1976 – Wings release Wings Over America, a triple live album. It goes on to sell over four million copies in the U.S.
December 10, 1971 – Frank Zappa is viciously pushed off the stage at a concert at London's Rainbow Theatre, in England, by a fan jealous over the fact that his girlfriend has a crush on Zappa. Zappa suffers serious fractures, head trauma and injuries to his back, leg, and neck, as well as a crushed larynx, after landing on the concrete floor. His larynx injury causes his voice to drop a third after healing, and his other injuries keep him in a wheelchair for close to a year. Later, Zappa says, "The band thought I was dead. My head was over on my shoulder, and my neck was bent like it was broken. I had a gash in my chin, a hole in the back of my head, a broken rib, and a fractured leg. One arm was paralyzed."
A Day in the Life with Frank Zappa
Classic Rock Birthdays
December 10, 1946 – Ace Kefford (born Christopher John Kefford), bass (The Move)
December 10, 1948 – Brendan Harkin, guitar (Starz)
December 10, 1952 – Susan Dey, vocals, keyboards (The Partridge Family)
Rock Remembrances
December 10, 2021 – Mike Nesmith (born Robert Michael Nesmith), guitarist and member of the Monkees, dies from heart failure at his home in Carmel Valley, California. He was 78. Nesmith was a reluctant TV star and paid to get out of his contract with the Monkees. He later inherited $50 million from his mother, who had invented the whiteout Liquid Paper. Nesmith was a true creative — a songwriter (he wrote Linda Ronstadt's first hit "Different Drum"), video producer (he won the first Grammy Award for Video of the Year in 1981), movie producer (Repo Man), book author, founder of the progressive think tank the Gihon Foundation and longtime board member at the American Film Institute. Nesmith's death left Micky Dolenz as the only surviving member of the Monkees.
December 10, 1967 – Otis Redding is killed in a plane crash. He was 26. Redding and his band were traveling from Cleveland, Ohio to Madison, Wisconsin in poor weather when his plane crashed into the icy waters of Lake Monona.  Along with Redding, band members Jimmy King, Ron Caldwell, Phalin Jones, Carl Cunningham and pilot Richard Fraser perish.  Trumpet player Ben Cauley is the only person to survive the crash.  Redding had recorded "(Sittin' On) The Dock of the Bay" only three days earlier, which he co-wrote with Steve Cropper.  It went on to become the first posthumous number one Billboard single in U.S. chart history.
December 10, 1999 – Rick Danko dies of heart failure at his home near Woodstock, New York. He was 55. The Canadian guitarist and singer joined The Hawks in 1963 who went on to work as Bob Dylan's backing band, (with Robbie Robertson, Richard Manuel and Garth Hudson). They later became The Band. After The Band performed its farewell concert, "The Last Waltz," at Winterland in 1976, Danko was the first Band member offered a solo contract. His self-titled debut featured each of his former bandmates in addition to Ronnie Wood, Eric Clapton and Danko's brother, Terry. Danko also sang on the Pink Floyd songs "Comfortably Numb" and "Mother." In 1994, he was inducted into The Rock and Roll Hall of Fame as a member of The Band.