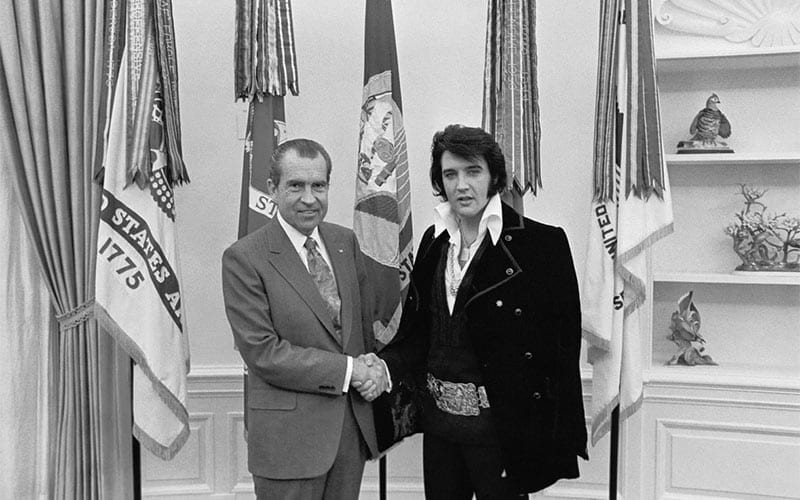 December 21, 1970 – Elvis Presley meets with President Richard Nixon at The White House to volunteer his services in fighting the war on drugs. Elvis had written a letter to President Nixon asking to be made a "Federal Agent at Large" for the Bureau of Narcotics and Dangerous Drugs. No such position actually existed, but Nixon, wanting desperately to win over the youth of America, which he viewed as hating him, decided to meet with Elvis in an attempt to improve his image with the "kids." Presley gave Nixon a chrome-plated colt .45 gun as a gift and Nixon gave Elvis his much-coveted Bureau of Narcotics and Dangerous Drugs badge.
Classic Rock Birthdays
December 21, 1940 – Frank Zappa, vocals, guitar (The Mothers Of Invention) (d. 1993)
December 21, 1946 – Carl Wilson, guitar, vocals (The Beach Boys) (d. 1998)
December 21, 1951 – Nick Gilder, vocals
December 21, 1943 – Albert Lee, vocals, guitar
Backstage Access:
A Day in the Life with Frank Zappa
Rock Remembrances
December 21, 2012 – Lee Dorman (born Douglas Lee Dorman) dies in Laguna Niguel, California. He was 70. Dorman was the bassist for Iron Butterfly and also played with the band Captain Beyond.
December 21, 1992 – Albert King (born Albert King Nelson) dies from a heart attack in Memphis, Tennessee. He was 69. King was a blues singer and guitarist who was a major influence for such artists as Mick Taylor, Derek Trucks, Warren Haynes, Mike Bloomfield, Joe Walsh, Stevie Ray Vaughan and Eric Clapton. Best known for the 1967 single "Born Under a Bad Sign," King would be posthumously inducted into the Rock and Roll Hall of Fame in 2013. At his funeral, B.B. King eulogized him by stating, "Albert wasn't my brother in blood, but he was my brother in blues."