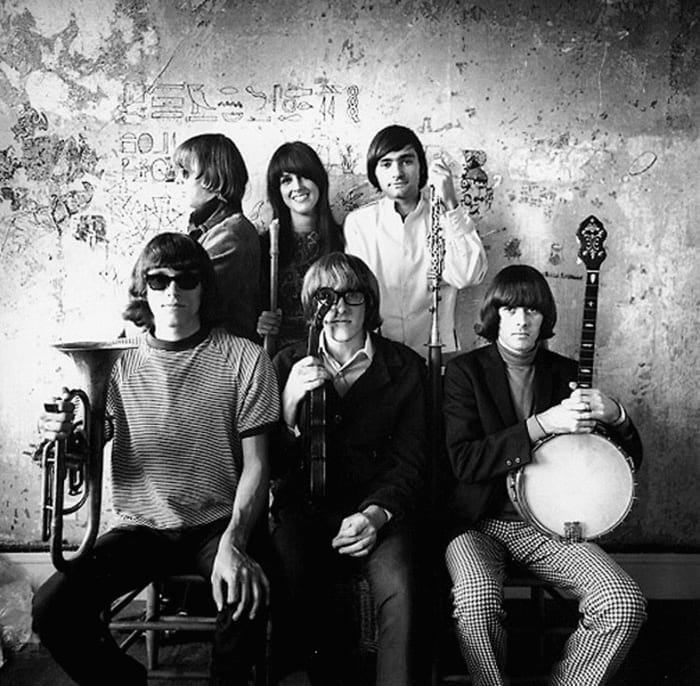 July 6, 1957 – John Lennon and Paul McCartney meet for the first time at The Woolton Church Parish Fete where The Quarry Men (featuring Lennon) were appearing. McCartney impresses Lennon by playing Eddie Cochran's "Twenty Flight Rock" and "Be-Bop-A-Lula" from Gene Vincent. He also shows Lennon how to tune his guitar, something he'd been paying someone else to do for him. About two weeks later, McCartney is invited to join the band.
July 6, 1977 – In Montreal, Pink Floyd become so disenchanted with the crowd that David Gilmour refuses to play the encores, and Roger Waters spits at fans climbing the mesh that separates the crowd from the band. This show lays the groundwork for Pink Floyd's next album The Wall. Waters later says, "I loathed playing in stadiums … I kept saying to people on that tour, 'I'm not really enjoying this … there is something very wrong with this.'"
July 6, 1975 – Keith Richards and Ron Wood of the Rolling Stones are arrested by the highway patrol in Arkansas on charges of reckless driving and possessing an offensive weapon, a seven-inch hunting knife. Hundreds of people gather outside city hall as word spreads. British Embassy officials are called, and no one spends time behind bars after posting bail.
July 6, 1965 – Jefferson Airplane forms in San Francisco. A "Jefferson Airplane" is slang for a roach clip, but guitarist Jorma Kaukonen says their name came from a nickname given to him by a friend, "Blind Thomas Jefferson Airplane," a tribute for blues pioneer Blind Lemon Jefferson.
Top 10 Rock Songs Inspired By Literature
Classic Rock Birthdays
July 6, 1949 – Mike Shrieve, drums (Santana, HSAS)
July 6, 1952 – Graham Oliver, guitar (Saxon)
July 6, 1945 – Rik Elswit, guitar (Dr. Hook & the Medicine Show)
July 6, 1925 – Bill Haley, vocals, guitar (Bill Haley & His Comets) (d. 1981)
Backstage Access:
Bill Graham and the Rock & Roll Revolution
Rock Remembrances
July 6, 2020 – Charlie Daniels, singer and multi-instrumentalist, dies of a hemorrhagic stroke in Tennessee. He was 83. Known for leading the Charlie Daniels Band and his iconic song "The Devil Went Down To Georgia," Daniels had a long and interesting career, beginning with c0-writing a song for Elvis Presley. He then went on to play on three Bob Dylan albums, work with Leonard Cohen and play fiddle with the Marshall Tucker band. He organized the first of many Volunteer Jam concerts, and won a Grammy award, was inducted into the Country Music Hall of Fame and was a member of the Grand Ole Opry.
July 6, 2003 – Skip Battin (born Clyde Battin), bassist and songwriter with The Byrds, dies of complications from Alzheimer's disease. He was 69. Battin also played with New Riders Of The Purple Sage and joined his ex-Byrds mate Gene Parsons in The Flying Burrito Brothers.
July 6, 1971 – Louis Armstrong dies of a heart attack in Queens, New York City.  He was 69. Armstrong was a jazz trumpeter, singer and bandleader whose influence on the development of jazz is unparalleled.  He also bridged the gap between the highly segregated black and white world at the time, a privilege reserved for very few African-American public figures.  He was posthumously given the Grammy Lifetime Achievement Award in 1972 and inducted into the Rock and Roll Hall of Fame in 1990.  New Orleans' airport is named after him and in 1995 the U.S. Post Office issued a commemorative stamp featuring his image.
July 6, 2020 – Joe Porcaro, legendary drummer and percussionist, and patriarch of the Porcaro family made famous by the three brothers in Toto, dies of natural causes in Thousand Oaks, CA.  He was 90.  Joe played with a wide variety of artists including Pink Floyd and the Monkees.  He also founded the Los Angeles College of Music.