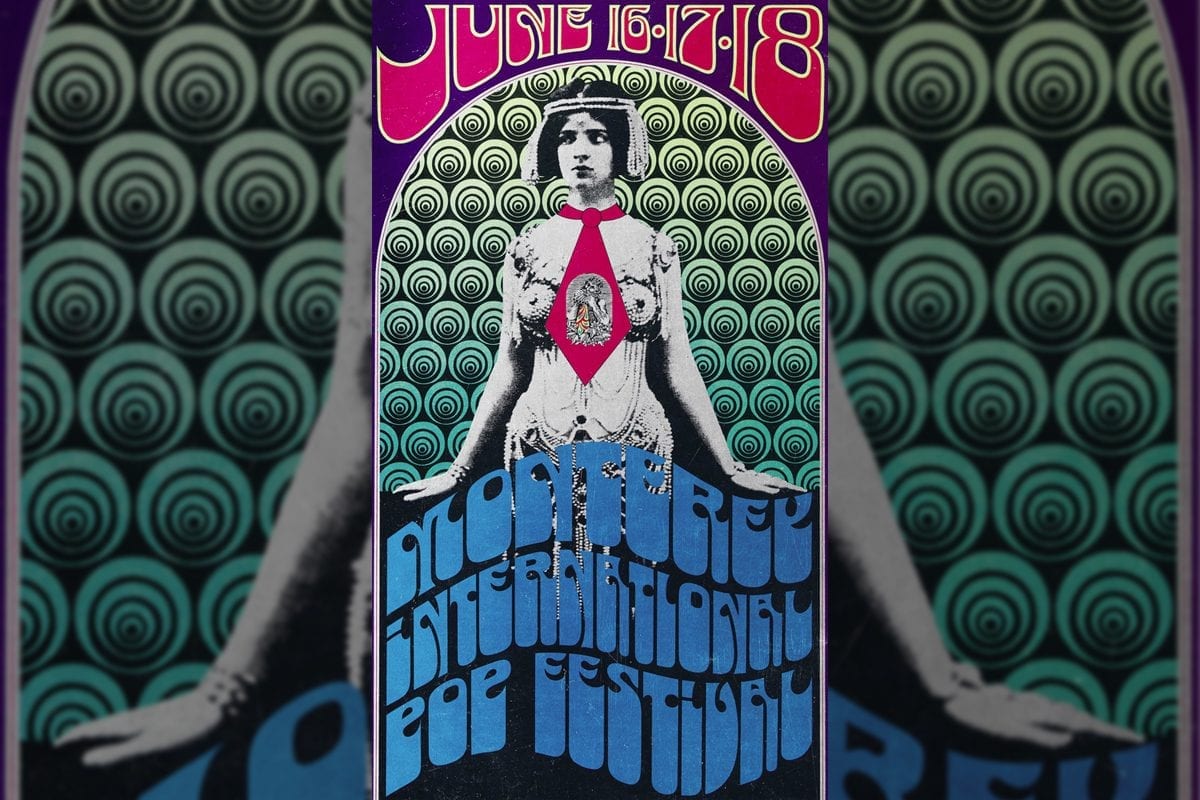 June 16, 1967 – The three day Monterey Pop Festival begins and is regarded historically as the start of the "Summer of Love."  The festival becomes the pre-cursor to Woodstock.  All artists (with the exception of Ravi Shankar) perform for free, with ticket sales donated to charity.  On the first night, the line up is:  The Association, The Paupers, Lou Rawls, Beverly, Johnny Rivers, Eric Burdon and The Animals, and Simon & Garfunkel.
June 16, 2010 – The "Big Four" of thrash metal – Metallica, Megadeth, Slayer and Anthrax – perform together for the first time at the Sonisphere Festival in Warsaw, Poland.  The bands perform together for 14 shows, 12 in Europe and only two in the U.S.
June 16, 1996 – The two day Tibetan Freedom Concert in Golden Gate Park in San Francisco concludes with over 100,000 people in attendance, and raises over $800,000. Bands include Rage Against The Machine, Beastie Boys, Smashing Pumpkins, Fugees, Red Hot Chili Peppers, John Lee Hooker, Beck, Sonic Youth, Yoko Ono, De La Soul and Richie Havens. It becomes the largest U.S. benefit concert since 1985's Live Aid.
June 16, 1972 – David Bowie releases The Rise and Fall of Ziggy Stardust and the Spiders from Mars, an album centered around Bowie's androgynous alter ego, Ziggy Stardust. Selling over 7 million copies, the album is hailed as one of the greatest of all time.
10 Great David Bowie Covers We Love
June 16, 1988 – Mötley Crüe's Vince Neil marries his second wife, Sharisse Rudell, who is infamously labeled a "mud wrestler." She is the mother of Neil's daughter, Skylar, who tragically passes away from cancer at the age of 4.
June 16, 1987 – Jerry Garcia of the Grateful Dead officially gives permission for Ben and Jerry's Ice Cream to name a new flavor after him – Cherry Garcia.
June 16, 2007 – Rod Stewart marries model Penny Lancaster, his third wife. Stewart has two children with Lancaster, bringing his total to eight kids from five different women.
June 16, 1993 – The U.S. Postal Service issues a booklet of commemorative rock and roll stamps featuring Elvis Presley, Buddy Holly, Otis Redding, Bill Haley, Ritchie Valens, Clyde McPhatter, and Dinah Washington.
June 16, 1980 – The Blues Brothers movie starring John Belushi and Dan Aykroyd premieres in Chicago. The film goes on to gross over $115 million and becomes a cult classic. It also revives the careers of Aretha Franklin, James Brown and Ray Charles.
Classic Rock Birthdays
June 16, 1950 – Garry Roberts (born Garrick Roberts), guitar (Boomtown Rats)
June 16, 1953 – Ian Mosley, drums (Marillion)
June 16, 1946 – Iain Matthews (born Iain Matthew McDonald), vocals, guitar (Fairport Convention)
June 16, 1952 – Gino Vannelli, vocals
Hear The Boomtown Rats' New Single 'Trash Glam Baby'
Rock Remembrances
June 16, 1982 – James Honeyman-Scott, guitarist for the Pretenders, overdoses on cocaine. He was 25. Ironicially, two days prior to his death, Honeyman-Scott and the rest of the Pretenders had fired bandmate Pete Farndon from the group due to his drug abuse.
June 16, 1994 – Kristen Pfaff, bass guitarist of Hole, dies of "acute opiate intoxication." She was 27. Pfaff had gone to a Minneapolis detox center for heroin addiction in February and had decided to leave Hole and return to her hometown of Minneapolis permanently. She overdosed in Seattle while she was packing up her apartment.
June 16, 1999 – David Edward Sutch (known Screaming Lord Sutch), hangs himself at his home in England. He was 59. Sutch worked as a singer with such luminaries as Keith Moon, Jeff Beck, Jimmy Page and Ritchie Blackmore. He became a fixture of British political life after founding the Monster Raving Loony Party in 1963.
June 16, 2001 – Tommy Lee of Mötley Crüe throws a birthday party for his 5-year-old son Brandon which goes tragically wrong when four-year-old Daniel Karven-Veres drowns in the swimming pool. Lee is sued by Veres' parents for negligence but is later cleared unanimously by a jury.