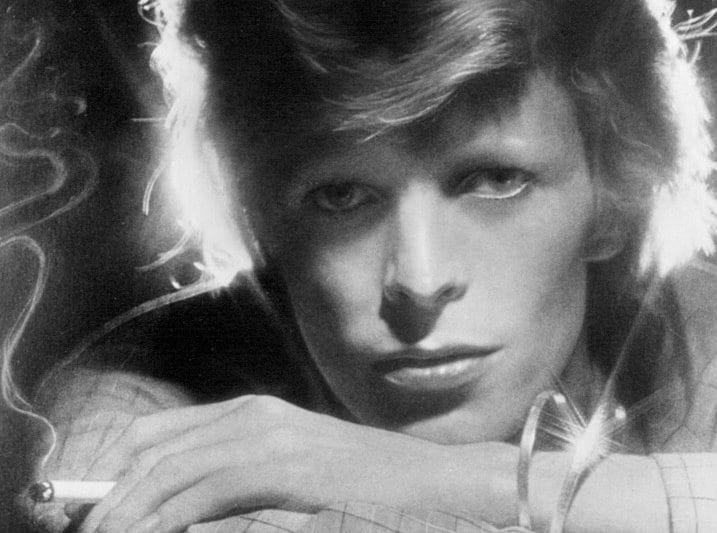 A very diverse group of artists have been influenced by David Bowie and covered his songs over the years. Here are our top ten favorite covers of David Bowie songs.
---
10

(TIE) "Golden Years" by Marilyn Manson
On 1998's Dead Man on Campus soundtrack, Marilyn Manson covered this 1976 song from the Station to Station album. Manson morphed the song from its original positive and ethereal sound to this dark, spooky, and edgy version. Manson and Bowie seem to share some commanalities: androgony, varying stage personas, glam phases and dramatic make up.
---
10

(TIE) "Life on Mars" by Barbra Streisand
Against all odds, this strange 1974 cover somehow works, even though not everyone agrees. From Streisand's album ButterFly, produced by hairdresser/boyfriend/producer Jon Peters, the song garnered both praise and scorn, in particular from Bowie himself, who later called the rendition "bloody awful" and "atrocious."
---
09

"Boys Keep Swinging" by Duran Duran
This EuroDisco remake from Bowie fans Duran Duran was featured on the We Were So Turned On: A Tribute to David Bowie CD. Bowie only played the song on one tour in 1995, and later said, "I do not feel that there is anything remotely glorious about being either male or female. I was merely playing on the idea of the colonization of gender."
---
08

"Sound and Vision" by Beck
Beck got Bowie's permission to record this song for the Lincoln Motor Company's "Hello, Again" campaign, which used this as its new theme song. Performed on a rotating stage with a 157-piece orchestra, the song was conducted by Beck's father, the acclaimed arranger David Campbell, who has worked on landmark albums by artists ranging from Carole King to Metallica and Muse.
---
07

"Heroes" by Oasis
Named by Rolling Stone as the 46th greatest song ever, the soaring riffs that open David Bowie's 1977 masterpiece are confidently replicated here by Oasis. When Bowie originally released the song, it barely dented the charts but has become one of his signature covered tracks, second only to "Rebel Rebel."
Top 20 Best Rock Albums of the '90s
---
06

"Suffragette City" by Red Hot Chili Peppers
This rowdy 1995 covered performed at a live show in Brixton, England paid fine tribute to Brixton's hometown hero. Fun fact: The Chili Peppers asked Bowie to produce two of their records, but he turned them down both times. Even so, after his death, Flea got a lightning bolt tattoo as a tribute to his hero.
---
05

"Space Oddity" by Commander Chris Hadfield
While aboard the International Space Station in 2013, astronaut Chris Hadfield recorded what is definitely the most unique cover ever of a David Bowie song – how many rock songs have been released from outer space? Bowie himself said that the cover of his 1969 song was "possibly the most poignant version of the song ever created."
---
04

"Space Oddity" by Smashing Pumpkins
While astronaut Hadfield stuck to the song's underlying vulnerability and spacey vibe, the Pumpkins' version, recorded on a rooftop during SXSW, gets heavy and hard, providing a completely different feedback-laden version.
---
03

"Fame" by Eurythmics
This remake came out in 2005 on the remaster of the album Touch. It wasn't the first time the Eurythmics had shown their love for Bowie. In 1992, Bowie and Lennox performed "Under Pressure" at a tribute concert for Freddie Mercury.
---
02

"Under Pressure" by The Foo Fighters
This live version of the song features an injured David Grohl head banging, singing, and playing guitar while sitting on his specially designed "rock throne." It's extra special because Led Zeppelin bassist John Paul Jones and Queen drummer Roger Taylor accompany the Foos on stage.
---
01

"The Man Who Sold The World" by Nirvana
Recorded in 1993, Nirvana covered this song acoustically during their MTV Unplugged performance. Fans assumed the band would play their biggest hits, but they surprised everyone by only playing covers. Aside from playing the famous title track from Bowie's 1970 album, Nirvana also covered music by The Meat Puppets, Leadbelly, and the Vaselines. Bowie said: "I was simply blown away when I found out that Kurt Cobain liked my work, and have always wanted to talk to him about his reasons for covering 'The Man Who Sold the World.'" It's unknown whether they ever had a chance to chat.