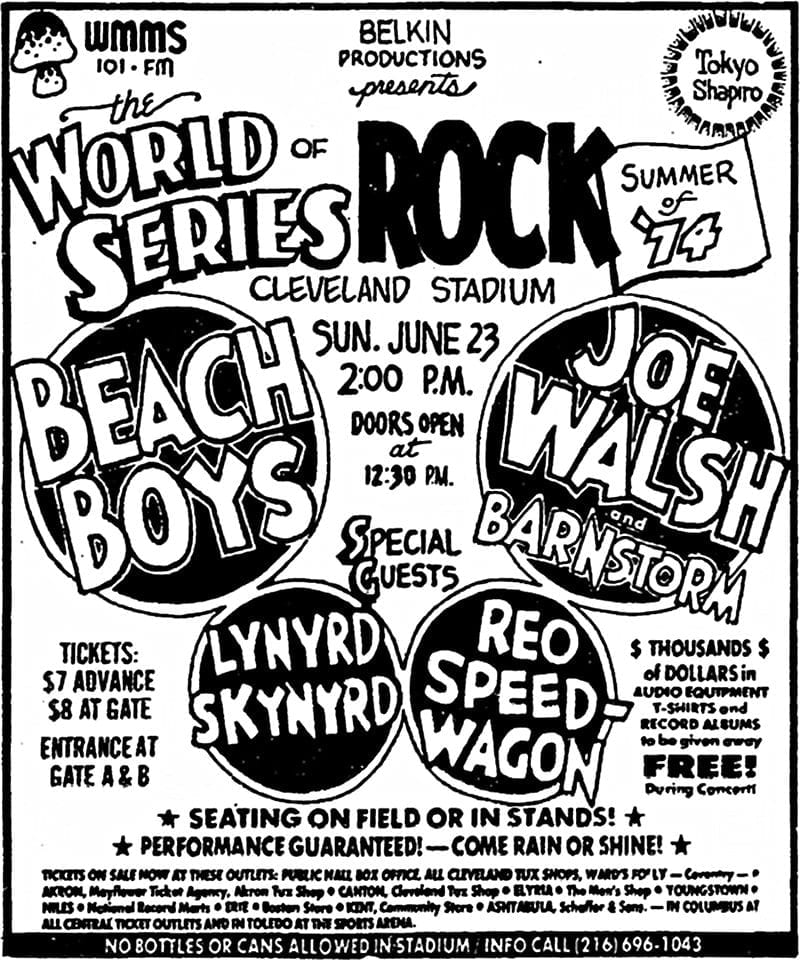 June 23, 1974 – The first World Series of Rock concert sponsored by WMMS in Cleveland takes place at Cleveland Stadium. The bill includes The Beach Boys, Joe Walsh & Barnstorm, Lynyrd Skynyrd and REO Speedwagon and attracts over 80,000 fans. The stadium is demolished in 1996, but not before fifteen more festivals occur.
June 23, 1975 – Alice Cooper plummets from the stage during his "Welcome To My Nightmare" tour in Vancouver, Canada. He breaks six ribs and suffers a concussion, but continues the show after getting bandaged up. Eventually, he is driven to the local hospital where he gets 15 stitches in his head.
June 23, 2005 – Four people are stabbed, one fatally, at a Corrosion Of Conformity show at the Masquerade club in Ybor City, FL. According to police, a fight between two women broke out in the mosh pit in front of the stage but spread to other members of the audience. Michael Pyne, a tattoo artist, later pleads guilty to the stabbings and is sentenced to 25 years in prison.
June 23, 2010 – Gregg Allman undergoes a successful liver transplant operation at the Mayo Clinic in Jacksonville, Florida. Allman acknowledges heavy drug use in the past, but says he suspects he may have contracted Hepatitis from a tattoo needle. "I changed my ways years ago, but we can't turn back time. Every day is a gift."
June 23, 2006 – Robert Plant headlines the "We're Doing It For Love" fundraising benefit for Arthur Lee of Love, who is uninsured and suffering from acute myeloid leukemia. Plant performs 12 songs, including five Led Zeppelin songs and five recorded by Love in the 60's. Sadly, Lee died later that year in August after putting up a courageous fight.
June 23, 1965 – The Kinks play a show in Springfield, Illinois and later learn that it was promoted by serial killer John Wayne Gacy. Allegedly, they were invited to his house after the show, where he got them drunk and took a shine to Dave Davies, but the band thought the place smelled so they left. Creepy!
June 23, 2004 – The University of St. Andrews in Scotland gives Bob Dylan an honorary doctorate in music.  University principal, Dr. Brian Lang, describes Dylan as an "iconic figure for the 20th Century," adding, "His songs, and in particular his lyrics, are still part of our consciousness."
Iconic Artists Are Selling Their Catalogs, and It's a Slippery Slope
Classic Rock Birthdays
June 23, 1964 – Joey Allen (born Joseph Alan Cagle), guitar (Warrant)
June 23, 1962 – Chuck Billy, vocals (Testament)
June 23, 1941 – Robert Hunter (born Robert Burns), lyricist/poet  (Grateful Dead, Bob Dylan). When the Dead were inducted into the Rock and Roll Hall of Fame in 1994, Hunter was included as a band member, the only non-performer ever so honored. (d. 2019)
June 23, 1940 – Stuart Sutcliffe, bass (The Beatles) (d. 1962)
June 23, 1956 – Randy Jackson, bass, producer, American Idol judge
Bill Graham and the Rock & Roll Revolution
Rock Remembrances
June 23, 2010 – Peter Quaife (born Peter Alexander Greenlaw Kinnes), founding member and original bass guitarist with the Kinks, dies of kidney disease. He was 66. Although he was only with the Kinks for about five years, both Ray and Dave Davies recognized his influence on the band. Ray said, "I wouldn't be here today if it wasn't for him," and Dave had this to say, "Quaife was never really given the credit he deserved for his contribution and involvement with The Kinks."