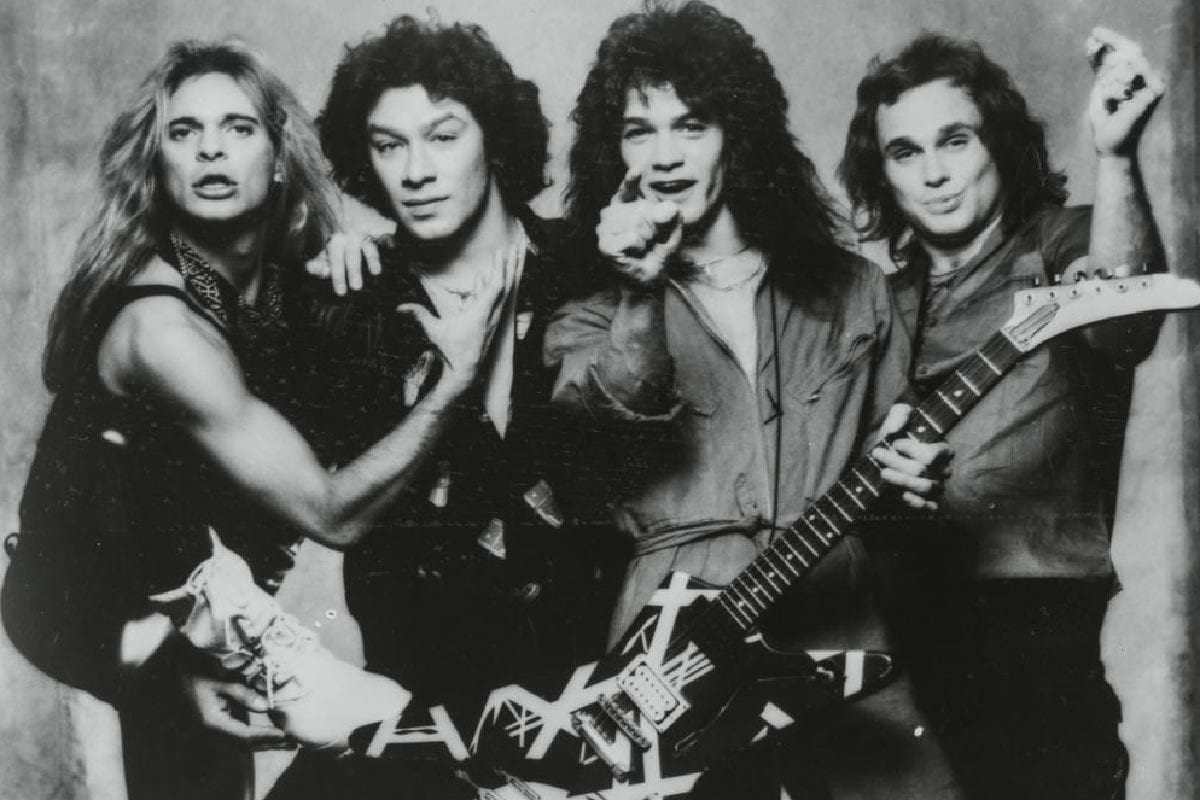 March 12, 2010 – Over 160 people are arrested and eight people are hospitalized when fans try to gain free entrance at a Metallica show in Colombia. 1,500 policeman and several tanks were brought in to manage the riot. Inside the venue, the concert went on as planned.
March 12, 2007 – Van Halen are inducted into the Rock & Roll Hall of Fame in New York City. The only inductees from the band to attend the ceremony are former members Sammy Hagar and Michael Anthony. Velvet Revolver plays "Ain't Talkin' 'Bout Love" and Anthony and Hagar perform "Why Can't This Be Love" with Letterman band leader Paul Shaffer.
March 12, 1974 – John Lennon and Harry Nilsson go on a drinking binge and are tossed out of a Smothers Brothers comedy show at the Troubadour in Los Angeles. Nilsson says, "It ruined my reputation for 10 years. Get one Beatle drunk and look what happens." It wasn't the first time, however, that Lennon had been ejected from the Troubadour. A month earlier, an inebriated Lennon, at the club to see soul singer Ann Peebles, somehow ended up with a sanitary napkin attached to his forehead. "Do you know who I am?" Lennon said, when a waitress questioned why he wasn't leaving a tip on the way out. "Yes," the waitress reportedly shot back. "You're some —hole with a Kotex on your head."
March 12, 1969 – Paul McCartney marries girlfriend Linda Eastman in Marylebone, London, and again at the Anglican church in St. John's Wood. No other Beatles attend either ceremony. Paul then went to Abbey Road studios that evening to record.
12 Rock & Roll Romances That Inspired the Music
March 12, 1969 – George Harrison and his wife Pattie wanted to attend Paul's wedding but were arrested for possession of marijuana (specifically, cannabis resin) at their house in Esher, Surrey, England. Sergeant Pilcher, the man behind the raid, was convicted of planting drugs in other cases and went to jail in 1972. He was well-known for singling out and busting rock stars.
March 12, 1998 – Attorneys for Korn send a cease-and-desist demand to a Michigan high school assistant principal who suspended a student for wearing a Korn T-shirt and said in an interview that Korn's music is "indecent, vulgar, obscene and intends to be insulting." In retribution, a local radio station gave away hundreds of free Korn T-shirts, which were donated by the band, outside the school. Ottawa County policemen helped hand out the shirts.
March 12, 1975 – Rush guitarist Alex Lifeson marries his longtime girlfriend Charlene.
March 12, 1966 – The theme song to the TV series Batman reaches its chart peak of #17. To the Bat Cave Robin!
Classic Rock Birthdays
March 12, 1956 – Steve Harris, bass and founder (Iron Maiden)
March 12, 1977 – Ben Kenney, bass (Incubus)
15 Most Overlooked Artists by the Rock and Roll Hall of Fame
Rock Remembrances
March 12, 2013 – Clive Burr, former Iron Maiden drummer, dies in his sleep after battling multiple sclerosis for years. He was 56. Iron Maiden lead singer Bruce Dickinson considered Burr to be "…the best drummer the band ever had. That's not taking anything away from [present drummer] Nicko. It's just that Clive had this incredible feel, and you can't learn that, and I regret that he wasn't given more time to try and sort himself out." Burr played on four Maiden records, including their breakout in the US, The Number of the Beast.
March 12, 2012 – Michael Hossack, Doobie Brothers drummer, dies at his home in Dubois, Wyoming from cancer. He was 65. Hossack was part of a "dual drummer" attack, popularized first by The Grateful Dead and The Allman Brothers.