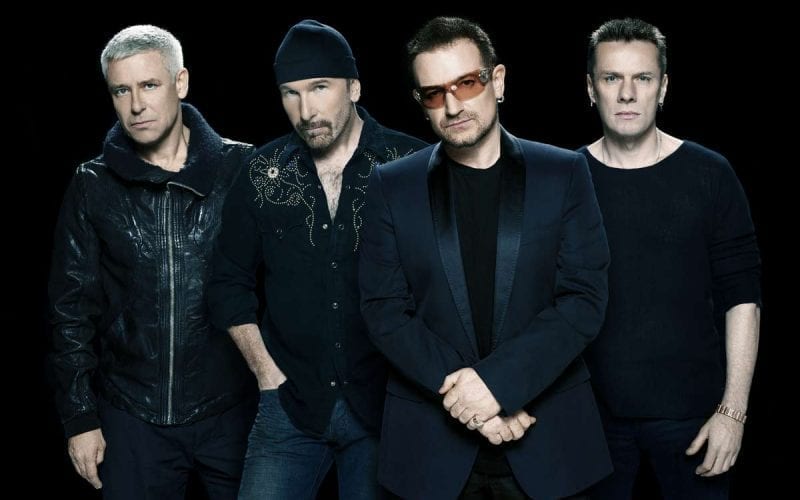 March 17, 1998 – Van Halen release Van Halen III, their eleventh studio album. It is the only album with former Extreme lead singer Gary Cherone, and the only album to not attain platinum status.
March 17, 1985 – Serial killer Richard Ramirez kills a man and leaves an AC/DC hat behind at the crime scene. Ramirez becomes known as the "Night Stalker" as he continues his killing spree. It's revealed by a childhood friend that AC/DC is his favorite band, and some speculate that AC/DC stands for "Anti-Christ/Devil's Child," which the group disavows.
March 17, 1978 – The Irish high school band U2 win a talent competition with a prize earning them a chance to record a demo for CBS Records. They had recently changed their name from The Hype.
March 17, 2008 – Heather Mills rakes in almost $50 million in her divorce from Paul McCartney. Mills is labeled "opportunistic" but claims that losing her leg was "easier to cope with than my divorce from Paul."
March 17, 1957 – Elvis Presley buys the Graceland mansion for $102,500, which would be about $850,000 today. Not content with the 10,000+ square foot home, the King almost doubles its size before moving in. Interestingly, the home was named after the builder's daughter, Grace Toof.
March 17, 1966 – Keith Moon of The Who secretly marries his pregnant girlfriend, Kim Kerrigan.
Original Names of Famous Classic Rock Bands
Classic Rock Birthdays
March 17, 1962 – Janet Gardner, guitar, vocals (Vixen)
March 17, 1962 – Roxy Petrucci, drums (Vixen)
March 17, 1959 – Paul Mars Black (born Paul Marmorstein), vocals (L.A. Guns)
March 17, 1951 – Scott Gorham (born William Scott Gorham), guitar (Thin Lizzy, Black Star Riders)
March 17, 1941 – Paul Kantner, vocals, guitar (Jefferson Airplane) (d. 2016)
March 17, 1948 – Fran Byrne, drums (Ace)
March 17, 1967 – Billy Corgan, vocals, guitar (Smashing Pumpkins)
March 17, 1967 – Van Conner, vocals, guitar (Screaming Trees) (d. 2023)
March 17, 1972 – Melissa Auf der Maur, bass (Hole)
March 17, 1975 – Justin Hawkins, vocals, guitar (The Darkness)
March 17, 1944 – Pattie Boyd, ex-wife of Eric Clapton and George Harrison
12 Rock & Roll Romances That Inspired the Music
Rock Remembrances
March 17, 1990 – Rick Grech dies from kidney and liver failure due to alcoholism. He was 43. Grech was the bassist of Blind Faith and Traffic and also was an active session musician, playing with Rod Stewart, Ronnie Lane, Muddy Waters, The Bee Gees and Gram Parsons.
March 17, 2010 – Alex Chilton (born William Alexander Chilton) dies from a heart attack. He was 59. Chilton was the lead singer for The Box Tops and Big Star, gaining a cult following with many rock and alternative bands. At only 16, he attained a #1 record with "The Letter."