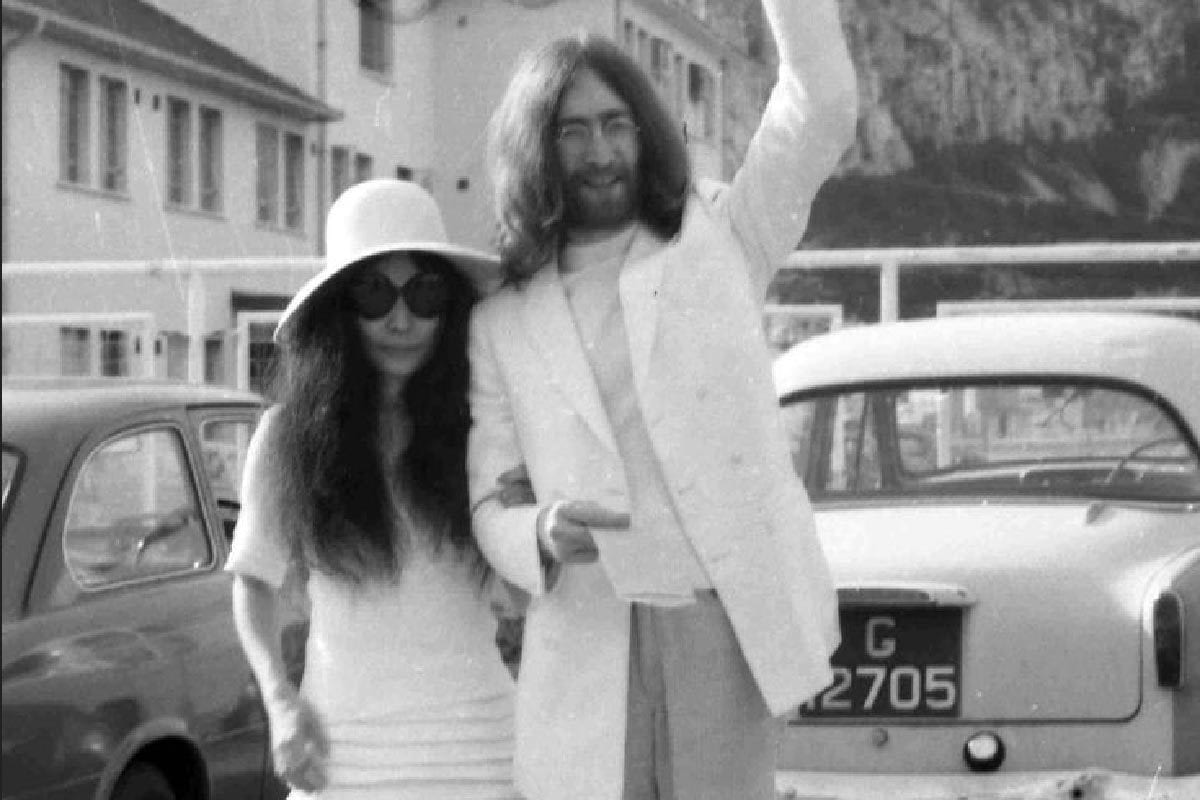 March 20, 1969 – John Lennon marries Yoko Ono at the British Consulate Office in Gibraltar. Lennon said at the time, "We chose Gibraltar because it is quiet, British and friendly. We tried everywhere else first. I set out to get married on the car ferry and we would have arrived in France married, but they wouldn't do it. We were no more successful with cruise ships. We tried embassies, but three weeks' residence in Germany or two weeks' in France were required." The Beatles song "The Ballad of John and Yoko" details the ordeal of finding a location for the nuptials.
March 20, 1977 – T. Rex plays their final show at The Locarno in Portsmouth, England. Marc Bolan is dead less than six months later.
March 20, 1970 – David Bowie marries Angela Barnett in London. The marriage lasts 10 years.
March 20, 1980 – Truck driver Joseph Riviera holds Asylum Records employees at gunpoint in New York. He demands to speak to either Jackson Browne or any member of the Eagles to invest in his trucking firm. When notified that they all live in California, he leaves the building and is immediately arrested.
March 20, 1976 – Alice Cooper marries Sheryl Goddard, a 19-year-old choreographer who was performing on his Welcome To My Nightmare tour. Cooper was 28 and according to legend had just rejected several advances from actress Raquel Welch.
12 Rock & Roll Romances That Inspired the Music
Classic Rock Birthdays
March 20, 1950 – Carl Palmer, drummer (Emerson, Lake & Palmer, Asia)
March 20, 1951 – Jimmie Vaughan, guitarist (Fabulous Thunderbirds) and brother of the late Stevie Ray Vaughan.
March 20, 1976 – Chester Bennington, vocalist (Linkin Park) (d. 2017)
Rock Remembrances
March 20, 1991 – Conor Clapton, Eric Clapton's son, dies after falling out of a 53rd floor window in New York City. He was four. The window had been inadvertently left open by a janitor. In his grief, Clapton writes the song "Tears In Heaven" about Conor.
March 20, 2015 – A.J. Pero (born Anthony Jude Pero), dies of a heart attack on Adrenaline Mob's tour bus. He was 55. Pero was the drummer for Twisted Sister, but played with Adrenaline Mob when Twisted wasn't touring. Dee Snider later said that Pero's "irresponsible behaviour" led to his death.