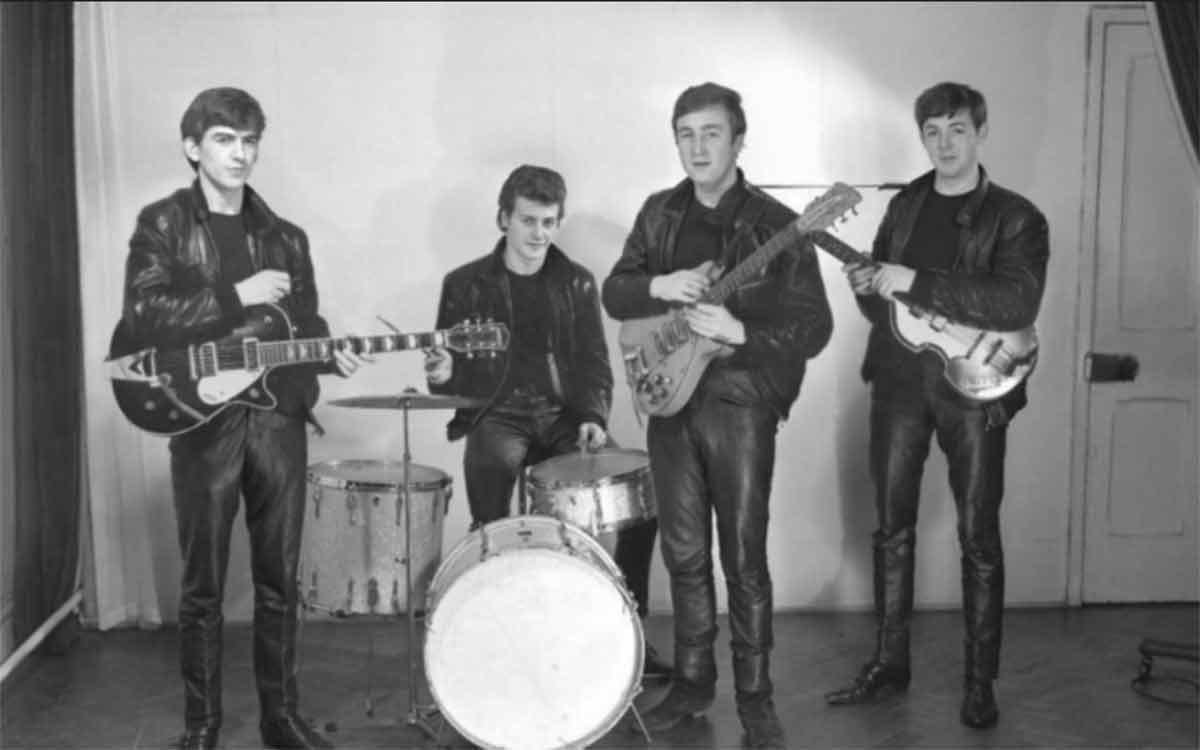 November 24, 1984 – Tommy Lee of Mötley Crüe marries for the first time, to model Elaine Starchuk (AKA Candice). They divorce the following year.
November 24, 1972 – The music TV show In Concert debuts with Alice Cooper, Bo Diddley and Seals and Crofts.
November 24, 2007 – Red Hot Chili Peppers bassist Flea loses his $4.8 million home in a wildfire that sweeps through Malibu. He says the property was "burnt to a crisp."
Top 20 Best Rock Albums of the '90s
Classic Rock Birthdays
November 24, 1941 – Pete Best (born Randolph Peter Best), drums (The Beatles)
November 24, 1950 – Bob Burns, drums (Lynyrd Skynyrd) (d. 2015)
November 24, 1957 – Chris Hayes, guitar (Huey Lewis and the News)
November 24, 1941 – Donald "Duck" Dunn, guitar (Booker T and the MG's, The Blues Brothers) (d. 2012)
November 24, 1954 – Clem Burke (aka Elvis Ramone), drums (Blondie, The Romantics, The Ramones)
10 Easiest Rock Love Songs to Learn on Guitar
Rock Remembrances
November 24, 1991 – Freddie Mercury (born Farrokh Bulsara) dies of complications from AIDS in London. He was 45. Mercury, the flamboyant and theatrical lead singer of Queen, wrote 10 of the 17 songs on Queen's Greatest Hits album including "Bohemian Rhapsody," "Killer Queen," "Somebody to Love," "We Are the Champions," "Bicycle Race," "Don't Stop Me Now," "Crazy Little Thing Called Love" and "Play the Game." Mercury was openly bisexual and although his last relationship was with hairdresser Jim Hutton, he left almost all of his assets, including his ashes, to Mary Austin, his former girlfriend and his best friend. When he died, his friend Dave Clark of The Dave Clark Five was with him. As a member of Queen, he was inducted into the Rock and Roll Hall of Fame in 2001.
November 24, 1991 – Eric Carr (born Paul Charles Caravello) dies of heart cancer in New York. He was 41. Carr replaced Peter Criss in Kiss in 1980 and remained a band member until he became ill in 1991. For his Kiss stage persona, Carr was known as "The Fox."
November 24, 2008 – Michael Lee (born Michael Gary Pearson) dies from an epileptic seizure. He was 39. Lee was an English drummer who worked with Robert Plant, Jimmy Page, The Cult, Ian Gillan and Thin Lizzy among many others.
November 24, 1993 – Albert Collins (born Albert Gene Drewery) dies of lung cancer. He was 61. Collins was known as "The Master of the Telecaster," due to his long association with Fender guitars. Collins was famous for his informal and entertaining shows, where he would use his long guitar lead to walk through the crowd, sometimes ending up on the street while still performing. He was also a major influence of Stevie Ray and Jimmie Vaughan, Robert Cray and many other blues guitarists.
November 24, 2017 – Mitch Margo, member of The Tokens, dies of natural causes at his home in California. He was 70. Margo joined the Tokens, along with his brother Phil, when he was only 14. Their most well-known song was the #1 hit "The Lion Sleeps Tonight."