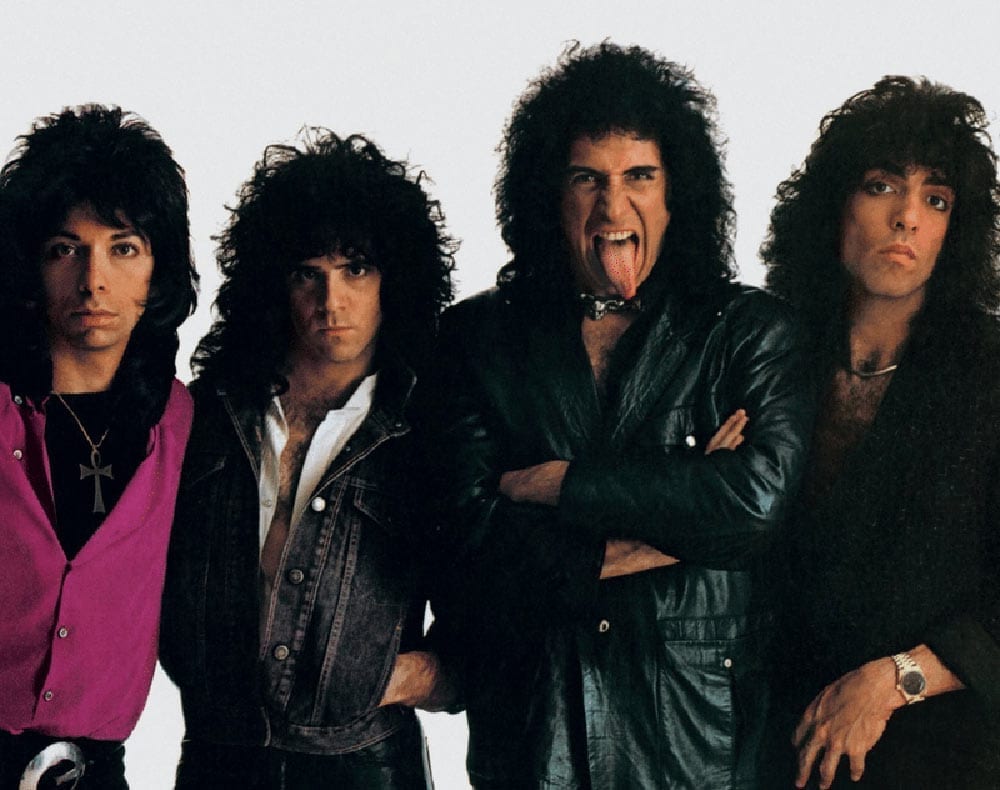 September 18, 1983 – Kiss appear without their makeup for the first time during an MTV interview while promoting the release of their new album Lick It Up. Only two of the group's original members were unveiled as founding drummer Peter Criss and guitarist Ace Frehley had left the band. Eric Carr and Vinnie Vincent were their replacements.
10 Best Classic Rock Halloween Costumes and How to Pull Them off
September 18, 1978 – All four members of Kiss – Gene Simmons, Ace Frehley, Paul Stanley, and Peter Criss – release solo albums simultaneously. It is the first time in history that all current members of a rock band release solo albums on the same day. Ace Frehley's solo album turns out to be the most successful, although all make it into the Top 50 of Billboard's album chart.
September 18, 2008 – Pearl Jam singer Eddie Vedder releases the single "All the Way" as a tribute to the Chicago Cubs. Vedder, a lifelong Cubs fan who has attended Cubs fantasy camps for years, wrote the song after Ernie Banks requested that he write a song about the team.
September 18, 1970 – Black Sabbath release their second album Paranoid which goes on to sell four million copies in the U.S. and is one of the most iconic albums of all time. Paranoid was originally titled "War Pigs" and the song "Iron Man" was originally called "Iron Bloke."
20 Facts You Might Not Know About Black Sabbath
Classic Rock Birthdays
September 18, 1951– Dee Dee Ramone, (born Douglas Glenn Colvin), bass (The Ramones) (d. 2002)
September 18, 1949 – Kerry Livgren, guitar, keyboards (Kansas)
September 18, 1945 – Alan "Bam" King, guitar (Ace)
September 18, 1955 – Keith Morris, vocals (Black Flag, Circle Jerks)
Rock Remembrances
September 18, 1970 – Jimi Hendrix dies in London after choking on his own vomit. He was 27. A forensic pathologist later reveals that Hendrix had taken nine sleeping pills, 18 times the recommended dosage, along with alcohol. Hendrix has been called "arguably the greatest instrumentalist in the history of rock music" and his technique and playing has influenced musicians for decades. At the time of his death, he was the world's highest paid performer and had headlined both the Woodstock Festival in 1969 and the Isle of Wight Festival in 1970. The Jimi Hendrix Experience was inducted into the Rock and Roll Hall of Fame in 1992, and Hendrix won many posthumous Grammys.
September 18, 1979 – Greg Arama dies in a motorcycle accident. He was 29. In 1967, Arama was the original bassist and member of the Chicago band The Gang, which became The Amboy Dukes. Greg was the mastermind behind the bass line in the Dukes song "Journey to the Center of the Mind."