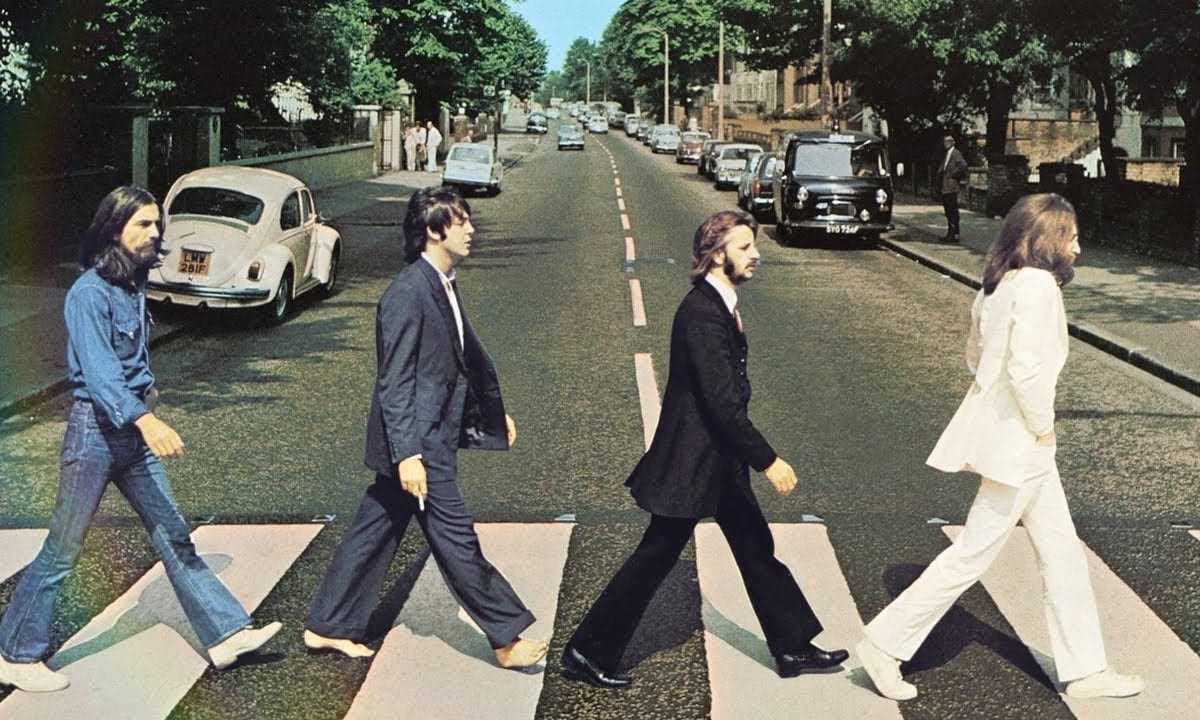 September 26, 1969 – The Beatles release Abbey Road, their 11th studio album. The album sells over 12 million copies in the U.S., and although initially garnering mixed reviews, becomes perhaps one of the most beloved albums ever. The cover features the iconic image of the band crossing the street in a single file line outside of their recording studio.
September 26, 1981 – Bruce Dickinson, lead singer of Samson, officially joins Iron Maiden, replacing Paul Di'Anno. It's a month before performing his first show with the band. On his audition tape, he records versions of "Killers," "Twilight Zone" and "Wrathchild."
September 26, 1975 – The Rocky Horror Picture Show opens in Westwood, California. The movie features a young Meat Loaf along with Tim Curry and Susan Sarandon. Although it proves successful in Westwood, the movie tanks nationwide. It later becomes a cult classic, with midnight theater showings that feature avid audience participation.
September 26, 1995 – AC/DC release Ballbreaker, their 12th studio album. The album is produced by Rick Rubin, and marks the return of former drummer Phil Rudd.
September 26, 1965 – After flushing Keith Moon's stash of drugs down the toilet, Moon and Roger Daltrey get in a fight which results in Daltrey knocking out Moon and and getting fired from The Who. Daltrey is reinstated the next week.
Death, the Devil and the CIA: Classic Rock Conspiracy Theories that Range from Completely Crazy to Entirely Conceivable
Classic Rock Birthdays
September 26, 1954 – Craig Chaquico, guitar (Jefferson Airplane, Jefferson Starship, Starship)
September 26, 1945 – Bryan Ferry, vocals, keyboards (Roxy Music)
September 26, 1954 – César Rosas, vocals, guitar (Los Lobos)
September 26, 1967 – Shannon Hoon (born Richard Shannon Hoon), vocals (Blind Melon) (d. 1995)
September 26, 1931 – George Chambers, bass, vocals (The Chambers Brothers) (d. 2019)
September 26, 1941 – Joe Bauer, drums (The Youngbloods) (d. 1982)
Top 10 Rock Songs Inspired By Literature
Rock Remembrances
September 26, 2021 – Alan Lancaster, co-founder, bassist and sometime lead singer of Status Quo, dies in Sydney, Australia due to complications from multiple sclerosis. He was 72. The band released 100 singles (57 of which were in the Top 40) and 33 albums. "Pictures of Matchstick Men" was their biggest international hit.
September 26, 2021 – George Frayne (aka Commander Cody), singer and pianist of Commander Cody and His Lost Planet Airmen, dies in Saratoga Springs, NY of esophageal cancer. He was 77. Frayne was the energetic leader of the band who became well-known with the song "Hot Rod Lincoln," which was rapped, more than sung. Frayne was also an accomplished painter, publishing a book of his visual art, "Art Music & Life," in 2009, and featured in the permanent collection of the Museum of Modern Art in New York with an experimental video he made called "Two Triple Cheese Side Order of Fries."
September 26, 2020 – Jimmy Winston (born James Edward Winston Langwith), original keyboard player with Small Faces, dies from lung cancer. He was 75. Winston co-founded Small Faces with Steve Marriott, Ronnie Lane and Kenney Jones. He was replaced by Ian McLagan after a falling out with Marriott. Winston (also known sometimes as James Moody) was an actor and known for playing "Shura" in the popular series "Doctor Who."
September 26, 2003 – Robert Palmer dies of a heart attack in Paris, France. He was 54. Palmer had a successful solo career, winning two Grammy Awards for Best Male Rock Vocal Performance; in 1987 for "Addicted to Love," and in 1989 for "Simply Irresistible." He later was a member of Power Station, with Duran Duran's Andy Taylor and John Taylor, and former Chic member Tony Thompson. Palmer may be best remembered for his videos that featured identically dressed women with dark eye makeup and bright red lipstick pretending to play instruments.
September 26, 1937 – American blues singer Bessie Smith dies after being involved in a car accident outside Memphis, Tennessee. She was 43. Smith was the most popular female blues singer of the 1920s and 1930s and she was a major influence on future singers of the genre. Three recordings by Smith have been inducted into the Grammy Hall of Fame, and the U.S. Postal Service issued a 29-cent commemorative postage stamp honoring her in 1994.