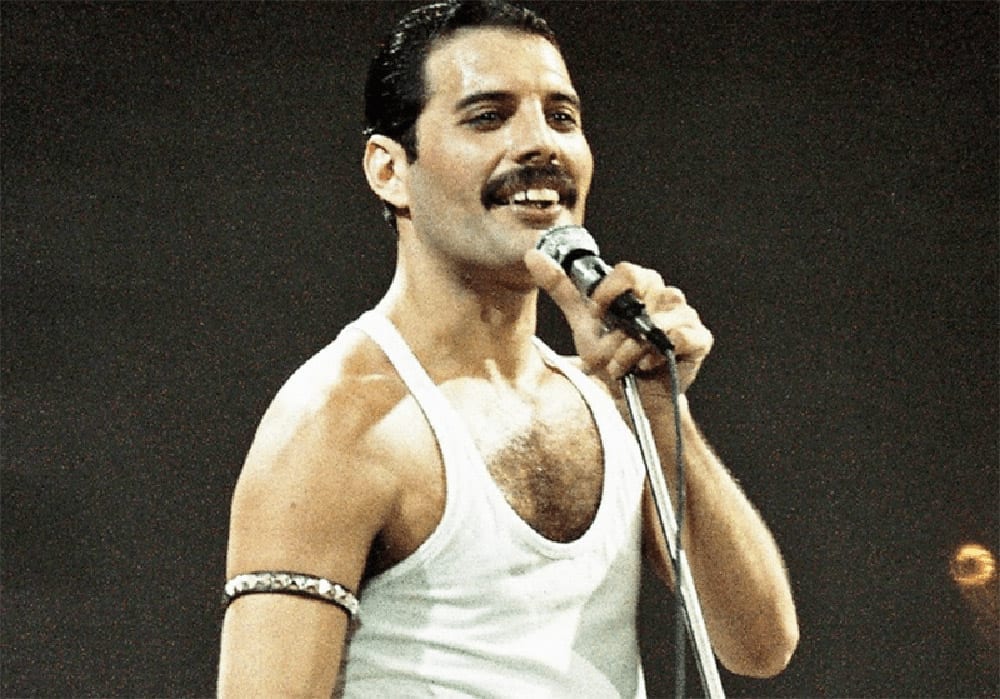 September 5, 1976 – Lynyrd Skynyrd guitarist Gary Rossington is injured in a car crash in Jacksonville, FL after he falls asleep at the wheel while under the influence of alcohol and drugs. The accident inspires Ronnie Van Zant to write "That Smell" with the lyrics, "Whiskey bottles and brand new cars, oak tree you're in my way. There's too much coke and too much smoke. Look what's goin' on inside you…"
September 5, 1987 – Ian Astbury of The Cult is arrested after a show in Vancouver ends in a riot. Staff at the concert claim they were assaulted by Astbury, who spends the night in the local jail.
September 5, 2016 – On what would have been Freddie Mercury's 70th birthday, the Queen frontman has an asteroid named after him, which was discovered in 1991 – the year he died. Queen guitarist Brian May tells a gathering of 1,250 fans at Montreux Casino in Switzerland that the asteroid will now be known as Asteroid 17473 Freddiemercury. "Even if you can't see Freddiemercury leaping through the sky, you can be sure he's there – 'floating around in ecstasy', as he might sing, for millennia to come."
September 5, 1992 – John Mellencamp weds his third wife, model Elaine Irwin. They divorce in 2011.
September 5, 1991 – Guitarist C.C. DeVille is kicked out of Poison after he sabotages their performance at the MTV Video Music Awards by playing "Talk Dirty To Me" instead of "Unskinny Bop" while intoxicated. DeVille rejoins the band five years later.
25 Interesting Facts About the Launch of MTV
Classic Rock Birthdays
September 5, 1946 – Freddie Mercury, vocals (Queen) (d. 1991)
September 5, 1945 – Al Stewart, guitar, vocals
September 5, 1946 – Loudon Wainwright III, vocals, guitar
September 5, 1949 – David "Clem" Clempson, guitar (Humble Pie)
September 5, 1947 – Buddy Miles (born George Allen Miles Jr.) drums, vocals (The Electric Flag, Jimi Hendrix's Band of Gypsies, Buddy Miles Express) (d. 2008)
September 5, 1968 – Brad Wilk, drums (Rage Against the Machine, Audioslave)
September 5, 1969 – Dweezil Zappa (born Ian Donald Calvin Euclid Zappa), guitar, vocals
8 Great Things You Might Not Know About Freddie Mercury
Rock Remembrances
September 5, 2021- Rickie Lee Reynolds, guitarist of Black Oak Arkansas, dies from cardiac arrest in Memphis, TN. He was 72. Reynolds, who had been had been hospitalized with COVID-19, then suffered from kidney failure and finally cardiac arrest. The band, named after the hometown of most of the original members, had their biggest hit with "Jim Dandy" in 1973.
September 5, 1978 – Joe Negroni, co-founder and baritone vocalist of Frankie Lymon and the Teenagers, dies of a cerebral hemorrhage. He was 37. Propelled by the success of  "Why Do Fools Fall In Love" and many other hits, the band was inducted into the Rock and Roll Hall of Fame in 1993.
September 5, 2012 – Joe South, singer-songwriter and guitarist, dies from heart failure at his home in Georgia. He was 72. South was a prominent sideman for many artists, including Bob Dylan, Simon & Garfunkel and Aretha Franklin, but is best known for his solo song "Games People Play," and for his composition of Lynn Anderson's hit "(I Never Promised You A) Rose Garden."
September 5, 2105 – Dennis Greene (born Frederick Greene), member of Sha Na Na, dies from esophageal cancer in Dayton, OH. He was 66. Greene graduated from Yale Law School, became a film executive, and went on to practice and teach law.
September 5, 2019 – Jimmy Ray Johnson, guitarist and member of the Muscle Shoals Rhythm Section, dies from kidney failure.  He was 75.  Johnson played on literally hundreds of songs from musicians including Bob Seger, Leon Russell, Aretha Franklin, Lynyrd Skynyrd, Paul Simon and The Rolling Stones, for whom he also produced three tracks on Sticky Fingers.
50 Years On: Fascinating Facts About the Rolling Stones 'Sticky Fingers'