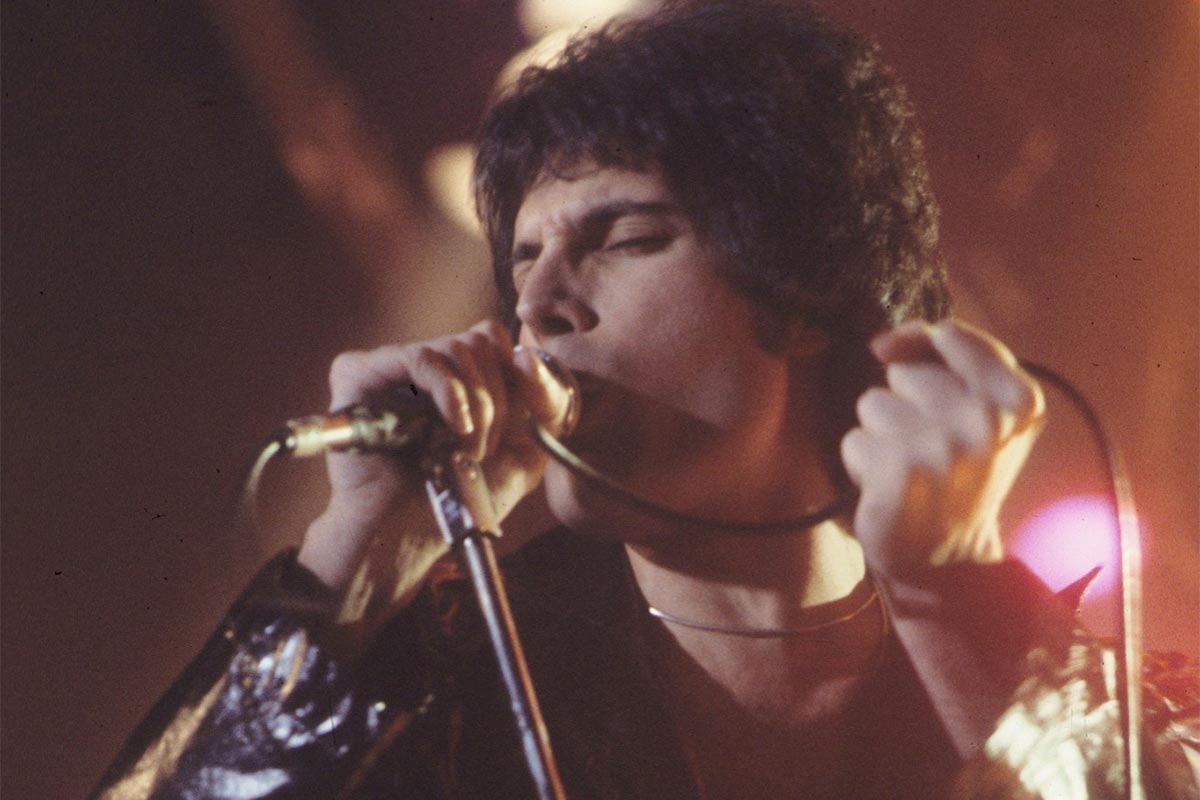 Freddie Mercury, iconic lead singer of Queen and arguably one of the best rock singers of all time, would have turned 75 on September 5, 2021. Diagnosed with AIDS in 1987, Mercury kept his declining health a secret until the day before his death on November 24, 1991.
Born in Zanzibar, which was a British protectorate until 1963 (making Mercury a British subject), Mercury was mainly educated at a boarding school for boys in India, where he formed his first band. His family fled Zanzibar for Middlesex, England due to political persecution when Mercury was 17. He then attended college in England, graduating in 1969 with a degree in graphic art and design.
Mercury formed the band "Smile" with drummer Roger Taylor and guitarist Brian May in 1970, when he was 23. They recruited bassist John Deacon the next year and changed their name to Mercury's suggestion, "Queen."
Although Mercury was one of the most flamboyant and theatrical singers of his generation, he kept his private life… well, private. You've hopefully attended or seen a Queen concert or two, you've read the magazines, and you've probably seen the 2018 Bohemian Rhapsody (which has many glaring errors due to "creative license"), but you still may not know some of the most intriguing facts of Freddie Mercury's life.
Roger Taylor Doesn't Care If You Didn't Like the Queen Biopic
In celebration of what would have been Mercury's 75th birthday, let's find out more about this iconic legend.
01

Freddie Mercury's Real Name

Mercury was born Farrokh Bulsara, and started using the first name "Freddie" while at boarding school in India. He legally changed his surname to "Mercury" after he renamed his band "Smile" to "Queen." According to Brian May, Mercury picked his last name after he wrote the song "My Fairy King," featured on Queen's debut album. The lyrics mentioned "Mother Mercury" and Freddie thought that was an appropriate name for himself. Astrologers have also pointed out that Mercury was the ruler of the sun on his birth chart. In addition, the surname Mercury could whitewash his ethnic Parsi heritage, which at the time was looked at as not being conducive to being a "rock star."

For a short time, Mercury also used the name Larry Lurex, on a recording made prior to Queen's debut album. In short, Mercury, May and Taylor had been asked by a studio engineer to recreate Phil Spector's famed "Wall of Sound" while Queen was putting the final touches on their album.  Mercury said he came up with the outlandish name as a "personal piss-take" on Gary Glitter, who at the time was dominating the British charts. (This was all prior to the revelation of Glitter's numerous sex crimes.) Fans loved Glitter and revolted against "Larry Lurex," rendering the single a stiff.
---
02

His Teeth and Voice

Mercury had a distinctive and prominent overbite. Why? It turns out that he had four extra teeth on his upper jaw, also known as mesiodens or supernumerary teeth. People with this condition normally have one or perhaps two extra teeth so for Mercury to have four was extremely rare. The extra teeth pushed his front teeth forward and created his trademark overbite. Although he was self-conscious about this distinct trait his entire life (even being nicknamed "Bucky" in school), Mercury was afraid that altering his teeth would change his voice. He believed he had an expanded palate which contributed to his incredible vocal range, which was alleged to be four octaves.

In 2016, scientists officially studied Mercury's vocals and reported that his vocal chords were unique. Consequence of Sound stated that while most average humans' vocal chords vibrate "between 5.4 Hz and 6.9 Hz, Mercury's was 7.04 Hz."
---
03

His Music

Like many musicians, sometimes song ideas came to Mercury in his dreams. But unlike most artists, Mercury's headboard was actually an upright piano. When he was just starting out, he used his headboard to write songs that materialized in his sleep. To do this, he had to play the piano backwards, as he lay prone. "He was double-jointed and his hands could bend back completely and I think that's where some of the passages from 'Bohemian Rhapsody' started," said Mercury's former manager John Reid. Rock stars – they're not like us!

Speaking of "Bohemian Rhapsody," Mercury started working on that epic song in 1968, two years before Queen even existed. He called it "The Cowboy Song" due to the lyric, "Mama, just killed a man." Prior to Mercury's death, Brian May told Mercury about the song's inclusion in the movie Wayne's World, and told the BBC, "He was … confined to his bed, but I took it round and played it to him and he loved it. Strangely enough, the humor in it was quite close to our own. Because we did that kind of thing in the car, bouncing up and down to our own tracks!"

Mercury also wrote in the bathtub. He claims that "Crazy Little Thing Called Love" took him only 5-10 minutes to write while taking a bubble bath. He probably should have written in the tub even more because the song become Queen's first #1 hit in the U.S.

Mercury enjoyed singing with other music stars, creating many timeless collaborations. And he did this many times with Queen as the "backing" band. His most famous duet was probably "Under Pressure" with his friend David Bowie, but he also recorded with Michael Jackson, Ian Hunter and Billy Squier.

You Won't Believe This List of Rock Artists Who Have Never Won a Grammy
---
04

Freddie Mercury's Hobbies

Like many artistic people, Mercury had numerous interests outside of music. First and foremost, Mercury loved art. He designed the crest logo for Queen, putting his degree in graphic design from Ealing Art College to good use. (College alumni also incidentally include Pete Townshend and Ronnie Wood.) The logo he designed for the band is made up of their zodiac signs— a Cancer crab for Brian May, two Leo lions for Roger Taylor and John Deacon and finally two fairies for Freddie's Virgo sign. A phoenix hovers over the crest, protecting the band.

Stamp collecting was also a passion for Mercury. In fact, Freddie's stamp collection is one of the few possessions that his family kept after his death. In 1993, they put the collection up for auction and it was acquired by the British Postal Museum, who lend it out for exhibitions. Proceeds were donated to The Mercury Phoenix Trust, which was an AIDS charity set up to honor Mercury. Fittingly, Mercury was posthumously remembered on one of a series of stamps produced to mark the millennium.

Mercury also loved playing Scrabble. Apparently, the band loved playing marathon sessions on the road, with Mercury or Roger Taylor usually winning. But, Brian May held the record for the best word – "lacquers" which scored the most by having the "Q" on the triple points square.

Although maybe not considered a hobby, Mercury was a huge cat lover. At times Mercury had up to ten cats, most rescued from animal shelters. He even dedicated the song "Delilah" to his favorite cat (featured on the Innuendo album) and a full solo album, Mr. Bad Guy, to all of his cats. "Mr. Bad Guys is dedicated to my cat Jerry – also Tom, Oscar and Tiffany, and all the cat lovers across the universe – screw everybody else."

Advertisement
---
05

His Friends

Mercury had "drag" nicknames for several of his friends, including Elton John (Sharon) and Rod Stewart (Phyllis). Mercury's own nickname was "Melina."

Mercury also forged a friendship with the late Princess Diana, one night sneaking her out in disguise to dance at the legendary gay bar, Royal Vauxhall Tavern. Somehow, the ruse worked and the friends and their cohorts had a great time. Previous to going out, Diana and the group had been making up racy dialogue while they watched the TV show The Golden Girls. You just can't make this stuff up!

But Mercury's best friend and his one true love turned out to be Mary Austin, to whom he was once engaged. Mercury said, "All my lovers ask me why they couldn't replace Mary, but it's simply impossible. The only friend I've got is Mary, and I don't want anybody else. To me, she was my common-law wife. To me, it was a marriage." Upon his death, Austin was given Mercury's home, Garden Lodge, and also 50% of his wealth.
---
06

His Religion

Mercury and his family were Parsis – whose name means Persians – and were Zoroastrians, one of the world's oldest religions – older than Judaism and Christianity. Although Mercury wasn't outwardly religious, he wanted to honor his family and left specific instructions that his funeral be officiated by Parsi priests. Zoroastrianism focuses on good deeds formed from good thoughts and good words.

10 Rock Albums You Need to Hear from Beginning to End
---
07

Freddie Mercury's Death

Mercury died on November 24, 1991 at the age of 45 at his home in Kensington. He was with his close friend, Dave Clark, of the Dave Clark Five, at his bedside when he died. The official cause of death was bronchial pneumonia resulting from AIDS. Sadly, prior to passing away, Mercury was losing his sight and could not get out of bed any longer. He began refusing his medication and only took painkillers.

His funeral was attended by his family and 35 of his close friends, including the members of Queen and Elton John. His coffin was carried into the chapel to Aretha Franklin's "Take My Hand, Precious Lord"/"You've Got a Friend".

Like most of his wealth and possessions, his cremated ashes were given to his best friend, Mary Austin. She kept them in the home she inherited from him for two years, and then buried them in an undisclosed location she has said she will never reveal. "He didn't want anyone trying to dig him up as has happened with some famous people," Mary Austin told The Daily Mail. "Fans can be deeply obsessive."

Hear the Previously Unreleased Freddie Mercury Track, "Time Waits for No One"
---
05

He was "Out of this World"

Freddie Mercury had an asteroid named after him in 2016, the year he would have turned 70. Discovered in 1991, the year of his death, the asteroid was formerly known as 17473 but was subsequently named Freddiemercury. "Even if you can't see Freddiemercury leaping through the sky, you can be sure he's there, 'floating around in ecstasy,' as he might sing, for millennia to come," said Joel Parker of the Southwest Research Institute. The asteroid is in orbit in an asteroid belt located between Mars and Jupiter.