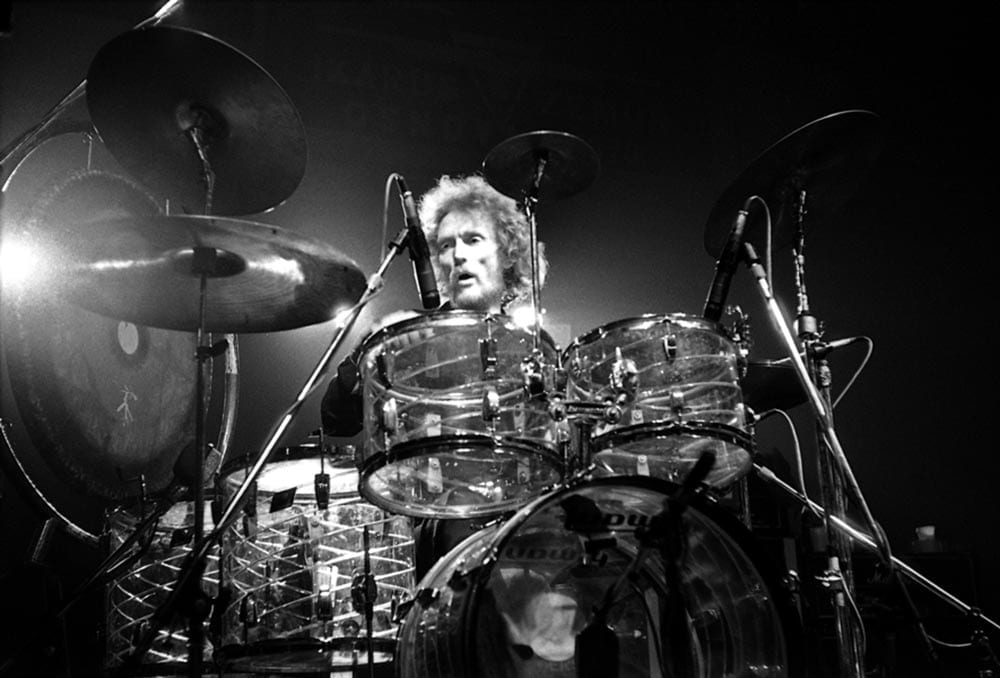 Ginger Baker, one of rock's most respected and influential drummers, died Sunday at the age of 80. Baker was perhaps best known as a member of supergroup Cream, which he founded with Eric Clapton and Jack Bruce.
"We are very sad to say that Ginger has passed away peacefully this morning," reads a statement posted on Baker's official Facebook page Sunday morning. "Thank you to everyone for your kind words to us all over the past weeks."
Last week, Baker's family revealed that the 80-year-old was critically ill and asked fans to "keep him in your prayers."
Peter Edward Baker was born August 19, 1939 in Lewishan, South London and acquired the nickname "Ginger" for his red hair. He began taking drum lessons at the age of 15 with English jazz drummer Phil Seamen. Baker's jazz influences, which he combined with African rhythms, gave him a uniquely individual style. In addition to be highly influential in rock music, he is credited as a pioneer in drumming in both jazz fusion and world music.
In the 1960s, Baker joined Blues Incorporated where he met bassist Jack Bruce. Though the two had a volatile working relationship, they went on to form Cream, together with Eric Clapton, in 1966. The band only lasted two years but released four albums during that time and went on to sell more than 15 million records worldwide.
Baker later formed another supergroup, Blind Faith, along with Clapton, Ric Grech of Family and Steve Winwood of Traffic. In 1970, Baker focused on his own group, Ginger Baker's Air Force, before moving to Lagos, where he played with Nigerian artist Fela Kuti.
Baker has since performed with Hawkwind and The Ginger Baker Trio.
In 2009, Baker released an autobiography and in 2012, a documentary about his life, Beware of Mr. Baker, was released.
In 2016, Baker underwent open-heart surgery and canceled all future gigs. "Of all things I never thought it would be my heart," Baker wrote in a blog post at the time.
Baker is survived by his three children, Kofi, Leda and Ginette.