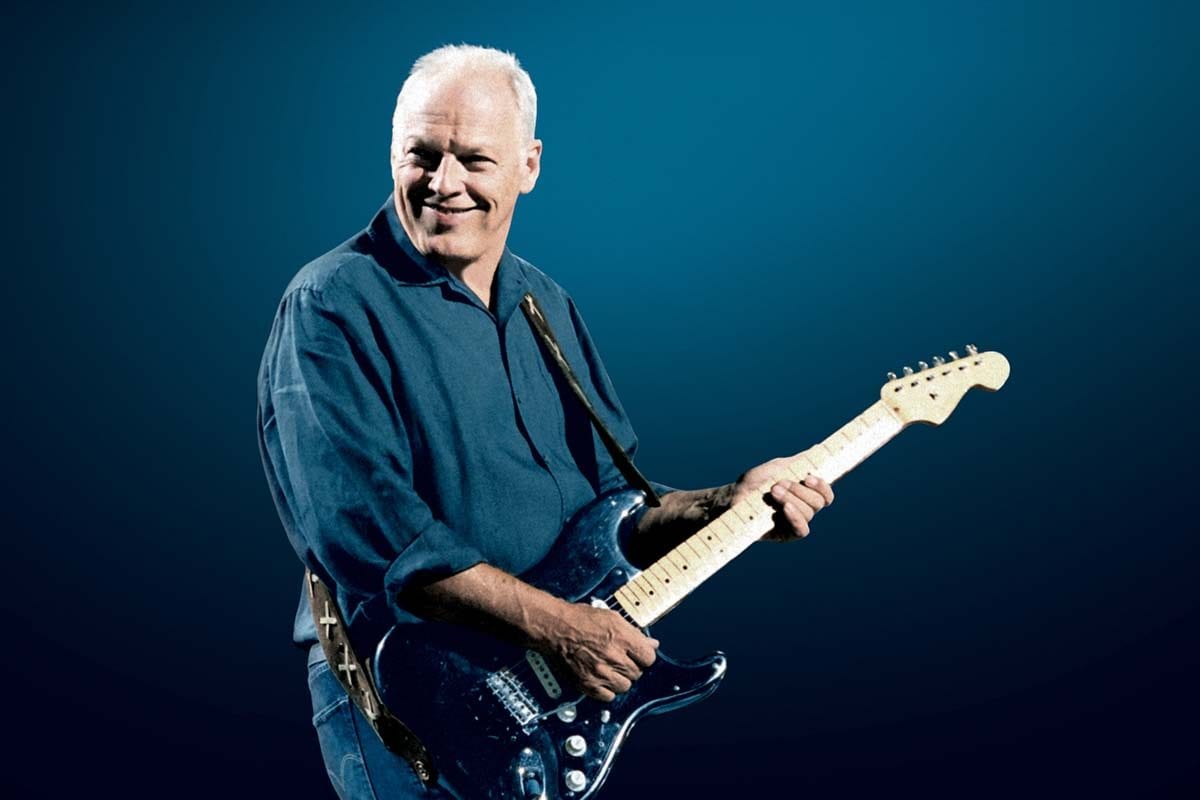 Legendary guitarist David Gilmour sent a large portion of his guitar collection to auction at Christie's last week.  In total the Pink Floyd icon sold 126 items from his personal collection, for an impressive $21 million – with all the proceeds being donated to the London-based climate charity ClientEarth.
The most notable guitar to reach the auction block was Gilmour's famous black Fender Stratocaster which he used to record "Comfortably Numb," "Shine on You Crazy Diamond," "Money"and so many other classic tracks.  The battle-scarred "Black Strat" was the top-selling item of the lot, going for a whopping $3,975,000 – a new world record for a guitar at auction. The piece was snatched up by Jim Irsay, owner of the Indianapolis Colts
Another one of Gilmour's Fenders, the Olympic White "#0001" Stratocaster sold for an impressive $1,815,000.  This guitar was used to record The Wall album, and most notably provided the funky rhythm on "Another Brick in the Wall (Part 2)."  On what makes this guitar unique Gilmour has said, "Some guitars make everyone sound the same. Others tend to emphasize the differences, which this one does."
Also up for auction was Gilmour's 1969 Martin D-35, an acoustic guitar that figured prominently in the recording of Pink Floyd's Wish You Were Here, particularly on the title track and "Shine On You Crazy Diamond."  The Martin, also purchased by Irsay brought in $1,095,000, far above the pre-sale estimate of $10,000 – $20,000. 
Other items sold at the auction included guitars by Fender, Rickenbacker, Ovation, Gibson, C.F. Martin and Gretsch, along with guitar cases, a banjo and amps.
In an interview with Guitar World earlier this year, the music legend explained that this is something he's been planning for a while. "[Parting with the guitars] is something I've thought about for years. These guitars have served me very well. They've given me songs and tunes, but I thought it would be good for them to move on and create new music with different people. Hopefully, they'll also raise a fair bit of money, which I plan donate to charity, and that will do some direct good in this world with all its difficulties."
He further explained his decision in a twitter thread last week. "The global climate crisis is the greatest challenge that humanity will ever face, and we are within a few years of the effects of global warming being irreversible."
"We need a civilized world that goes on for all our grandchildren and beyond in which these guitars can be played and songs can be sung."
James Thornton, ClientEarth CEO, said: "I'd like to express my deep and heartfelt gratitude to David Gilmour for this utterly remarkable gift. David has a long history of supporting charities and I am honored that he has chosen ClientEarth to benefit from this landmark auction."