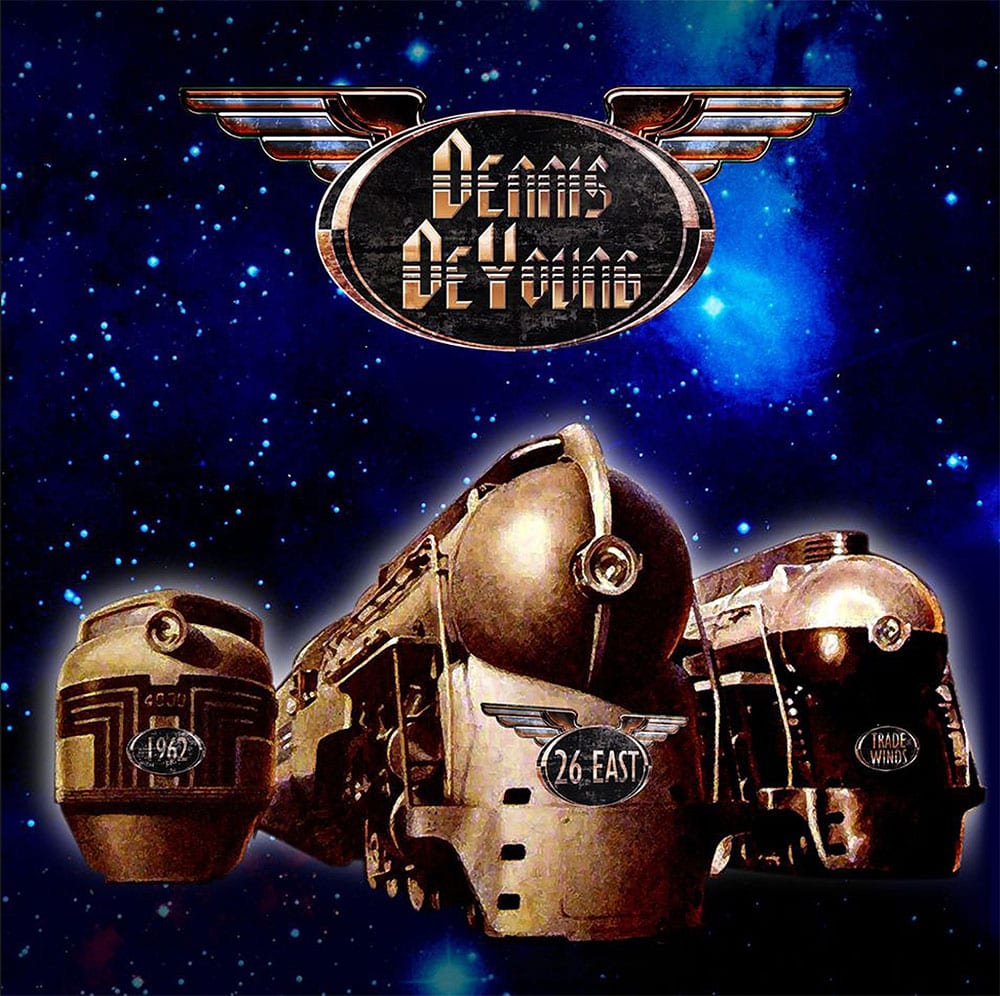 "And I'm saying this with this new album: people want to blow it up to some lofty, arty-fartsy kind of a thing. I'm just a guy who's searching for some good chords, to put some notes on there, and then stick lyrics on those notes to give you my personal point of view of my life and the world that I observe around me. Hoping that strangers like you will find yourself in my songs and my story."
Former Styx frontman Dennis DeYoung has a lot to say on his latest solo set, 26 East: Volume 1, available April 10 on CD and vinyl. Highlights of the ten-track collection include an homage to The Beatles courtesy of a special duet with Julian Lennon and an unabashed tip of the cap to his time fronting Styx.
I spoke with DeYoung amid the current Coronavirus crisis and the polarized political landscape that has led to anything but the best of times for the country. Which, for many reasons, led him to write about and sing for the day.
Hello!
How are you, Jim?
I'm doing great, thank you. How are you?
Well, under the conditions I'm talking to you with a hazmat suit on.
(Laughs) Alright, well listen let's jump into this new album here, 26 East: Volume 1. I must say it's as timely as it is timeless.
Thank you very much everybody, and goodnight! I can't add a thing to that! Oh my god! Timely and timeless! Whoo! Oh, god I'm glad you called!
Oh, good, good, good! So, I won't ask you about every track, but I do want to start with the first three. "East of Midnight" begins with – what else of course – an epic opening, and it references late-night radio. So, my question: what station did you listen to and who was your favorite DJ?
Well, remember, I'm old! And so, I started listening in the very late 50s with a transistor radio with the little earpiece, mono, in one ear, hiding it under my pillow so my parents wouldn't know that I was listening. And it was WLS (Chicago). There was no rock radio or FM radio or whatever it turned into. It was just fun music on the top 40 from the big beacon in the Midwest, the 50,000 clear watt channel WLS. And I listened to Dick Biondi in those days, when the music reached me and spoke to me in ways that I didn't think was possible. So, (track one) "East of Midnight" is a tribute – my tribute – to the power, the majesty and the communication ability of radio throughout my childhood, my adolescents and when I started making records. And there you go, that's what that song's about.
I wanna riff off of that a little bit by asking you what I often do in these conversations, and that is the proverbial – and sometimes your actual – what I call Beatles on Ed Sullivan moment. By that I mean, what was the spark for you musically? Was it a record that you heard? A concert? The radio? Or, in fact, was it The Beatles on Ed Sullivan?
It was before any of that because the album title 26 East references my parents' address in Chicago in 1962 in the basement. Myself and (original Styx members) John and Chuck Panozzo came together as kids to play music. We formed the band in that basement. And I played accordion. Chuck played guitar and John played drums. And we were not a rock band, we were just playing standards from the 30s, 40s, 50s and 60s. We were just kids having fun with music. The rock band as we now know it hadn't even been invented yet. That would come to us in the epiphany of (the month, date, year The Beatles first appeared on The Ed Sullivan Show) 2-9-64 when we saw The Beatles on Ed Sullivan. The reason that there is a song – the first single called "To The Good Old Days," which is a duet with Julian Lennon – is because I was writing a song paying homage in tribute to that moment that was in the complete and total Beatles style. I wanted it to sound like a Beatles record and I was writing it telling you my story about how that moment changed my life forever. I was writing it and I thought, maybe, I wonder if Julian Lennon would sing this song with me. I went to the piano and I start writing "To the Good Old Days" for he and I – for Jules and I to sing – just for ourselves. And guess what? I don't know him. I'd never met him. And he said he'd be honored to do it. So that's how that happened.
Pun intended here; (using the title of track two) "With All Due Respect," Dennis, how do you really feel about today's hyper-polarized, partisan political climate?
"With All Due Respect" is a song that I'm hoping will strike a chord with all Americans. But you know what just happened: this new little devil that's flying around in the atmosphere and reminding human beings that they are not in charge. They are not in control. And reminding us all something we all know consciously and subconsciously is that we are finite creatures. No other species as far as we know is aware of that fact. Which can go a long way to explain sometimes the insanity and stupidity of human behavior. Knowing that fact has got to affect the way we behave. Well now we have this constant reminder that in fact, as I said in 1977, (lyric from the song "The Grand Illusion") deep inside we're all the same. And the way we divide ourselves between borderlines, color, religion, politics, whatever you choose, whatever tribe you wish to join or are born into, we see now that there is one tribe. I'm hopeful that all of us will learn that valuable lesson. That we are all on this planet together. And hopefully we'll see life in clearer terms. Now in regards to "With All Due Respect," that was a screed against what I think has been happening in this country for some time. Where, people who inform us: their intensions are impure. They want to sell us stuff. Because that's how capitalism works. I said in "The Grand Illusion," "Don't be fooled by the radio, the TV and the magazine." I said it. I said, "America spells competition, join us in our blind ambition, get yourself a brand-new motor car. But someday soon we'll stop to ponder what on Earth's this spell we're under!" These news programs – both from the left and the right – and the media at-large is intent on one thing: not to inform, but to sell. They care about money. It's corporate greed. "With All Due Respect" is my yelling at the TV. Yelling at the radio. Like you do Mr. Villanueva. Do you not?
Of course, yes, absolutely! Well let me try and shift gears here. Tracks four and five "You My Love" and "Run For the Roses" are – here's the shift, I hope – bot life and love-affirming welcome respites from the more hard-hitting tracks earlier, and followed by "Damn That Dream." Define, describe the dream.
The opening line is, "All my life I have tried to make sense of this dream I'm chasing/trying to silence the voice telling me I'm not good enough." Ain't that you?
Yep, guilty as charged.
Here's what we want. You know what human beings want? Cut the bulls**t! They want a pat on the head. They want approval. They want somebody to tell them, 'You're doing okay. We love you.' That's what they want. That's what we all want. People like you and me: there was a crowd of people and we jumped up above the crowd and waved our arms wildly and we said to the crowd: 'hey, look at me!' Didn't we? That's what we did. We wanted approval. And we were looking for it from strangers. Not just our family. And so, "Damn That Dream" absolutely gives you insight into who I have been ever since I can remember. Chasing the idea that I'm not good enough. I chose music as an avenue for my approval. I know I can't make that perfect record or that perfect performance, but I can't seem to stop myself from trying. And so, it's telling everyone who aspires – and don't we all – that, yeah, recognize that in yourself and remember the person who you cannot please. We have to recognize it, and say, well, I'll do the best I can without driving yourself loony, all the time knowing that you probably will.
(Laughs) Let me ask you about "Unbroken," or I want to ask you about the polar opposite of what the title is. Can you share your biggest personal and professional heartbreaking experiences?
Look, when I was doing this music – when you were back at KLOS still in knickers – remember…
(Laughs)
…I was just trying to beat Queen and Foreigner. That was my goal. I was in the competitive fight of my life. I didn't know that when people were in their 60s, they were gonna come up to me and still remember me with reverence for what I did for a living. This is unbelievable to me. So, I look back and think how fortunate I am to have chosen this profession. So, I thank the Beatles! Guys, thanks! I didn't know I was gonna go down this long and winding road but look what happened to me. And to all the fans, I just say rejoice in the music. We were just making that crap up as we went along. Guys in a room going, how do you like this? I like it. How do you like that? I like it. Okay let's do it. That's it. Making it up. We were bound and determined that our music be the best it could. And we were bound and determined to say something in our songs. So many of our peers – as you know, you played them all – who was more socially and personally conscious with their lyric writing than us? None of them! Love Journey, love Queen, love Foreigner. Love all those cats. Love their music, right. What did they say? What did we say?
There are deeper tracks – and that's the radio term for deeper tracks on an album – and then there are deeper (substance) tracks, and I think that's what you're saying.
And I'm saying this with this new album: people want to blow it up to some lofty, arty-fartsy kind of a thing. I'm just a guy who's searching for some good chords, to put some notes on there, and then stick lyrics on those notes to give you my personal point of view of my life and the world that I observe around me. Hoping that strangers like you will find yourself in my songs and my story. That's what I'm doing. And lo and behold, miracle of all miracles, it actually happened. We got some stuff right and I can be eternally proud of Styx.
I would venture to say that how it happened was the songs that we're talking about. That's how it happened. You've made the impact and continue to do so certainly with these songs. Yet another track for the times. Now, follow me on this Dennis throughout this next question. I think "The Promise of This Land" could either be a prayer for the U.S.A., or depending on the script, a future Disney movie theme song. And by the way, if it is, I'll only need about two percent of that (laughs). Tell me a little bit about "The Promise of This Land."
It's the first song I ever wrote that repeats no section. They're like almost five different sections. To me it's the musical journey, where it begins with the dream of this country. It takes the dream – both lyrically and musically – into the direction of what is the reality of this country. And I ask the question: are we all a part of this promised land or is it just for some? I suspect in my heart of hearts (that) I'm trying to lead a cheering squad for us. Because I'm so sick as I said before of the constant negativity. For cash! We will get through this. When the people who founded this country came up with this grand scheme, what it is is a blueprint by which we, the individuals, must keep the promise of this land. E pluribus unum. From the many, one. That's the goal. Has it been messy? It's been awful messy this country. We cannot deny our history. You know the Constitution; the Bill of Rights were written by flawed human beings like us.
The last track is "A.D. 2020." Is that intended to be a reprise of the Styx Paradise Theater track "A.D. 1958?"
Completely! Absolutely! It was my last album, my final album. So, I'm saying goodbye. And thanks! All you people out there that bought those Styx records and everything else, you've given me a good life, and I just wanted to bookend it. And it was a reflection on the Paradise Theater album, which was a pretty good one as I recall. So, yeah, it is a bookend. It's my waving goodbye and saying thanks, man.
Well, thank you!
Now you tell me about the record. Let me hear your opinion.
Well, there are epic moments musically and there are epic moments lyrically, and as you and I agreed early on in this conversation, I think it's as timely as it is timeless. That's how I feel about this record.
Well, do me a favor and tell all your friends and your enemies. I don't care if they like the record and buy it.
I will spread the word, my friend. Would you like to share a preview of what we might here on Volume 2?
Most of it – almost like 80 percent of it – is already recorded. What I'm gonna do is – now that I've listened to guys like you and girls everywhere that have talked to me about this record – and let me just tell ya, I'm humbled and shocked because I didn't want to make this record, but I'm glad I did. The takeaway of the whole thing for me was, I didn't want to be Willie Mays the last year he played baseball. I didn't want to be the guy who should've sat down. As we say in the live concert business: better to be one song short than one song too many. To hear you tell me what you like, I'll have a really good sense about what people liked about (Volume) 1. It'll inform how I proceed on Volume 2.
Dennis, this was a fantastic conversation and I appreciate all the time. And it's a great record. We'll look forward to Volume 2 when that comes along and hopefully, we'll get a chance to chat about that as well.
So, let me ask you a question off the record. Not off the record, but it's on the record: me! This is what I'm asking everybody: favorite song? Favorite songs? Favorite three?
"With All Due Respect," "Unbroken" and I love "Damn That Dream."
Cool! Alright my friend, do your thing for me. I appreciate it.
Alright, Dennis. Take care. Thank you. Bye bye.