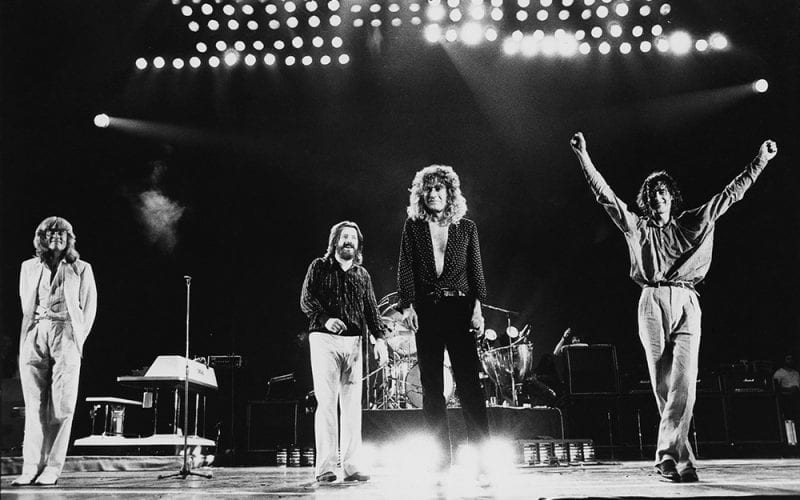 When I was growing up in the 60's the "big 3" guitar players were Eric Clapton, Jeff Beck, and Jimmy Page, and in that order.  Probably because that is the order they appeared in the Yardbirds band, which is primarily where we were learning about the new hot guitar players from England.
For whatever reasons (probably because the band Cream and Jeff Beck's "Truth" album came along) I kept those players in that order in my mind… until I saw the movie "Celebration Day."  That's when it hit me over the head like a sledgehammer—the order really should be Jimmy Page, Jeff Beck, and then Eric Clapton.  The truth is that they are all great and all different, and they probably shouldn't be categorized at all, but what really got to me watching that movie was that besides being one of the greatest rock guitar players of all time, Jimmy Page is also one of the greatest rock songwriters of all time, and one of the greatest musical arrangers of all time.
Because we think of Led Zeppelin as the greatest hard rock band ever, we may sometimes forget their subtlety, their overall musicality, and all those "hidden" instruments in the albums beyond just the guitar bass and drums.  It's kind of like ZZ Top – at first listen you think it's simple good time music, but when you really dissect it, you find out how truly complex and fascinating it is, with so many levels at play.
Because of how amazing Zep's studio albums are, I have been collecting bootlegs and outtakes for years.  It's fantastic to hear "working" versions of songs and/or different takes of songs because it let's you in on the inside—it's like watching a great painter paint a masterpiece—you get to follow the thought process.  Until Zep decided to put out Deluxe Edition packages all my stuff was, of course, sub par sounding.  It doesn't really matter when you're a bootleg nut, but I gotta say how GREAT it's been to get hold of a lot of this material that is now cleaned up along with the original albums being re-mastered by Page himself.  Clearly, these packages are being put together from the heart by a man genuinely proud of his and his band mates' extraordinary legacy.
And, as it turns out, "Page-y" (nick-name) is also a gentleman and a very nice guy too.
The night I saw "Celebration Day" it was the premiere and I went with a good friend who is an amazing analogue producer, guitar collector and who has also worked on a lot of Page's guitars for him.  Needless to say, we found ourselves sitting in Jimmy's row in the theater and went to the after party.  Another friend of his is Steph Paynes, the lead guitarist for Lez Zeppelin, the famous all girl Zep cover band.  All girl or not, this band will set your hair on fire!  They are truly an amazing hard rock band that will just kick your ass.
Now, Steph has been playing the role of Jimmy Page for years, copying every guitar solo to a tee, wearing those great bell bottom pants, and is quite handy with the Theremin as well.  My producer friend was actually working with Lez Zeppelin at the time, and got Steph tickets to the movie and told her if she got into the party he would introduce her to Page, who by the way, is a true fan of Lez Zeppelin.  I knew this meeting just had to happen so I gave Steph my party pass and told her I'd just have to meet Jimmy another day.  But security for the party was chill and when Steph said we were together I got let in too.  Of course, that was fun and I got to hang with my buddies at Rhino Records who are the ones putting out all these great Zep packages.
So, being in the music business my whole life and knowing how parties work, I spot Page and drag Steph over to meet him right away before he gets swallowed up by the throngs.  My producer friend introduces her to Page.  Now, every artist is different, some can be distant or aloof caught up in their own ego—but what does Page do?  He gives Steph the biggest, warmest smile, a verrrrrrry long hug, and then proceeds to tell her how much he loves her band, how honored he is that they are carrying on the tradition of Led Zeppelin's music, how good she is on guitar covering his stuff, and then invites her to England!!
Imagine being someone who loves an artist so much that they actually play that person on stage in a great cover band.  Now imagine how it must feel to meet the person you've been imitating for so many years and then on top of that to be anointed and given the Led Zeppelin/Jimmy Page seal of approval for what you do!!  Steph just melted in Jimmy's arms and it was one of the sweetest scenes I've seen in life.
The funniest part is after that meeting, just as I knew would happen, Page got swept away and I never met him—ha, ha—after all that!
Well, maybe someday I'll get to meet Jimmy Page.  Until then, I'm gonna get these CDs and crank 'em up to 11!!
Keep rockin' kids.
Rap~
©Paul Rappaport 2015