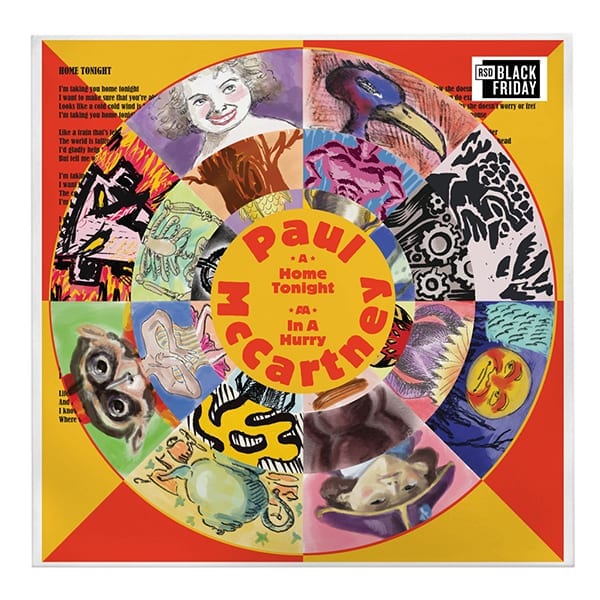 Paul McCartney dropped two new songs today – "Home Tonight" and "In a Hurry" – in advance of their release as a double A-side picture disc single for Record Store Day's Black Friday on November 29, 2019.
Both songs were recorded with producer Greg Kurstin for the chart-topping Egypt Station in 2018 but were ultimately left off the album and the ensuing deluxe edition. Though they failed to make the final cut, the songs, which meld McCartney's trademark Beatles-esque melodies with more modern influences, are clearly worthy of receiving a special release.
Listen to "Home Tonight" and "In a Hurry" in the players below.
When Egypt Station was released last year, Kurstin, a life-long Beatles fan, discussed how "strange" it was to give feedback and suggest song changes to one of his musical heroes
"I'd just have to take a breath and say it," Kurstin said. "Sometimes it might not go over very well, but he was always really cool."
He elaborated, "a couple of times where I might have suggested something that might have been challenging," adding: "I remember him just sort of carrying on, and I'm wondering, 'Did he hear me?' Then maybe half an hour would go by and I'd say, 'Hey, Paul, what about that idea I mentioned a little while ago?' He said, 'Oh, I heard you. I was just pretending to ignore you.' We'd just laugh about it.
"Then sometimes two days later he'd try the idea, and I'd be like, 'Wow, okay.' I thought I failed miserably with the idea, but he came back to it and really tried. I think he's always listening, always absorbing."
In other Macca news, it was announced earlier this week that the 77-year-old would be headlining next year's Glastonbury Festival – making him the oldest headliner in the festival's history.
The news was announced hours after the Beatles icon tweeted out a cryptic message – a picture of American composer Philip Glass, actress Emma Stone and rock legend Chuck Berry. When the last names of the three are combined they form the not-so-subtle clue of "Glass-Stone-Bury".
Paul McCartney – "Home Tonight"
Paul McCartney – "In A Hurry"