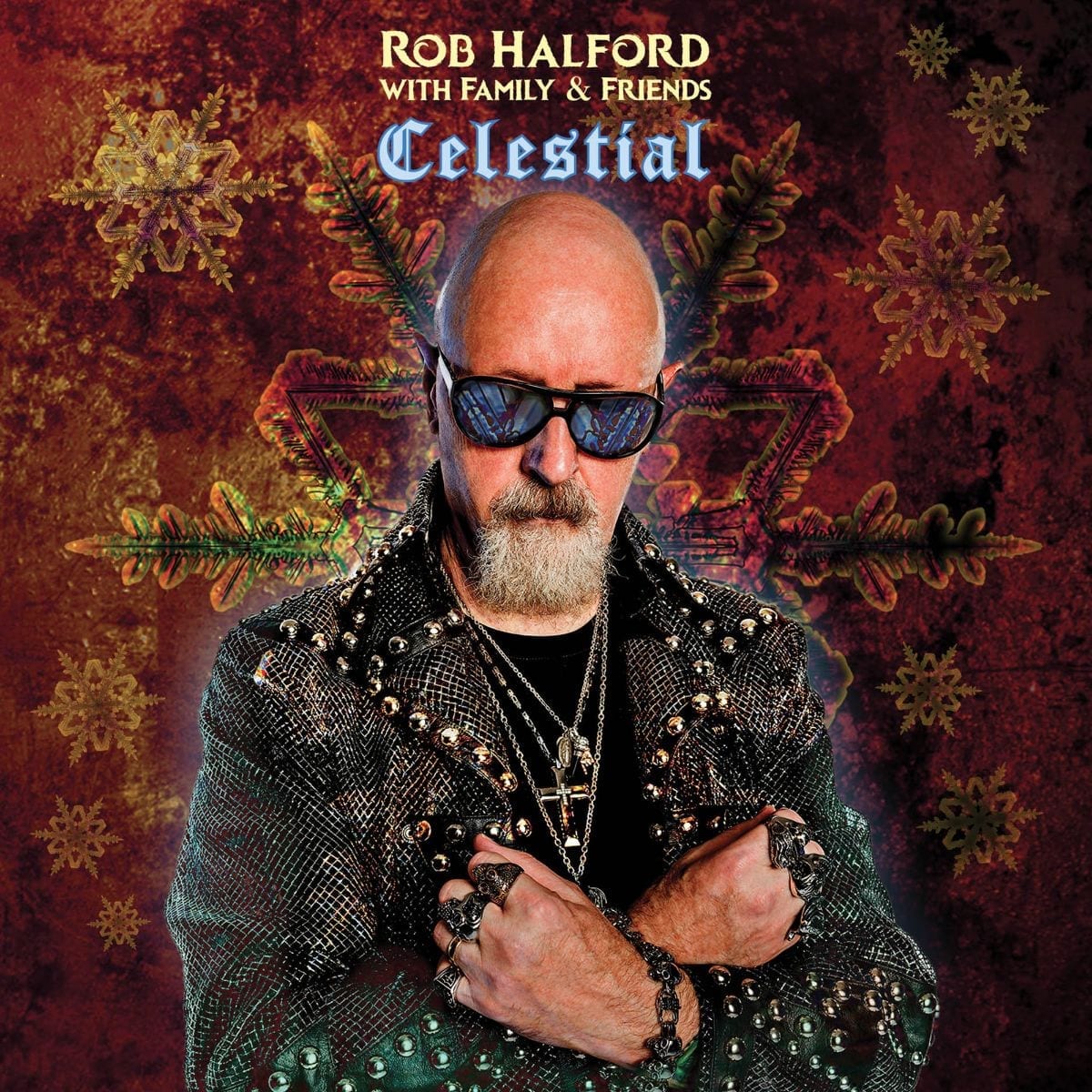 "We have 12 distinctly, separate, different musical experiences on Celestial. All of these tracks have got their own legs."
Judas Priest frontman Rob Halford and his heavy metal mates are synonymous with figuratively wrecking halls worldwide with their particular brand of face-melting hard rock. Known as the Metal God, Halford has sold millions of albums and performed thousands of shows across the globe. Now, the perennially leather-clad Halford has turned to decking the halls, thanks to his just-released Christmas album Celestial. Appropriate for celebrating the 12 days of Christmas, Halford's sonic holiday gift to fans features a dozen tracks, including metal makeovers of Christmas classics such as "Deck the Halls," "Joy to The World" and "O Little Town of Bethlehem, among others.
I spoke with Halford about his new album just days after Judas Priest was nominated for induction into The Rock and Roll Hall of Fame. Needless to say, he was in a very festive mood as a result of the release of the album and the prospect of entering rock's most hallowed hall.
Hey Rob.
Hello Jim. How are you?
I'm doing well my friend. It's good to talk to you again…
Yeah!
…we have done this multiple times throughout the years.
We have and I really appreciate the opportunity. Each time we talk it's about a different project, and this is definitely a different one. It's a really exciting exclusive project. One that I'm still relishing.
It is different indeed, and let me kick off the conversation though with this, Rob: apparently Christmas came extra early for you this year. I have to congratulate you and Judas Priest on being nominated to The Rock and Roll Hall of Fame.
Yeah! How cool is that? It's like a double barrel of metal (laughs). We were thrilled to receive the news about The Rock and Roll Hall of Fame. And, equally, when my label told me that this was the time, we were gonna start promoting and working and getting the release out, Celestial, I was the first one to go, 'Is it a bit early?' (laughs). But apparently not. Everybody's going crazy for Celestial, and it seems like the Christmas spirit now starts in October. I've started to see Christmas TV commercials in (Halford's hometown) Phoenix, so I think this is the way works. And my label has done a magnificent job in the placement for Celestial. For the focus and the attention that it's getting. There's usually a plethora of Christmas releases, you know, in, like November. So, early metal worm thing, you know, Jim, it's done the trick.
Absolutely. Well, piggybacking on The Rock and Roll Hall of Fame thing of course, if you compare that to reaching the musical heaven on earth, I guess you're reaching even higher with this new Christmas album Celestial. So, what do you say to those who ask why the Metal God would record a Christmas album?
Well, it's simple for me. Firstly, I love Christmas. It's one of my most favorite times of the year. It always has been. Even from when I was a little kid. I still get excited about the holidays. And, simultaneously – again referencing from when I was a little kid – there was always music playing in the house around Christmastime on the radio. So, that internal thing for me as a musician, that has never been that far away. Firstly, to go back – back ten years – to the (2009 Halford band) Winter Songs record, which in some ways was very much kind of a testing the vibes. I remember talking to the guys in the Halford band at that time about this idea for a Christmas album, and everybody jumped onboard. And it got a lot of strong reception. (It) got some great traction. So, I'm moving ahead from about ten years to about two years ago – maybe three years ago – Christmas in the UK with my brother and my nephew when I threw down this opportunity. I love their talent of drummer and bass player. I've always wanted to make some music with them, and this just seemed like a very appropriate opportunity to get that side of our work to do together and wrap it up in some Christmas paper and stick it under the tree. What a great time. It's been beautiful.
Yeah, well let's unwrap Celestial, shall we. Let me ask you about a few tracks. The album begins with the instrumental title track, followed by the first single "Donner and Blitzen." And I would put an emphasis on "blitz" on this track (laughs)!
(Laughs) "Ballroom Blitz" by Sweet (laughs).
How did you put this one together?
Well, firstly, you just popped something into my head: is this the first time a title track has been an instrumental? That's what it is. It's an instrumental with not exactly sound effects. I suppose that's what it is. It's a mélange (medley) of all these beautiful noises that go on to create a Christmas atmosphere and they get you focused. And (keyboardist/producer) Mike Exeter – the genius that he is – said, 'I think that the first track we kick off the record with should be something potent and strong, and "Donner and Blitzen" was the one. And again, just the vibe of that song – the message, the words – really put you straight into the holiday theme. You know, sequencing is so important, Jim. It's always been important to me. In my life in Priest (and) whatever I do. When I make music it's like a book or a film. It's got a beginning, a middle and an end. So, sequencing is great. Yeah, "Celestial" and "Donner and Blitzen" (are) a great couple just to start it going.
Well, thank you for the perfect segue to my next question with the beginning, middle and end because I want to jump to the end here for this next question. The other original is the album closer "Protected by the Light," which to me is sonically kind of the polar opposite of "Donner and Blitzen." Enlighten us on the writing of this one.
Again, there's elements of my life in Priest in this record, as I've said on the blurb on the back of the CD and vinyl. Once this record was launched, I left it up to the guys to do whatever they wanted. This is an homage and a representation to these incredibly talented guys that have jobs. (They) gotta work, come home and then they find time to do all these other musical endeavors. The placing of "Protected By the Light" is just a very nice bookend, as we opened with "Celestial," the opening track instrumental vibe. And we close it with this very simple, very pure, innocent type of music that's, what, barely two and a half minutes and change. But it just says so much. And I think it's just, again, great sequencing by Mike (because) I didn't know where to put that track. You may have read – the melody came to me in my head while I was taking a shower (laughs).
(Laughs) Yeah, I did read that.
Yeah, well "Morning Star" (came) in the kitchen on my acoustic guitar, and then I was having a sing in the shower like we all do when this melody (came) for "Protected By the Light." I hummed a few soap bubbles notes. I put it back on the shelf. You know, riffs and ideas come into my head all the time. So, that's how the germ of that song was created. And then, for whatever reason, the texture – little wooden church on the prairie in the Midwest, think almost The Waltons (laughs). You know, just think of that. I wanted to try and capture a purity and a very kind of stillness and a really strong focus, and Mike did a magnificent job in putting all those ideas together.
We've danced around or hinted at the other players on the record here. The album is in fact credited to Rob Halford with Family and Friends. Can you just real quick tell us who your musical elves are?
Sure. I've got my brother – my baby brother – well he's really not a baby anymore. He's in his early 50s. He's still a baby brother, though – Nigel Halford. Great drummer. Great solid rock drummer. He's been in a local Walsall, (England) band for nearly 30 years called Voodoo Zoo. And then my equally talented nephew, son of (bassist) Ian Hill from Judas Priest, Alex Hill. Alex has been in and out of lots of bands for most of his life. One of his bands that he was in, the guitar player, Robert Jones, is one of the two guitar players. And then John Blakey, our other guitar player, is also in my brother Nigel's band Voodoo Zoo. And then you've got my lovely sister, Sue, on the jingle bells. When you hear the jingle bells periodically throughout Celestial, that's my sister. So, it is truly Rob Halford with Family & Friends.
I'm gonna rattle off a few of the other tracks on here…
Sure.
…they're all packed with metal makeovers I guess of some traditional holiday hits: "God Rest Ye Merry Gentlemen," "Away in a Manger," "Deck the Halls," "Joy To the World," "O Little Town of Bethlehem," among others. What was the overriding criterion you used to create the track list?
Just again, to give the guys the freedom to represent the way they were feeling (about) the way the arrangement should come forth. I feel that's the best way to experience music in any form, really, is just go where your heart takes you. I just said to the guys that particularly for these very well know established tracks, you can go anywhere. The arrangements can go anywhere with these classic songs. What they've done – as I hope you'll agree, Jim – we have 12 distinctly, separate, different musical experiences on Celestial. All of these tracks have got their own legs. The difference between the big, big landscape track "Good King Wenceslas" to the punky, thrashy "Deck the Halls." That just shows you the talent these guys have got. They were fearless. Just have fun. Yeah, it's serious endeavor, but don't let that kind of dear in the headlights thing happen. Which happens to a lot of musicians. You're always banging up against possible failure or rejection. You know we thrive on that (laughs). I think that the overall result was just absolutely stellar. Really superb work from the guys.
And I do agree with you that each track is very different from the other 12. I have to confess that I had to lookup the story of the real-life Good King Wenceslas, the title and subject of the nearly seven-and-a-half-minute track. What about his story drew you to the song?
I just love the virtue and the morality of what was being implied by the language. Firstly, going out and putting food on someone's table that doesn't have any. And the virtue of supporting each other. Those words are just – to me as a lyricist – they're absolutely mind-blowing. So, I couldn't wait to put the vocal textures. Mike and I had a wonderful time in the studio putting down the words to that track. These words are extremely emotional. I would find myself getting really choked up on some of the phrases, because of the strength and the importance and the value of the words. It was a strong song to sing.
Very powerful. What's a typical Christmas like in the Halford home?
Much like everybody else, I would imagine. You know, lots of laughter and great to be with each other and reminiscing. Various tales and stories that always seem to creep up on you at Christmastime. Referencing friends and loved ones that are no longer with us, but they're with us in spirit. And, you know, food. Lots of tea for me. Drinks for everybody else. A television. Some charades. You gotta have the charades. Make yourself look like an idiot. Just a blast. Just really Christmas in its simplest and most beautiful sense. I'll be doing that this year back in the U.K.
Great. And what's next for you and/or Judas Priest?
Yeah, there's always something on the backburner with Priest. I've been saying many times already that there'll definitely be another Priest album at some point. So, stay tuned (laughs).
Alright, will do.
Thank you, Jim. It's been a pleasure my friend.
Great to talk to you again, and if we don't get a chance to do this again: Merry Christmas.
Merry Christmas. All the best for 2020. Bye-bye now. Bye-bye.
Bye. Thank you.