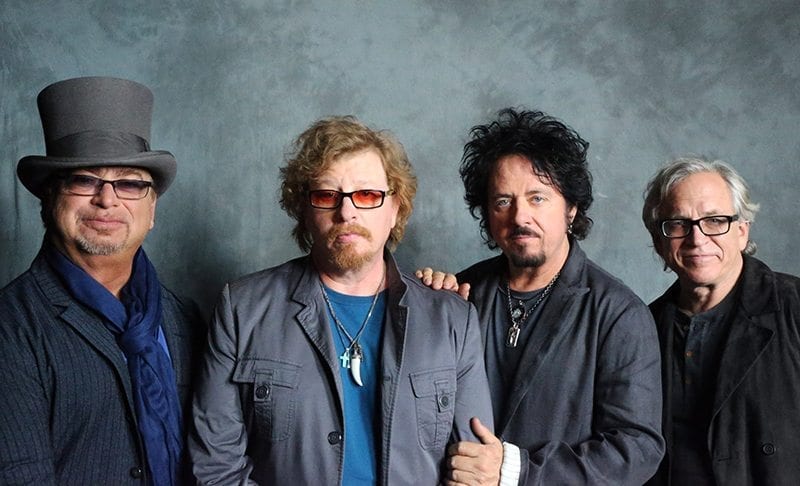 Toto is set to wrap up their 40th-anniversary tour on Sunday, October 20th in Philadelphia and then, according to a recent statement by guitarist and founding member Steve Lukather, they are calling it quits.
"We worked really hard and this is a great way to …," Lukather began, in an interview with Morning Call. The 61-year-old musician left the sentence hanging as he tried to find the right words to describe the band's end. "I don't know what the future-future's gonna be, but I do know that's gonna be the last show in Philly for the foreseeable future. And certainly the end of this configuration of Toto."
In the interview, he hinted that the persistent grind of touring was a factor in the band's decision. "This kind of lifestyle is way harder than people think it is," Lukather explained. "They just think that we float around from city to city magically and live a life of luxury. And I'm not saying that we travel poorly, but it's a burden to be away from your family 230 days a year, like me."
Health concerns have also contributed to the band's end. Keyboardist and principal songwriter, David Paich, fell ill amidst a series of European performances in 2018 forcing him to leave the tour.
"It was really the scariest thing ever," Lukather recalled. "He had some sort of a seizure or something like that. We went home and he had to retire from touring because of his health. Apparently, he pushed himself a little too hard and he fell, you know, so to speak."
"Dave's still playing. He can sing. He's up and about and he's happy and he's walking around. But he's not built for speed anymore, you know what I mean? He came out in L.A. recently … came out at the end. And that was a nice way to close the book — at least this chapter."
Ongoing legal battles have worn them down too. Though Lukather didn't name any names, Toto's disputes with former record company executives and original singer Bobby Kimball have been widely publicized.
"Another bummer of our situation and why we're calling it a day," he says. "We've had some horrendous litigation. Horrendous, horrendous, awful, mean, you-gotta-be-kidding-me kind of lawsuits, and we lost the suit. So it beat us down.
"So we gotta get away from this. We gotta get away from the whole thing."
This isn't the first time that Toto has decided to retire. The band announced that they were finished in 2008 when long-time bassist Mike Porcaro was diagnosed with Lou Gehrig's disease. After a two year hiatus, the group re-formed in February 2010.
While the band's representative, Steve Karas has confirmed that Toto will be taking a break following their long-running 40 Trips Around the Sun Tour (now in its third year), he did clarify that Toto won't necessarily be calling it quits completely. "Future plans will be announced in 2020 as they unfold and become formal following what is a true break following the 40 Trips Around The Sun tour which has been on-going for more than two years now," Karas said in an email to the Philadelphia Inquirer.
Perhaps after taking a break Toto, who has recently seen a resurgence in popularity, will consider giving it another go.
"I don't know, man. I can't predict the future," Lukather said. "I can tell you that this version is dead on October 20. Whatever happens down the line, man, I don't know what's going to happen with Dave. I don't know what's going to happen with me.
"I know that we just gotta … We gotta take a break from all this. We were beat up really badly and we gotta heal and figure out what's going on. I mean, the music's still there. I'm not saying I'm never gonna play this music again — that would be stupid to say; that would be a lie."
He then added, "We're playing better than ever. That's the irony. … The band, we're playing great. When we walk on stage, man, it's like we're kids again, and we just give it all we got. It keeps you youthful inside. I feel great — I feel better than I did when I was 40, you know?"
Toto recently released a concert film from their 40th-anniversary tour, titled 40 Tours Around The Sun. The film was recorded at Amersterdam's Ziggodome on March 17, 2018, in front of a sold-out crowd of 18,000+ fans. They performed a wide range of songs including their monster hit singles, rarely performed deep cuts and two newly recorded tracks which appeared on their recent greatest-hits album 40 Trips Around The Sun.