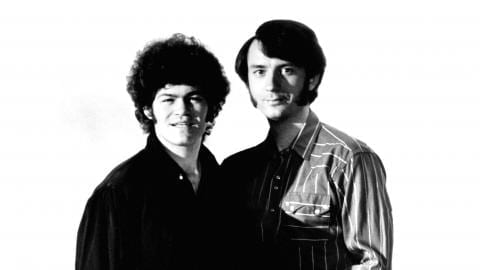 The Monkees will be heading out on the road again in 2020 for a three-week trek called An Evening With The Monkees. The tour launches on April 3rd in Vancouver, BC and concludes in Nashville, TN on April 26th. See below for a complete list of tour dates.
As with their 2018 & 2019 shows, the new tour will feature the band's only surviving original members, Micky Dolenz and Michael Nesmith and will spotlight songs from their entire career.
Nesmith and Dolenz will also be releasing a live album on April 3rd. Titled, The Mike and Micky Show Live, the 24-song LP was recorded in March 2019 during The Monkees Present The Mike Nesmith and Micky Dolenz Show tour and features the duo performing a selection of Monkees' hits. Any fans who purchase tickets for the upcoming tour will receive a free copy of the live album, either as a CD or a digital download.
Nesmith and Dolenz most recently performed in Australia and New Zealand in June and according to a statement Nesmith posted on Facebook not long before the tour, he had doubts about his future with the band beyond the already scheduled shows.
"I committed to an Australian tour, but I am expecting that will be it for me," he wrote. "I start to feel curmudgeonly more and more and less and less suited for singing pop songs — clever and happy and fun to play as they are — but is a bit like singing 'Happy Birthday' over and over. Combine that with the fact that Television Music was never my first pursuit. People who like my work have another clear window they can see through — if they choose. But — in any case — the shows wear me down."
Luckily for Monkees fans, Nesmith appears to have had a change of heart in the intervening months. Check out this video from the Sydney performance of the Mike and Micky Show.
'An Evening With The Monkees' Complete Tour Dates
Apr 3 – Vancouver, BC @ Commodore Ballroom
Apr 4 – Seattle, WA @ Moore Theatre
Apr 7 – Sacramento, CA @ The Crest Theatre
Apr 8 – San Jose, CA @ San Jose Civic
Apr 10 – Riverside, CA @ Fox Performing Arts Center
Apr 11 – El Cajon, CA @ The Magnolia
Apr 14 – Phoenix, AZ @ Celebrity Theatre
Apr 16 – Dallas, TX @ Majestic Theatre
Apr 19 – San Antonio, TX @ The Tobin Center For Performing Arts
Apr 20 – Austin, TX @ ACL Live At The Moody Theatre
Apr 22 – Birmingham, AL @ Iron City
Apr 24 – Lake Charles, LA @ Golden Nugget – Grand Event Center
Apr 25 – Biloxi, MS @ IP Casino Resort & Spa
Apr 26 – Nashville, TN @ Schermerhorn Symphony Center