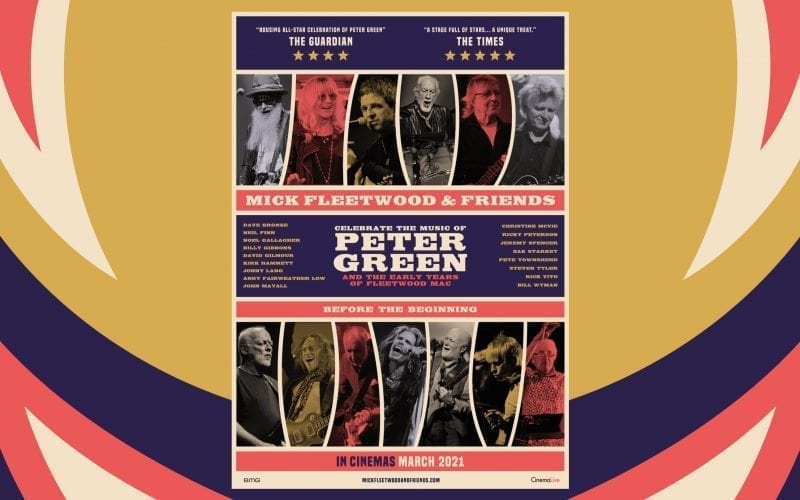 A live performance video of ZZ Top's Billy Gibbons and Metallica's Kirk Hammett performing the iconic Peter Green-penned tune "The Green Manalishi (With the Two Prong Crown)" was released today. The performance was filmed in February 2020 at the Mick Fleetwood & Friends concert honoring Peter Green and the early days of Fleetwood Mac. In the video, Hammett plays Peter Green's legendary 1959 Les Paul guitar.
You can watch the video now in the player below.
Mick Fleetwood & Friends Celebrate the Music of Peter Green and the Early Years of Fleetwood Mac took place at the London Palladium just weeks before the COVID-19 pandemic shut down the live music industry for the foreseeable future. The tribute concert took on even greater meaning when Peter Green passed away a few short months later.
The resulting concert film will hit cinemas for two nights only in March 2021 and will be released on physical formats including gatefold 4LP, 2-CD + Blu-ray and digital audio on April 30th. A deluxe 44-page hardbound bookpack includes extensive photographs of the concert, rehearsals, and behind-the-scenes, quotes from each artist who took part in the show, sleevenotes by Anthony Bozza in conjunction with Mick Fleetwood, a Blu-Ray of the concert film and the full recording on double CD and quadruple vinyl.
The Mick Fleetwood & Friends concert featured performances by the likes of Pete Townshend, David Gilmour, Steven Tyler, Christine McVie and many more. You can view the full track listing below.
Top 10 Easiest Rock Songs to Learn on Guitar
Mick Fleetwood & Friends – "The Green Manalishi (With the Two Prong Crown)" featuring Billy Gibbons and Kirk Hammett
Advertisement
Mick Fleetwood & Friends Celebrate the Music of Peter Green and the Early Years of Fleetwood Mac Track Listing
Act I 
1 Rolling Man (feat. Rick Vito) 
2 Homework (feat. Jonny Lang) 
3 Doctor Brown (feat. Billy Gibbons) 
4 All Your Love (feat. John Mayall) 
5 Rattlesnake Shake (feat. Billy Gibbons & Steven Tyler) 
6 Stop Messin' Round (feat. Christine McVie) 
7 Looking For Somebody (feat. Christine McVie) 
8 Sandy Mary (feat. Jonny Lang) 
9 Love That Burns (feat. Rick Vito) 
10 The World Keep Turning (feat. Noel Gallagher) 
11 Like Crying (feat. Noel Gallagher) 
12 No Place To Go (feat. Rick Vito) 
13 Station Man (feat. Pete Townshend) 

Act II 
1 Man Of The World (feat. Neil Finn) 
2 Oh Well (Pt.1) (feat. Billy Gibbons & Steven Tyler) 
3 Oh Well (Pt.2) (feat. David Gilmour) 
4 Need Your Love So Bad (feat. Jonny Lang) 
5 Black Magic Woman (feat. Rick Vito) 
6 The Sky Is Crying (feat. Jeremy Spencer) 
7 I Can't Hold Out (feat. Jeremy Spencer) 
8 The Green Manalishi (With The Two Prong Crown) (feat. Billy Gibbons & Kirk Hammett) 
9 Albatross (feat. David Gilmour) 
10 Shake Your Moneymaker (group finale) 
Backstage Access:
David Gilmour Guitar Auction Reveals A Lot About The Man