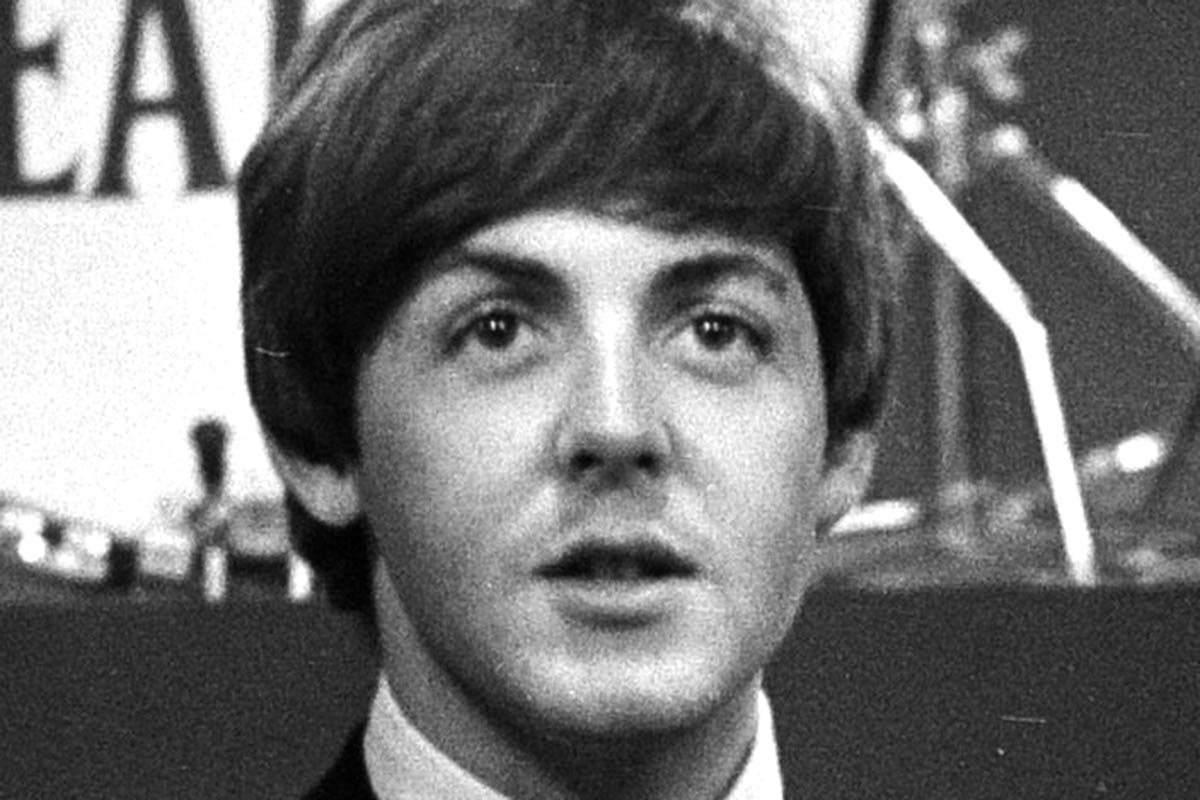 Call him Sir Paul, call him "the cute one," call him Percy Thrillington… Whatever you call him, there's no denying that Paul McCartney is a living legend. And today (June 18, 2022), that living legend turns 80.
There are few (if any) people in rock and roll history whose careers have rivaled McCartney's — in quality, longevity and success. During his years with The Beatles, he and John Lennon were arguably the greatest songwriting duo of the 20th century. In the 50-plus years since they broke up, McCartney has had a prolific and extremely diverse career. He's released solo albums, led the band Wings for many years and collaborated with artists ranging from Michael Jackson to Elvis Costello and from Carl Perkins to Kanye West. Musically, he has drawn not only from pop and rock but also everything from English music hall to Country & Western to New Wave. 
For his 80th birthday, we've compiled a list of 25 essential McCartney songs. These are taken from every phase of his career, with no more than two songs from any one album (with or without The Beatles). While all lists are subjective, and while you may find your favorite McCartney tune missing, we hope this list will serve as proof of his songwriting genius — and maybe even inspire you to check out some of his work that you missed over the years.
Happy Birthday, Paul!
25

Smile Away (1971)

The rocker "Smile Away," from Paul and Linda McCartney's Ram album, was definitely a throwaway song. But it was an entertaining throwaway song! Witness the first verse: "I was walking down the street the other day/Who did I meet?/I met a friend of mine and he did say/'Man, I can smell your feet a mile away'."  
---
24

Arrow Through Me (1979)

Admittedly, the Wings album Back to the Egg was not a critical or commercial high for McCartney. That said, there were a couple of gems on the disc — and the jazzy, midtempo "Arrow Through Me" was one of them. It became a minor hit in the summer of 1979.
---
23

Another Day (1971)

Released in early 1971, "Another Day" has the distinction of being McCartney's first solo single after leaving The Beatles. Its catchy tune belies a somewhat sad lyric about the monotonous life of an unnamed woman.  As a standalone single, "Another Day" reached the top five on both sides of the pond.
---
22

I'm Looking Through You (1965)

McCartney contributed several classics to The Beatles' 1965 album Rubber Soul.  The catchy folk-rock nugget "I'm Looking Through You" was one of them.
---
21

Waterfalls (1980)

The title of McCartney 2, released in 1980, was a nod to his debut album, McCartney, which came out a decade earlier. On both albums, McCartney played all the instruments himself. The chilly ballad "Waterfalls" provided him with a minor hit.
---
20

My Brave Face (1989)

McCartney's 1989 album Flowers in the Dirt — on which he collaborated with Elvis Costello — remains one of his most acclaimed solo efforts. If the single "My Brave Face" is any indication, McCartney and Costello brought out the best in each other. The song boasts a catchy tune and clever lyrics. To wit: "Ever since you left I have been trying to compose a 'baby will you please come home' note meant for you/As I clear away another untouched TV dinner from the table I laid for two."

Amazingly, "My Brave Face" was McCartney's last Top 40 hit for 25 years!
---
19

All My Loving (1963)

The oldest entry on our list, "All My Loving" first appeared on the UK album With The Beatles. It has the historical distinction of being the first of three songs that The Beatles performed on The Ed Sullivan Show in February of 1964 — the night that changed a million lives and started Beatlemania in earnest!
---
18

I Don't Know (2018)

From "All My Loving," we fast forward 55 years to the most recent entry on our list! "I Don't Know" was a lovely ballad from McCartney's 2018 album Egypt Station. It was released as a double-A sided single with "Come On To Me."
---
17

Venus and Mars/Rock Show (1975)

Throughout his career, dating all the way back to The Beatles' Abbey Road album, McCartney has periodically released suite-like songs.  "Venus and Mars/Rock Show," the opening track from the Wings album Venus and Mars, is just one example of this. 

"Venus and Mars" (the song) is a short, acoustic piece written from the point of view of a concert-goer who is sitting outside, looking at the stars, before a big arena show. It then segues — or explodes, really — into "Rock Show," a  raucous, electric song that references everything from Jimmy Page to the Hollywood Bowl to a "green metal suit."
---
16

Silly Love Songs (1976)

"Silly Love Songs" was the opening track on Wings' At the Speed of Sound album from 1976. It was written as a response to the people (and there were many) who criticized McCartney for frequently writing lightweight love songs. As he once told Billboard: "Over the years people have said, 'Aw, he sings love songs, he's so soppy at times.' I thought, 'Well, I know what they mean but people have been doing love songs forever. I like 'em, other people like 'em, and there's a lot of people I love.' So the idea was that you may call them silly, but what's wrong with that? [Plus] 'Silly Love Songs' also had a good bass line and worked well live."

As usual, McCartney had the last laugh. "Silly Love Songs" hit number-one and became one of his most popular post-Beatles hits.

12 Rock & Roll Romances That Inspired the Music
---
15

Penny Lane (1967)

"Penny Lane" was originally released as a two-sided single with John Lennon's "Strawberry Fields Forever."  Not long after that, both songs were included on The Beatles' Magical Mystery Tour soundtrack disc. The song itself was based on an actual street in Liverpool and features a classic piccolo solo from musician David Mason.
---
14

Band on the Run (1973)

"Band on the Run" was another of McCartney's suite-type songs. It opens with a brief acoustic section and segues into an equally brief electric bit before moving into a lengthier, country-rock passage. Despite being more than five minutes long, "Band on the Run" was another big hit (and the title track of Wings' 1973 album).
---
13

Maybe I'm Amazed (1970)

"Maybe I'm Amazed" has an interesting history. McCartney wrote it while The Beatles were breaking up, ostensibly as an ode to his wife Linda. It first appeared on his 1970 solo debut, McCartney, but was not released as a single. However, a live version of "Maybe I'm Amazed" was taken from the album Wings Over America and became a smash in early 1977. It remains a staple of McCartney's live shows and one of his most popular love songs. As a side note, McCartney played all the instruments on the song by himself!

Top 10 Easiest Rock Songs to Learn on Guitar
12

Fixing A Hole (1967)
---
There were other McCartney songs from The Beatles' album Sgt. Pepper's Lonely Hearts Club Band that were more popular — the title track and "When I'm 64," to name two. But to this writer's ears, the deep cut "Fixing A Hole" — with its distinct bass line and gently psychedelic lyrics — may have been the best.
---
11

Temporary Secretary (1980)

Another single from the McCartney 2 album, "Temporary Secretary" didn't make much noise at the time but has become something of a cult favorite over the years. A quirky electro-pop song with witty lyrics, it fit in well with the New Wave music that was popular at the turn of the '80s.
---
10

Hey Jude (1968)

"Hey Jude," which McCartney wrote for a young Julian Lennon, had several distinctions.  For one thing, it was seven minutes long — roughly twice as long as most hit singles in those days (and even now)!  It was also the first song The Beatles recorded using eight-track equipment. Finally, it was originally released as a standalone single but, in 1970, became the title track of a US compilation. Speaking of which…
---
09

Paperback Writer (1966)

"Paperback Writer," from 1966, was also released initially as a standalone single. But four years later, it too was included on the Hey Jude album.

Musically, "Paperback Writer" was a catchy rocker with intelligent lyrics. McCartney supposedly wrote it after his Aunt Lil said, "Why do you write songs about love all the time? Can't you ever write about… something interesting?" Touche!
---
08

Uncle Albert (Admiral Halsey) (1971)

"Uncle Albert" was another song from the Ram album. It was, in fact, loosely based on an uncle of McCartney's, Albert Kendall. The single was released in the summer of 1971 and topped the charts. Musically, it was yet another of McCartney's suite songs, stitched together from various pieces he'd been working on. "Uncle Albert" also employed a wide range of effects — from the sound of a thunderstorm to his wife Linda's backing vocals to his own voice filtered through what sounded like a telephone. 
---
07

Martha My Dear (1968)

McCartney contributed several classics to 1968's The Beatles (generally known as "The White Album). One of these was "Martha My Dear," which opens side two.  If you can get past the fact that it was written for his pet sheepdog, the song is actually pretty amazing. McCartney drew off the English music hall genre to great effect here, switching from E-flat to F major during the song and embellishing it with a wonderful arrangement. And hey — what's wrong with writing a love song for a dog anyway?
---
06

The Girl Is Mine (1982)

"The Girl Is Mine" is the one song on this list that McCartney didn't actually write.  A duet between him and Michael Jackson, it was the first single from Jackson's 1982 masterpiece Thriller (which remains one of the most successful albums ever recorded). "The Girl Is Mine" took shape when producer Quincy Jones suggested that Jackson write a song about two men fighting over a girl. Laugh if you want but the song is a lot of fun, capturing two great artists at their most lighthearted. 
---
05

The World Tonight (1997)

The 1997 album Flaming Pie remains one of McCartney's most popular solo outings. "The World Tonight" was a great rocker that was popular on both classic and modern rock radio at the time. Best line: "I go back so far, I'm in front of me!"
---
04

Yesterday (1965)

Perhaps the quintessential McCartney ballad, "Yesterday" is also one of the most widely covered songs of all time. Beyond that, it has the distinction of being one of the few early Beatles tracks on which the other band members did not play. In the UK, "Yesterday" appeared on the Help! album while, here in the States, it was featured on the Yesterday… And Today collection. 

Classic Rock Landmarks: Yesterday
A deep dive into the iconic songs that changed our lives
---
03

Back in the USSR (1968)

Another song from The White Album (its opening track, in fact), "Back in the USSR" was one of McCartney's best and most popular rockers. It was also a parody of both Chuck Berry's "Back in the USA" and The Beach Boys' "California Girls" — definitely McCartney at his cheekiest.

Released just six months after the Warsaw Pact's invasion of Czechoslovakia, The Beatles' complimentary take on the USSR prompted criticism from both the New Left and the political right. The more things change…
---
02

Eleanor Rigby (1966)

"Eleanor Rigby" appeared on the 1966 disc Revolver (this writer's favorite Beatles album!). It was quietly groundbreaking for a number of reasons. As on "Yesterday," McCartney was the only band member who played on the song (though Lennon and George Harrison did contribute backing vocals). The arrangement, too, was less rock and roll and more baroque pop.

But perhaps the most groundbreaking thing about "Eleanor Rigby" was the subject matter. McCartney was generally known for his love songs and for his likable persona. This song was a meditation on loneliness and death — and an effective one at that. It was yet another success, topping the charts here and abroad and being named 1966's "Single of the Year" by the NME. In 1982, the Eleanor Rigby statue was unveiled on Stanley Street in Liverpool; the plaque carries a dedication to "All the Lonely People"
---
01

Let It Be (1970)

The title track of The Beatles' final studio album, "Let It Be" featured all four Beatles (not to mention Billy Preston on Hammond organ) and was produced separately by George Martin and Phil Spector. The lyric may be simple but it's also powerful. McCartney has said it was inspired by a dream in which his late mother (whose name was Mary) came to him and said, "It will be all right, just let it be." More than 50 years after its release, the song remains haunting and majestic. 

20 Essential George Harrison Songs
Listen to our Essential Paul McCartney playlist on Spotify