Olé Olé Olé! A Trip Across Latin America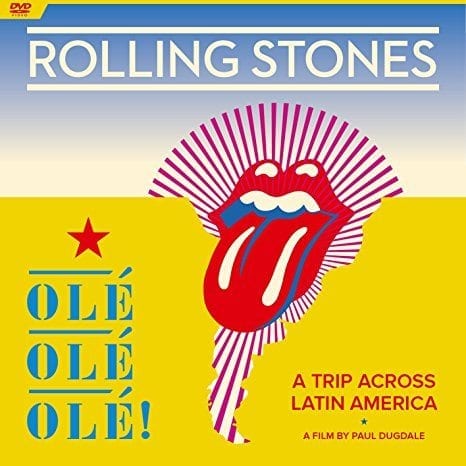 Amazon
iTunes
Track Listing
1. Out Of Control (Buenos Aires, Argentina)
2. Paint It Black (Buenos Aires, Argentina)
3. Honky Tonk Woman (São Paulo, Brazil)
4. Sympathy For The Devil (São Paulo, Brazil)
5. You Got The Silver (Lima, Peru)
6. Midnight Rambler (Lima, Peru)
7. Miss You (Lima, Peru)
Recommended Releases
About the Album
On 26 May 2017, Eagle Rock Entertainment release 'Olé Olé Olé! A Trip Across Latin America' by The Rolling Stones, a documentary film by Paul Dugdale. Released on DVD and Blu-ray the film was given a strictly limited theatrical release around Europe in September 2016 and broadcast on Channel 4 in December 2016. 'Olé Olé Olé! A Trip Across Latin America' makes the perfect companion piece to the 'Havana Moon' release from Autumn 2016. This DVD and Blu-ray release will also include seven exclusive bonus live tracks from the tour with a running time of over 50 minutes.
'Olé Olé Olé! A Trip Across Latin America' follows The Rolling Stones on their 2016 tour through ten Latin America cities whilst at the same time trying to stage their first ever concert in Havana, Cuba, a colossal once-in-a-lifetime open air free show the likes of which Cuba had never seen before. The film captures the unique chemistry that exists between The Rolling Stones and their Latin American fans, a bond that has stretched across many years.
more...
As well as the full film, the Bonus Features on this release offer a collection of incredible full length performances from the Latin American tour.
Featuring electrifying live performances, intimate moments with the band members, anticipation and reaction from the fans and all the twists and turns of staging the Havana concert, 'Olé Olé Olé! A Trip Across Latin America' is a portrait of a vital band still at the very top of their game.
Image Gallery
Rolling Stones Videos
Rolling Stones Headlines
A biography about the life and career of Charlie Watts is due out on October 11th. The book was authorized by the Rolling Stones as well as the late drummer's family and includes forewords by both Mick Jagger and Keith Richards. Charlie's Good Tonight: The Authorized Biography of Charlie Watts includes interviews with family, friends, … Continue reading Authorized Charlie Watts Biography Due Out This Fall →

The Rolling Stones will release a live album from a pair of secret shows performed in Toronto in 1977. The recordings from those two legendary concerts have been bootlegged for 45 years and are finally getting a proper release. The two shows were attended by just 300 people each, mostly radio winners who believed they … Continue reading Rolling Stones to Release Live Album from Secret 1977 Toronto Shows →