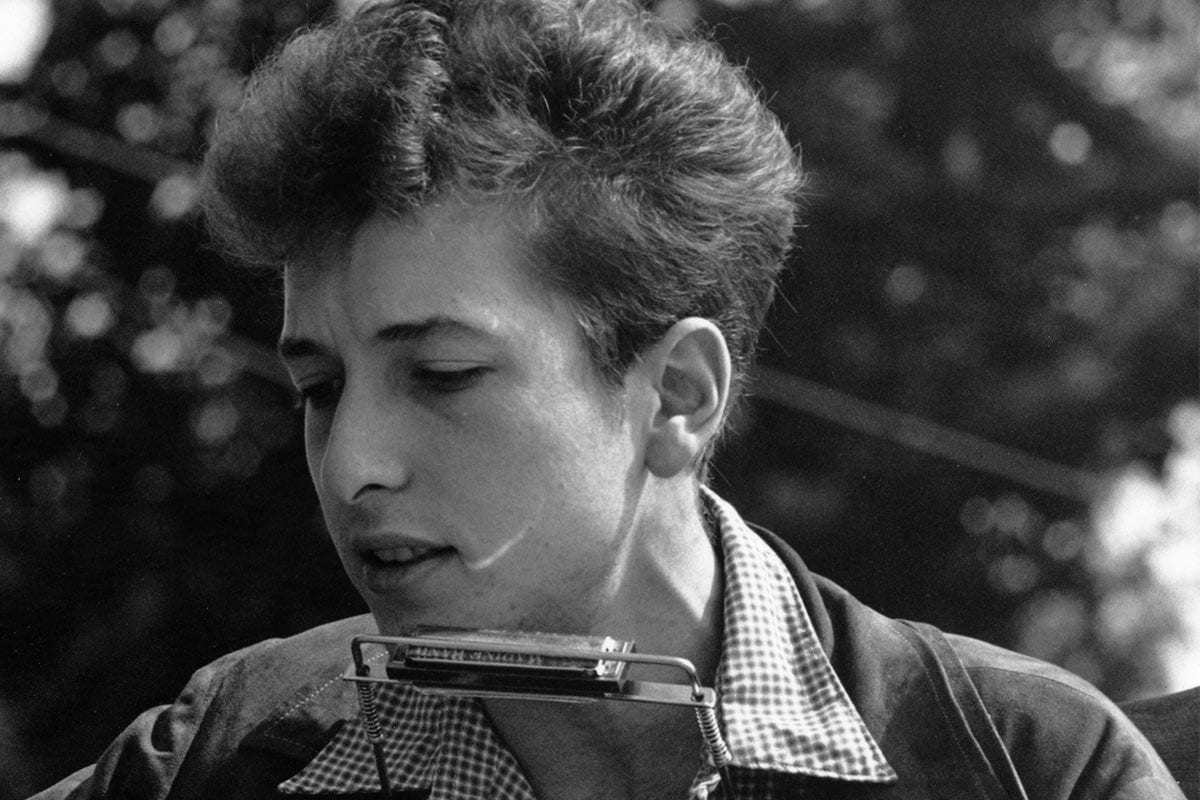 July 25, 1965 – Bob Dylan performs an electric set for the first time at The Newport Folk Festival in Newport, RI and is booed off the stage and accused of being a sellout by leading members of the folk movement.
Classic Rock Landmarks:
"Like a Rolling Stone"
July 25, 1999 – Woodstock closes out its 3-day festival in Rome, NY with riots that break out during Limp Bizkit's performance of "Break Stuff." There are three accidental deaths, several fans are hospitalized from drinking polluted water and there are also four alleged rapes. MTV covers the event with the tagline "Apocalypse Woodstock."
July 25, 1983 – Metallica release their debut album Kill 'Em All. It is recorded in 17 days and goes on to sell over three million copies in the U.S.
July 25, 1980 – AC/DC release Back In Black, their first album with lead singer Brian Johnson. The album sells over 50 million copies worldwide, making it the second highest-selling album of all time (Thriller is #1), and the best-selling hard rock or heavy metal album.
Top 15 Best-Selling Rock Artists of All Time in U.S. Sales
July 25, 1980 – Kiss perform their first concert with drummer Eric Carr at The Palladium in New York City. Paul Stanley says, "Originally, he was going to be the Hawk. We had a costume built with a protruding chest and feathers all over it. But he looked like the mascot for a high school football team. All that was missing were the big foam chicken feet. It was horrible. Fortunately, he came up with the idea of the Fox. He wore the same size boots as Peter, so we used existing boots and had the platforms built up even more. The boots ended up being like stilts, and he still looked tiny next to us."
July 25, 1969 – Neil Young appeared onstage with Crosby, Stills and Nash for the first time at the Fillmore East in New York City. Graham Nash recalls that, "A lot of people asked, 'Was it great that Neil Young joined CSN or did that kill CSN?' It was like lobbing a hand grenade in a vacuum." Stephen Stills also says he tried to convince Eric Clapton, Steve Winwood, and George Harrison to be their fourth member prior to Young joining.
Classic Rock Birthdays
July 25, 1941 – Manuel Charlton, guitar (Nazareth) (d. 2022)
July 25, 1943 – Jim McCarty, drums (The Yardbirds)
July 25, 1946 – José "Chepito" Areas, percussionist (Santana)
July 25, 1950 – Mark Clarke, bass, vocals (Uriah Heep)
July 25, 1954 – Ken Greer, guitar, keyboards (Red Rider)
Top 12 Classic Rock Bands With the Most Total Members
Rock Remembrances
July 25, 2020 – Peter Green (born Peter Allen Greenbaum), founder and guitarist of Fleetwood Mac, dies in his sleep. He was 73. Green wrote several big songs for Fleetwood Mac ("Albatross", "Black Magic Woman", "Oh Well" and "The Green Manalishi (With the Two Prong Crown)") before leaving the band in 1970, due to his descent into mental illness and his use of psychedelic drugs. Later diagnosed as a schizophrenic, Green performed in many bands and projects when able. He and seven other bandmates ( Mick Fleetwood, Stevie Nicks, Lindsey Buckingham, John McVie, Christine McVie, Danny Kirwan and Jeremy Spencer) were inducted into the Rock & Roll Hall of Fame in 1998. Rolling Stonemagazine ranked Green #58 in its all-time list of the 100 greatest guitarists, calling him "Britain's most progressive blues guitarist" in his prime.
July 25, 2003 – Erik Brann (born Rick Davis), guitarist in Iron Butterfly, dies of a heart attack. He was 52. Brann was only 16 years old when he joined Iron Butterfly, and he recorded the guitar part on "In-A- Gadda-Da-Vida" when he was just 17. He was also a child sensation on the violin, accepted into the prodigy program at the Boston Symphony Orchestra.
July 25, 1984 – Willie Mae "Big Mama" Thornton dies in Los Angeles of heart and liver complications due to alcohol abuse. She was 57. Thornton often dressed as a man while performing and was unabashedly gay, a brave move at the time. She sold two million copies of her single "Hound Dog" prior to Elvis Presley recording it, and also recorded "Ball 'n' Chain," later covered by Janis Joplin.