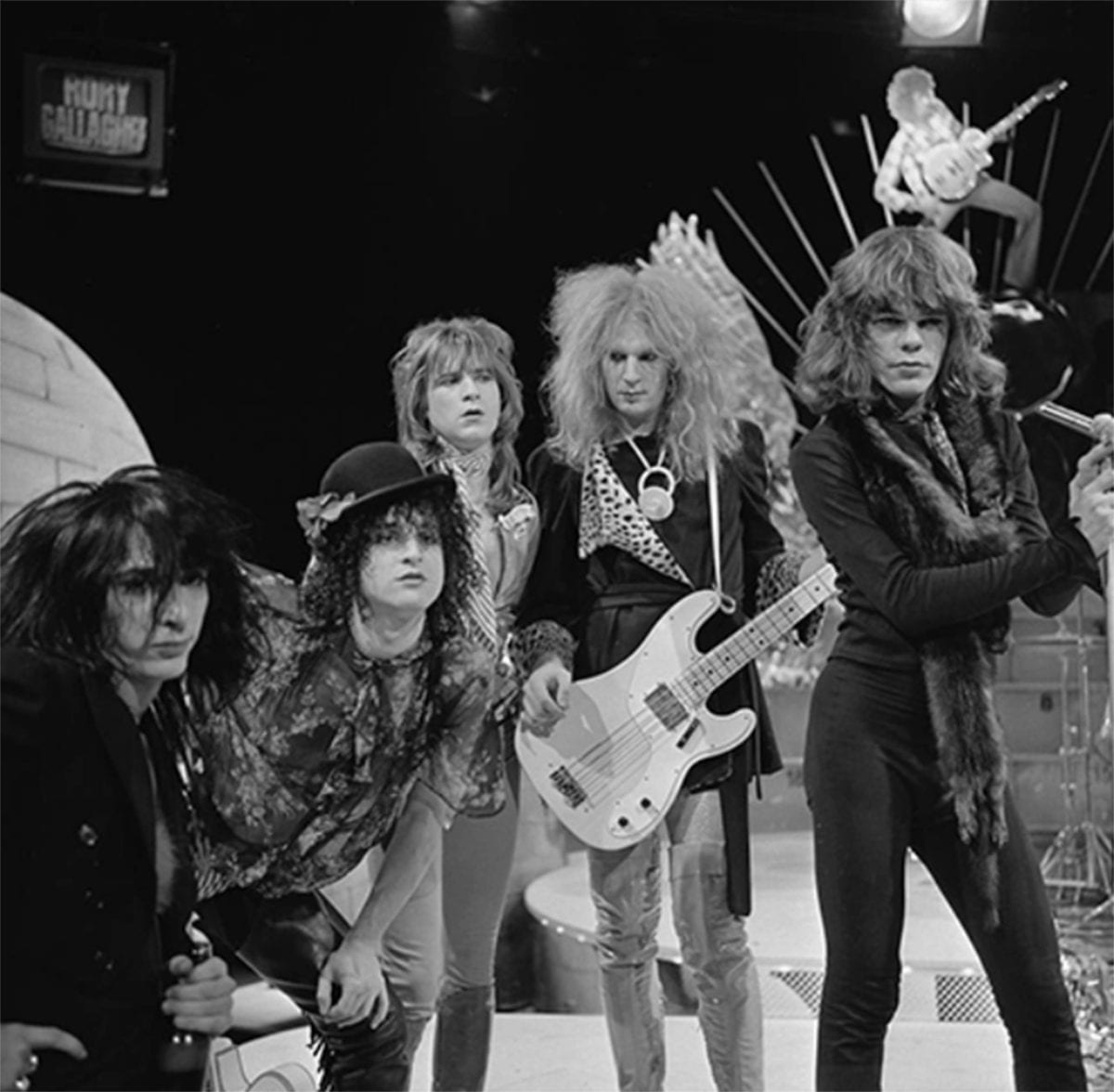 July 27, 1973 – The self-titled debut by the New York Dolls, produced by Todd Rundgren, is released to critical acclaim and mediocre sales. However, the album serves as an influential precursor to the developing punk rock scene with such songs as "Personality Crisis," "Trash," and "Jet Boy."
July 27, 2010 – Growing Up Twisted, starring Twisted Sister's Dee Snider, premieres on the A&E Network. The show also features Snider's entire family – kids Jesse, Shane, Cody and Cheyenne, and wife Suzette.
July 27, 2007 – Kiss perform for the first time without singer and guitarist Paul Stanley. Stanley misses the show in San Jacinto, CA due to a bout with tachycardia (rapid heartbeat). The group performs as a three piece.
July 27, 2004 – Courtney Love is sentenced to 18 months probation after pleading guilty to a misdemeanor count of being under the influence of a controlled substance. She also agrees to enter a drug rehab program. Love was arrested in October after she allegedly tried to break into the home of former manager and boyfriend Jim Barber. Authorities said cocaine and other opiates were found in her system.
July 27, 1979 – Alice Cooper's Native American art store in Scottsdale, AZ is firebombed and he loses over $200,000 in artwork and jewelry. Cooper says interest in Native American art was a family affair. "My mom and dad both did missionary work with the Apache Indians. All my friends were Apache kids growing up. It's funny because my mom was Cherokee and my dad was Sioux." Regarding the attack, he says, "Maybe it was some disco-music freak. I've been making some positive anti-disco remarks lately."
10 Things You Might Not Know About Alice Cooper
July 27, 1994 – Bob Seger begins jury duty, serving as the jury foreman in a federal case in Detroit involving bank fraud. The defendant is found guilty.
July 27, 1976 – John Lennon is awarded his Green card, allowing him permanent residence in the U.S. He survived FBI surveillance, including being followed, wire-tapped and harassed for his outspoken beliefs on many subjects such as politics, religion, sexual freedom and women's rights. Sadly, he was murdered 7 months before he could apply for full citizenship.
July 27, 1976 – Bruce Springsteen sues his former manager Mike Appel for fraud, undue influence and breach of trust. Appel countersues as Bruce wants to work on a followup to Born to Run with his new manager/producer Jon Landau. Eventually, Springsteen and Appel reach an out-of-court settlement where Springsteen gets the rights to his songs and Appel receives a lump-sum settlement, but it is over a year before Bruce is allowed to enter the studio.
July 27, 1958 – A study by Esso Oil (formerly Standard Oil, and eventually Exxon) finds that drivers speed more and therefore waste more gas when listening to that new fad, "Rock & Roll" music, on their car radios. Pedal to the metal indeed!
10 Questionable Classic Rock Song Choices in TV Commercials
Classic Rock Birthdays
July 27, 1964 – Rex Brown, bass (Pantera)
July 27, 1963 – Karl Mueller, bass (Soul Asylum) (d. 2005)
July 27, 1949 – David Muse, woodwinds, keyboards (Firefall)
Rock Remembrances
July 27, 2001 – Leon Wilkeson, bass player with Lynyrd Skynyrd, dies from chronic liver and lung disease in a hotel room in Ponte Vedra Beach, FL.  He was 49. Wilkeson was a survivor of the deadly Lynyrd Skynyrd plane crash in 1977, but never completely recovered from his injuries – he broke his jaw, had most of his teeth knocked out, suffered a crushed chest (with a punctured lung), and broke  his left arm so badly that it was almost amputated.  In another strange twist of fate, he again almost died in the early 1990s when bandmate Ed King found him on the group's tour bus, sleeping, but with his throat cut and bleeding. He was taken to the hospital and recovered but it is still a mystery as to who was responsible, although Wilkeson's girlfriend at the time was a suspect. Wilkeson was inducted posthumously into the Rock and Roll Hall of Fame in 2006.