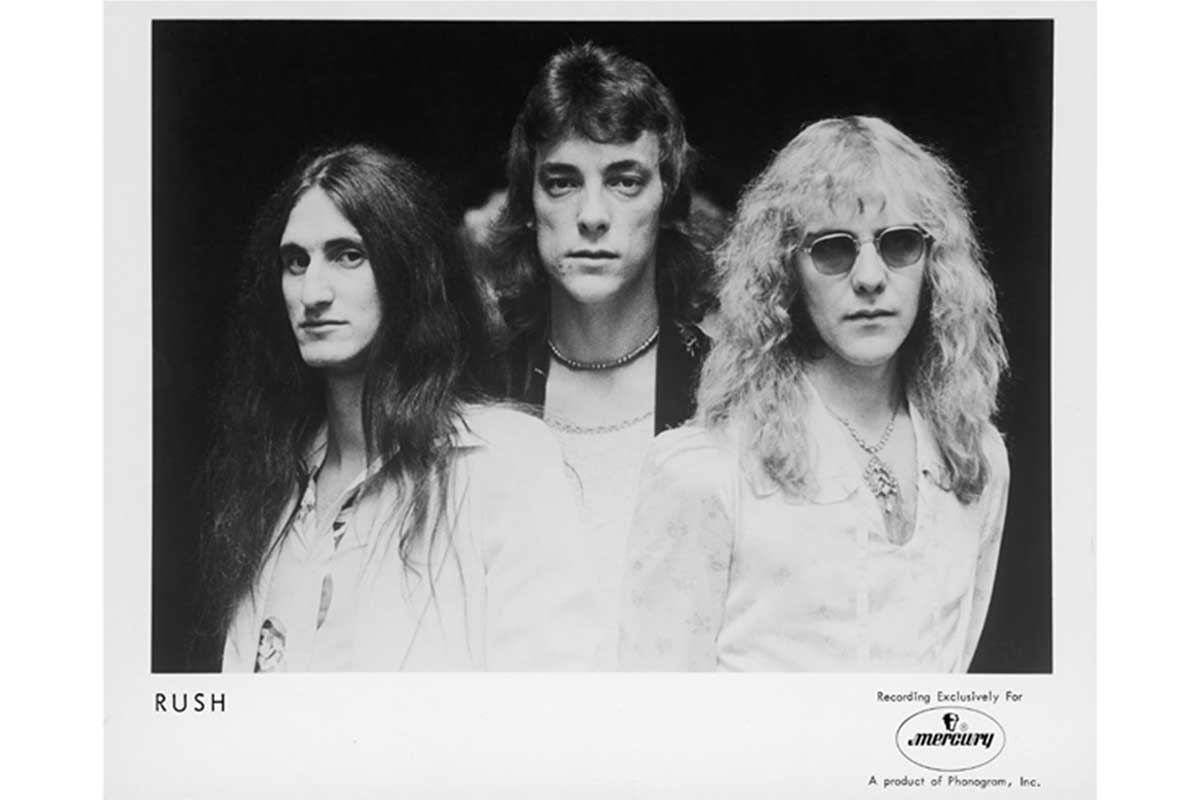 July 29, 1974 – Neil Peart officially joins Rush, replacing John Rutsey, who leaves the band due to health problems and creative differences. Peart has to learn the band's entire live repertoire in only two weeks, as their American debut is on August 11 in Pittsburgh, opening for Manfred Mann and Uriah Heep.
July 29, 2015 – The Eagles play their last public concert with Glenn Frey in Bossier City, Louisiana, the final date of their 2015 tour. The show closes with "Desperado," a song co-written by Frey and Don Henley. They do play a private show in St. Louis for 300 people two days later, after which they go on what was to be a three month break. Sadly, Glenn Frey falls seriously ill in October and dies in January.
July 29, 1987 – Ben and Jerry's introduces "Cherry Garcia," named after the Grateful Dead frontman Jerry Garcia. It is their first flavor named after a rock star.
July 29, 1966 – Bob Dylan crashes his Triumph 55 motorcycle near Woodstock, New York. He suffers a broken neck vertebra, which leads to a period of recuperation followed by hibernation; it is eight years until he tours again. In his memoir Chronicles, he writes, "I had been in a motorcycle accident and I'd been hurt, but I recovered. Truth was that I wanted to get out of the rat race. Having children changed my life and segregated me from just about everybody and everything that was going on. Outside of my family, nothing held any real interest for me and I was seeing everything through different glasses."
July 29, 1973 – Led Zeppelin play the last of three nights at Madison Square Garden in New York City. Although their 33-date North American tour grosses over 4 million, about $203,000 in cash is stolen that night from the safe at The Drake Hotel in New York where the band is staying. Tour manager Richard Cole is arrested as a suspect but later released. The money is never recovered and no one is ever arrested. The gigs at MSG were filmed and recorded for the group's feature movie The Song Remains the Same.
12 Most Influential Live Classic Rock Albums
July 29, 1968 – Gram Parsons leaves The Byrds after refusing to play to segregated audiences on their upcoming tour of South Africa. Although this was the "official" reason, both Chris Hillman and Roger McGuinn say Parsons wanted to stay in London because he was enamored with the "rock star" lifestyle and his new friendship with the Rolling Stones.
July 29, 1966 – Cream make their live debut at the Twisted Wheel club in Manchester, England.
July 29, 2006 – Pamela Anderson and Kid Rock tie the knot on a yacht off of St. Tropez. She wears a white string bikini and he wears a white t-shirt and hat. They both file for divorce in November after only four months of marriage.
July 29, 1946 – Jazz great Charlie Parker is arrested after wandering through his hotel lobby naked, wearing nothing but socks. He had fallen asleep while smoking and set his hotel bed on fire after drinking a quart of whisky. He is committed to the Camarillo State Hospital (a mental institution) for six months, which inspires his song "Relaxin' at Camarillo."
Classic Rock Birthdays
July 29, 1953 – Geddy Lee (born Gary Lee Weinrib), bass, vocals (Rush)
July 29, 1959 – John Sykes, guitar, vocals (Tygers of Pan Tang, Thin Lizzy, Whitesnake, Blue Murder)
July 29, 1953 – Patti Scialfa (born Vivienne Patricia Scialfa), vocals, guitar (Bruce Springsteen and the E Street Band)
July 29, 1946 – Neal Doughty, keyboards (REO Speedwagon)
12 Rock & Roll Romances That Inspired the Music
Rock Remembrances
July 29, 1974 – Cass Elliot (born Ellen Naomi Cohen; also known as Mama Cass) dies in her sleep in London, England. She was 32. Elliot was the powerful and charismatic singer in the Mamas And The Papas. She was inducted into the Rock and Roll Hall of Fame in 1998. Contrary to urban legend, she did not choke on a ham sandwich, but had a heart attack after playing a sold out show. Sadly, drummer Keith Moon died in the same room four years later. Elliot was married twice and had a daughter who was seven when she died.
July 29, 1993 – Eddie Guzman, percussionist for Rare Earth, dies of complications due to diabetes. He was 49. Guzman was a "working man's" percussionist, with heavily bandaged fingers that worked the congas relentlessly. Guzman also appeared on the 1974 Doobie Brothers album What Were Once Vices.
July 29, 1988 – Pete Drake (born Roddis Franklin Drake), pedal steel guitar player and record producer, dies of emphysema in Brentwood, TN. He was 55. Drake was always in demand and worked with Elvis Presley, George Harrison, Bob Dylan, Ringo Starr and many Nashville stars. He was instrumental in using the "talk box," later popularized by Peter Frampton and Joe Walsh.
Death, the Devil and the CIA: Classic Rock Conspiracy Theories that Range from Completely Crazy to Entirely Conceivable