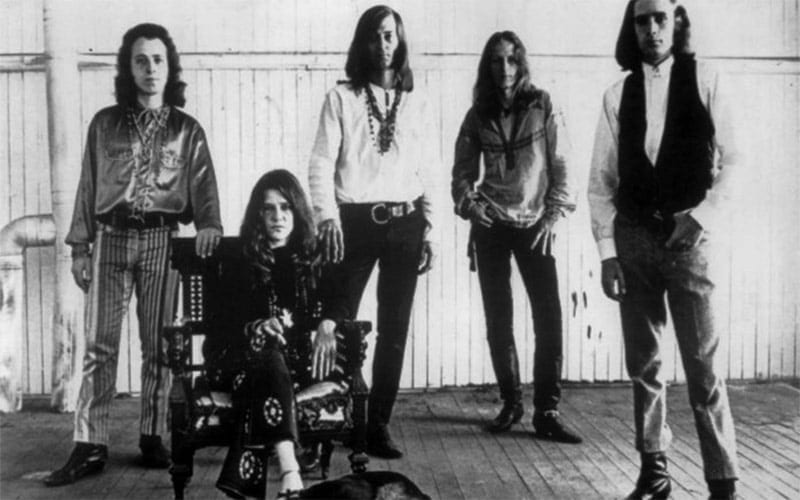 June 10, 2010 – Slash is tackled by a fan in Milan while playing the classic solo in the middle of "Sweet Child O' Mine". He handles it perfectly and even continues the song after changing guitars. He says, "What'd I say? Rowdy crowd for sure. But amazing! The guy who nailed me didn't take me down but he busted my poor [guitar]. Ah well, it was a kick-ass rock show in the first order!"
June 10, 1984 – The annual Texxas Jam takes place at the Cotton Bowl in Dallas. The bill includes bands in this order: 38 Special, Bryan Adams, Gary Moore, Ozzy Osbourne and Rush.
June 10, 1966 – Janis Joplin makes her singing debut with Big Brother & the Holding Company at San Francisco's Avalon Ballroom.
June 10, 1971 – The Red Rocks Amphitheater in Denver bans rock concerts for 5 years when chaos ensues after police fire tear gas into the crowd at a rowdy Jethro Tull concert. The band keeps playing, although many of them couldn't even see their instruments through the haze. 28 people were hospitalized. Wait… Jethro Tull had a rowdy concert?
Classic Rock Birthdays
June 10, 1910 – Howlin' Wolf (born Chester Arthur Burnett), vocals, guitar, harmonica (d. 1976)
June 10, 1964 – Jimmy Chamberlin, drums (The Smashing Pumpkins)
June 10, 1961 – Kim Deal, vocals, guitar, bass (Pixies, The Breeders)
June 10, 1944 – Rick Price, bass (The Move)
11 Classic Rock Hits That Are Actually Blues Songs
Rock Remembrances
June 10, 2004 – Ray Charles dies of acute liver disease in Beverly Hills, California.  He was 73. Charles, who became blind at the age of 7, had one of the most recognizable voices in American music.  He won almost every award a musician could get, including Grammys, the National Medal of Honor, an induction into the Rock and Roll Hall of Fame, a star on the Hollywood Walk of Fame, and even his likeness on an American stamp.  He was portrayed by Jamie Foxx in the movie "Ray", who went on to win an Academy Award for the performance.  He left behind a large family – he was married twice but fathered twelve children by ten different women.
June 10, 2009 – Barry Beckett, co-founder of Muscle Shoals studio, record producer, keyboardist and session musician, dies of complications from a stroke at his home in Hendersonville, Tennessee. He was 66.  In addition to his numerous recordings with famed artists at Muscle Shoals, Beckett was also briefly a member of Traffic, and produced two Bob Dylan records including Slow Train Coming.
Backstage Access:
The Hidden Secret Musicians of Our Legendary Hits
Advertisement